Is Rowing A Better Cardio Workout Than Running?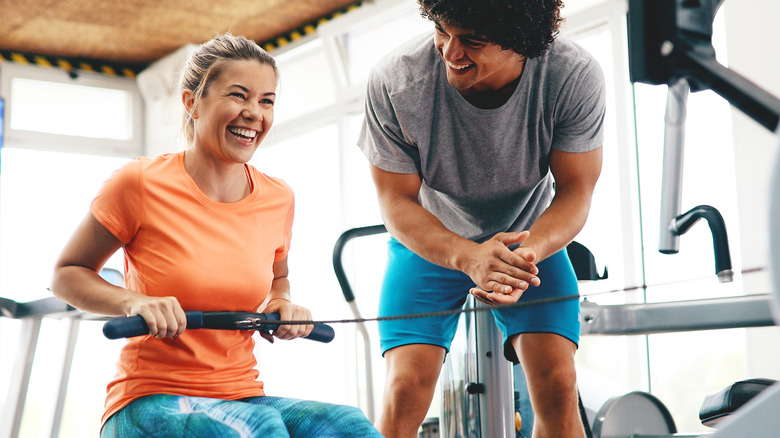 NDAB Creativity/Shutterstock
We may receive a commission on purchases made from links.
If you want to add an intense cardio workout to your exercise routine, you may be thinking that running on a treadmill or around your neighborhood is the most logical way to go. This makes sense. After all, the benefits of running are many. According to WebMD, running improves heart health, supports your immune system, and lowers your risk for arthritis. Running also helps to keep your mind focused and soothes stress (via Runner's World). However, running can be hard on your muscles and ligaments and could increase your chances of injury due to the impact of your feet hitting the pavement (per Eat This, Not That). That's why many people are starting to turn to rowing for their cardio.
Advertisement
Rowing, while not new, has seen growing popularity among those seeking out an effective cardio workout. As reported by the International Health, Racquet and Sportsclub Association, the number of people using indoor rowing machines surged by 20% between 2014 and 2021. So it should be no surprise to find rowing machines in the cardio section of your gym. And because of the increase in rowing's popularity, many exercise enthusiasts are wondering, "What's better for us? Rowing or running?" We looked into the benefits of both.
The benefits of rowing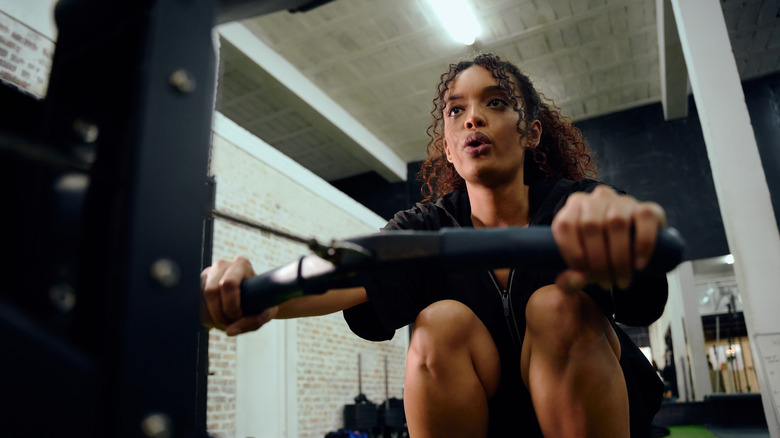 StratfordProductions/Shutterstock
When considering rowing versus running, it is important to note that there are benefits to both. However, if you are recovering from an injury or just beginning your fitness journey, you may want to try rowing first. As personal trainer April Gatlin tells Shape, "If a beginner has orthopedic issues and walking is not an option, I would suggest rowing as the best option. It's less impactful on the joints as well as non-weight bearing, but also incorporates more muscle groups than running."
Advertisement
If you are considering rowing as a cardio option, you'll also get more of a full-body workout. Rowing uses the entire body, involving almost double the muscle groups as running or even cycling (via Hydrow). Plus, rowing is great for those who sit at a computer all day. Because the rowing machine pushes your shoulders back instead of allowing them to scrunch forward, it can help your posture and ease the pain of working at a desk all day (via Well+Good).
The benefits of running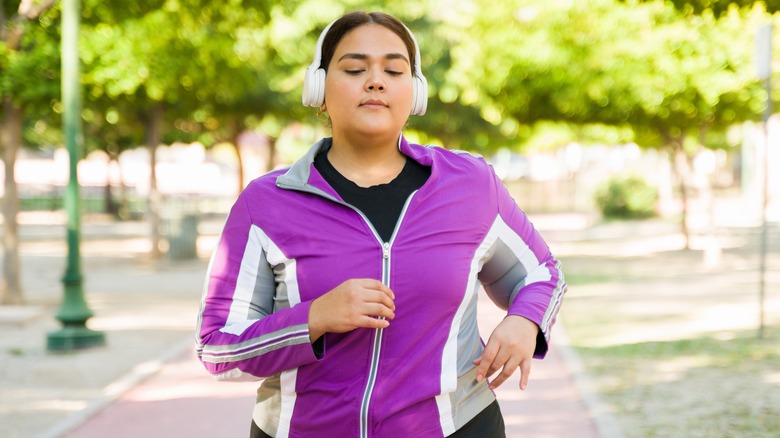 antoniodiaz/Shutterstock
Although rowing is easier on the ligaments and can be a safer way to exercise after an injury, running is still a wonderful cardio option. Running actually helps you burn more calories than rowing while improving your balance and stability (via Nike). Running also offers many different techniques, such as intervals, tempo runs, and progression runs, so you can find a style that fits your goals (via RunVerity). For athletes with no gym access or limited time and resources, running also has the benefit of convenience while requiring absolutely no equipment beyond a decent pair of sneakers.
Advertisement
Of course, no matter which exercise you choose, the ultimate benefits will depend on your form and your effort (via Marathon Handbook). Both exercises are great cardio experiences that will challenge you in the best ways. You can even include both running and rowing in your exercise routine, so that your body and your attention span can each enjoy a little variety.