Del Sandeen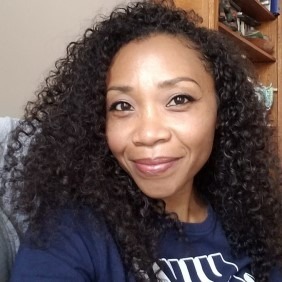 Expertise
Black Hair Care And Styling, Natural Beauty Products, Holistic Health Practices
Del was the Black Hair Expert at the former About.com from 2009 to 2017.

She is obsessed with anything K-beauty and is thrilled whenever she finds a new product that doesn't irritate her sensitive skin.

Since Halloween is one of her favorite days of the year, spooky-themed Glam pieces are her favorite to work on.
Experience
Del's career as a writer began over two decades ago. She's written and edited for several online publications, including the former About.com. Her work has also been featured in Allure magazine and the AARP Sisters newsletter. She started as a copy editor at Static Media in February 2021, worked as the senior lead editor for Nicki Swift features from November 2021 to July 2023, and is currently living out her beauty dreams as an editor at Glam.
Glam's editorial scope is a result of collaboration between writers and editors with a broad array of expertise in everything from women's lifestyle to fashion to wellness. Our goal is to inform, entertain, and engage our readers with accurate and diverse content, bolstered by unique commentary and expert advice.
Focused on accuracy and ethical coverage, the Glam editorial team consistently fact-checks and reviews site content to ensure the veracity and integrity of all claims. For more information on our editorial process, view our full policies page.