This Beauty Brand Was Queen Elizabeth's Favorite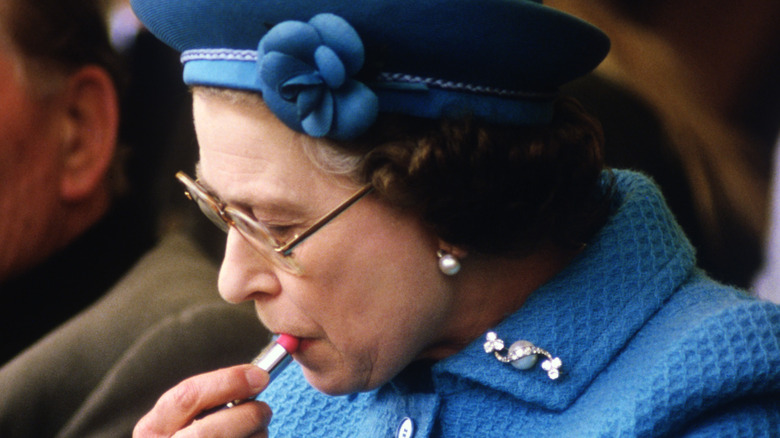 David Levenson/Getty Images
We may receive a commission on purchases made from links.
It took a break for afternoon tea with Paddington Bear for the world to see what the late Queen Elizabeth II really kept tucked in her ever-present Launer handbag. Ladies of lesser status than the queen are known to keep the contents of their purses a matter of national security. But all it took was a little humorous banter with Paddington for the queen to hoist a marmalade sandwich from her purse (via YouTube).
Anybody who watched the charming commercial to honor the queen's platinum jubilee last summer could be forgiven for thinking, "Please keep going, ma'am. I'd like to see more." And who wouldn't? Aside from the very occasional times when the queen was spotted freshening her lipstick, the public knew precious little about what makeup might be hidden in her handbag. After all, she didn't exactly plaster her Bentley state limousine with product advertisements.
Royal warrants, issued to companies that supply goods and services to the royal family, offer the most trusted validation of the queen's preferences. But this never stopped journalists, Britons, and other onlookers from playing detective (via Fox News). They inferred, for example, that her gold lipstick case was from Elizabeth Arden. (And it was.) Over the course of her spectacular lifetime, the queen's favorite beauty brands became as "out of the bag" as her oozing marmalade sandwich.
The prince was impressed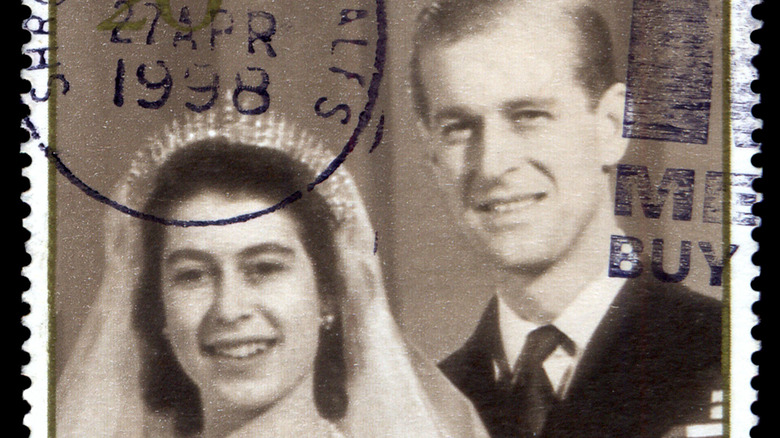 artnana/Shutterstock
From the time she was an adolescent, the young Elizabeth was complimented on her flawless complexion. Smooth and clear, it was fittingly likened to the shade of an English rose. In fact, Prince Philip once cheekily commented, "Yes, and she's like that all over" (via The U.S. Sun). Evidently, she maintained that look into adulthood with the help of Clarins' Ever Matte Mineral Powder Compact (via the Belfast Telegraph). Clarins is one such company that holds a royal seal of approval for vendors, having secured it in 2007. Clarins also apparently provided the queen with a powder in the shade of "transparent fair."
Good skincare, though, must go skin deep — a fact to which the queen was obviously privy. And to look her best, the queen relied on an American brand — specifically, Elizabeth Arden's Eight Hour Cream Protectant. The company has curried favor with the royals for more than 50 years, per Woman & Home. The queen must have valued this deep moisturizer, especially considering that she is thought to have shaken hands with hundreds of thousands of people during her 70-year reign.
The queen appreciated quality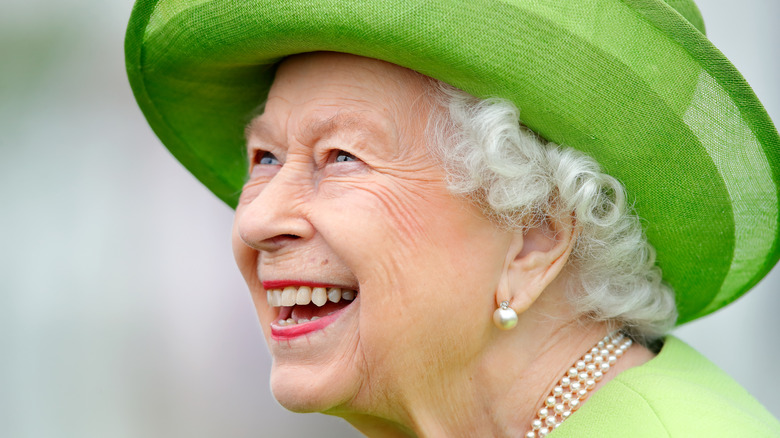 Max Mumby/indigo/Getty Images
Two other beauty brands impressed Queen Elizabeth mightily, too, including British brand Molton Brown (via New Beauty). Woman & Home notes that the queen was partial to the brand's Orange and Bergamot Fine Liquid Hand Wash. Molton Brown's website describes it as "revitalizing shower gel, delightfully aglow with vibrant Sevillian orange oil, bright bergamot, and cedarwood." If the scent reminded the queen the aromas of her beloved Balmoral estate, it's easy to understand why it was one of her favorites.
If there is any brand that may crow the loudest about its association with the royal family, it's Yardley. Established in 1770, Yardley of London was granted a royal warrant by King George I, whose reign lasted from 1625 to 1649 (via the Belfast Telegraph). Yardley soaps are known to be of high quality and excellent value — traits that must have appealed to the thrifty queen. Still, she was no penny pincher when it came to guests. Those at Windsor Castle reportedly received the company's luxury soaps as take-home gifts, along with many memories of an English rose like no other.