TikTok's New Favorite Clothing Store Isn't What You Think
Andy.LIU/Shutterstock
When it comes to fashion, you may think that you're restricted to designer stores for designer labels, which are often not accessible to everyone. Apparently, that is no longer the case, and one grocery store may have something to do with that. Say you're going grocery shopping, and as you enter your favorite warehouse store, you see it in the middle of the store: tables and racks with piles of folded clothing. It may be overwhelming at first, or maybe you had never even considered shopping for fashionable items while doing your grocery run. But a new phenomenon is here.
In fact, finding these items can sometimes be a thrill as you go out to search for them. It's a trend that has been blowing up on TikTok as people have discovered accessibility to affordable and fashionable clothing, often with a designer label attached. Sometimes, it's no different than what you would find elsewhere, offering something that could fit your style or personal preferences for clothing in a cheaper manner (via the New York Post). Here is where you should head for your next clothing haul.
Groceries and designer clothing in one place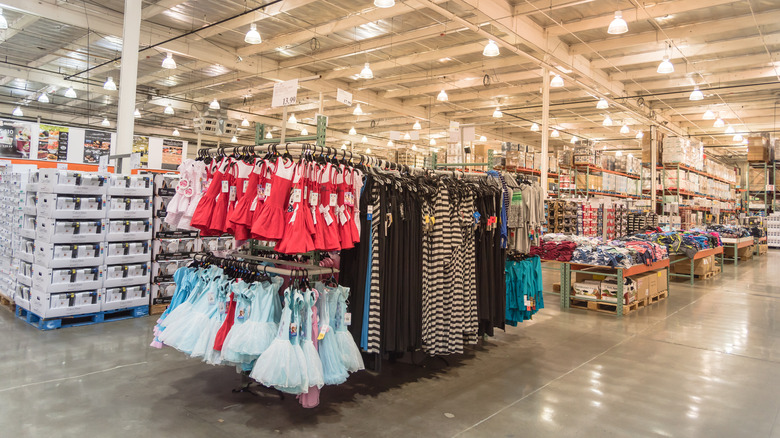 Trong Nguyen/Shutterstock
"I'm approaching the age where I'm going to start getting my clothes the same place I get my groceries," comedian Anjelah Johnson says in a Netflix stand-up comedy show (via TikTok). "You will catch me at Costco. Yes! About to get them Kirkland jeans, them Kirkland socks, that Kirkland body wash." While it gave the audience a good laugh, she wasn't too far off from what was to come. Costco hauls and shopping sprees for clothing have exploded in popularity thanks to users on TikTok. With over 6.5 million views for #Cosctofashion and nearly two billion views for the "Costco clothing finds" search, many people have excitedly shared what they have found while shopping at the warehouse retailer.
Sometimes, this even includes clothing with designer labels. Some shoppers have found items from brands like Hunter, Eddie Bauer, Calvin Klein, Adidas, and Puma. On rarer occasions, some people have found clothing items from Givenchy and Valentino. While the designer items may be less of high-end quality and more of an outlet quality at times, that doesn't stop people from seeking these garments, shoes, or accessories at Costco (via Today).
The thrill of the hunt for good deals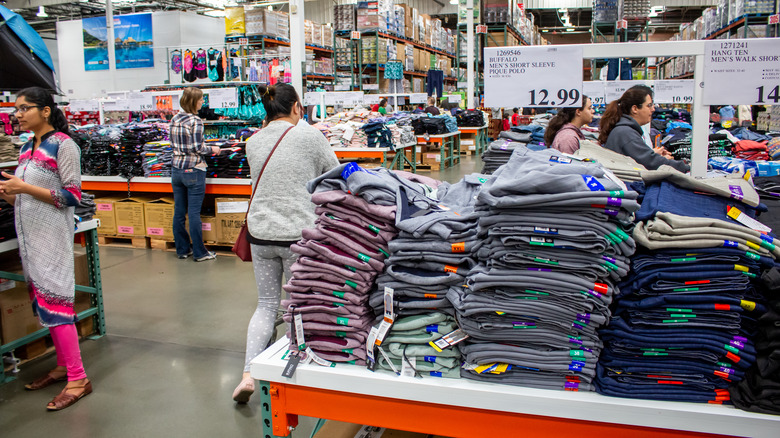 The Image Party/Shutterstock
Jennifer Maldonado is one of the many online users helping her audience learn how to shop fashion at Costco. She creates TikTok videos that show her followers the latest items, and sometimes hidden gems, on her account, aptly called CosctoCouture. "Now that people are working from home and a little bit more budget-conscious, they don't want to spend a lot of money on, you know, expensive items," Maldonado tells NPR. "They want to be comfortable. They want to know that they're getting a good deal, and they want to know that what they're wearing is also fashion-forward, too." 
Maldonado showcases many clothing items from dresses, hats, and slippers to puffer jackets, rain boots, and pajama sets. Additionally, Maldonado is dedicated to doing so. She visits Costco two times a week in an effort to hunt for the best deals. For example, some of her best finds include a Tommy Hilfiger bomber jacket for $29.99, Kensie booties for $26.99, and a Timberland reversible leather belt for $15.99.
Another TikTok user, Jsapproved, displays a variety of finds from different stores, including Costco. "Costco's really doing a great job keeping up with trends and keeping up with big-brand names that are in style," she tells Refinery29. "It's really starting to cater more to a younger audience." Jsapproved also says her Costco fashion finds videos are some of her most popular content. As a result of the COVID-19 pandemic, she says Costco clothing items are the perfect combination of comfort and style at an affordable price point.