What's The Difference Between K18 And Olaplex For Damaged Hair?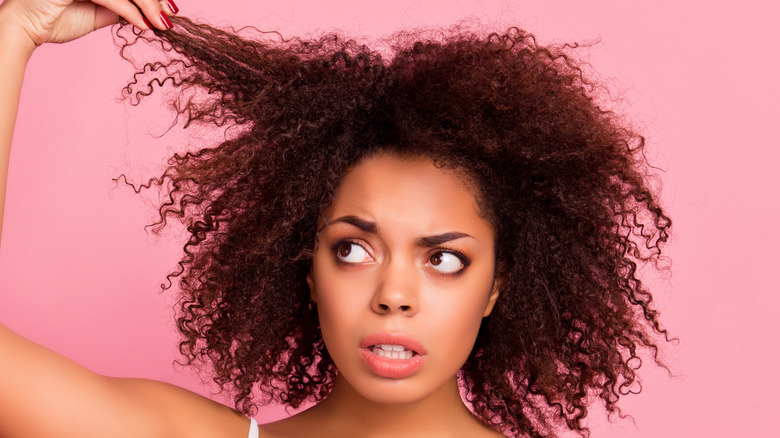 Roman Samborskyi/Shutterstock
We may receive a commission on purchases made from links.
Most colored-hair beauties are familiar with the cult-classic brand Olaplex, but now there's a new girl on the block that's giving Olaplex a run for its money. Enter K18. The Olaplex No. 3 Hair Perfector and K18 Leave-In Molecular Repair Hair Mask are both popular hair care products that aim to repair dry, damaged hair. Specifically, Olaplex and K18 alter the pre-existing bonds in your hair that have been damaged due to bleach, chemical hair treatments, styling tools, and heat exposure.
Advertisement
To effectively compare these hair repair products, you need a basic understanding of the molecular makeup of your hair. Simply put, proteins such as keratin are what make up the composition of a hair follicle, and these proteins are linked together by chemical bonds, per Activilong. The state of these chemical bonds that bind the proteins in your hair will affect the strength and elasticity of your luscious locks (via The Inkey List). There are three main bonds that products such as Olaplex and K18 will interact with, including hydrogen bonds, ionic bonds, and disulfide bonds. But what are the actual differences between these two products?
K18 reverses damage in just four minutes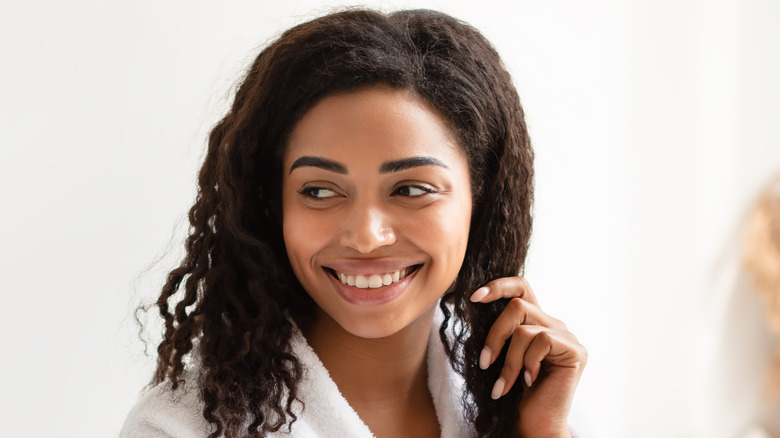 Prostock-studio/Shutterstock
In recent years, K18 has truly established itself as a worthy adversary among fellow hair product companies. K18's highly sought-after Leave-In Molecular Repair Hair Mask boasts an impressive four-minute damage reversal timeline and contains a special formula that works at a deeper level to repair damaged hair than their industry competitors (via The Blushing Bliss).
Advertisement
The not-so-secret ingredient in K18's popular hair mask is K18Peptide, a patented ingredient that took scientists a decade to perfect, according to K18. This carefully studied peptide can repair the keratin chains in the hair follicle to reverse the damage and restore elasticity. By reconnecting these broken polypeptide chains, the damaged disulfide bonds then also re-form, which K18 attributes to the "overachieving" nature of their prized K18Peptide. K18 is also one of the easiest at-home hair treatments you'll find on the market because it functions as a leave-in conditioner rather than a regular hair mask, per Reader's Digest. So, you can skip the conditioner before applying K18's treatment, and you don't need to rinse it out when you're done.
Advertisement
Olaplex is a cult classic for a reason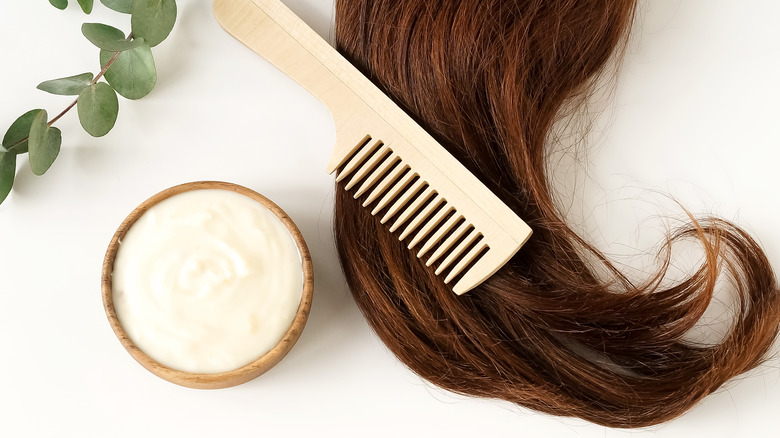 IrenaStar/Shutterstock
Before you pick a side, consider that Olaplex's hair mask has been the go-to product in salons since its release in 2014 (via NaturallyCurly). Olaplex is designed to provide professional-quality repair and the No. 3 pre-shampoo treatment mask certainly lives up to the hype. The ingredients in the No. 3 Hair Perfector mask target different components of the hair's inner structure compared to the K18 Leave-In treatment. According to Olaplex, the success of this silicone and paraben-free formula belongs to a single ingredient called bis-aminopropyl diglycol dimaleate. Despite the complicated name, this patented chemical is actually quite simple to explain. Bis-aminopropyl diglycol dimaleate repairs the broken connections between the disulfide bonds which, you may recall, is one of the bond types that make up the structural composition of a hair follicle (via The Blushing Bliss).
Advertisement
In terms of efficacy, K18 and Olaplex rank similarly as they both re-form the connections between disulfide bonds to restore hair integrity. However, the revolutionary K18Peptide may prove to be more effective as this formula also addresses damaged keratin bonds. To determine which hair treatment is right for you, it's important to consider that K18 is best used for immediate damage repair, while Olaplex requires multiple uses to notice desired results, per AMR Beauty. K18 also works on a deeper level than Olaplex, which may provide longer-lasting results for severely damaged hair.