The Viral Setting Spray Hack That's Going To Change Your Makeup Game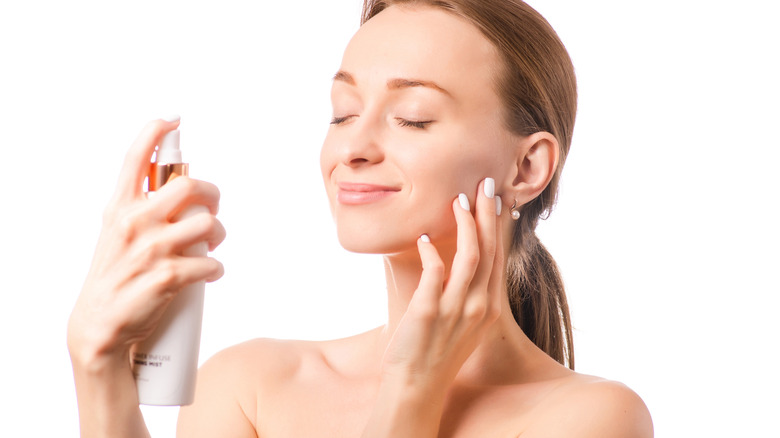 Kabardins photo/Shutterstock
When scrolling TikTok, you can always bet you'll see one or two beauty hacks on your feed. Because of the never-ending amount of content that is constantly circulating on the app, beauty hacks have grown immensely and become their own community.
The newest setting spray hack that's circulating the app claims to give you the dewy makeup look you want, with less hassle. Whenever you wear makeup, you want to be able to have it last longer, so you should always opt for a setting spray or powder — or even both — to set the makeup in its place. That's why setting spray hacks are usually a hit on social media apps like TikTok; it's a product that every beauty lover uses and needs. In fact, the phrase "setting spray hacks for makeup" currently has over 32 million views on TikTok.
Because setting sprays are universal and versatile, they are the perfect beauty tool to help achieve the dewy look you want. However, if you've been simply spraying your setting spray over your final look, TikTok once again has proved that we have been doing it all wrong.
How to use setting spray and a sponge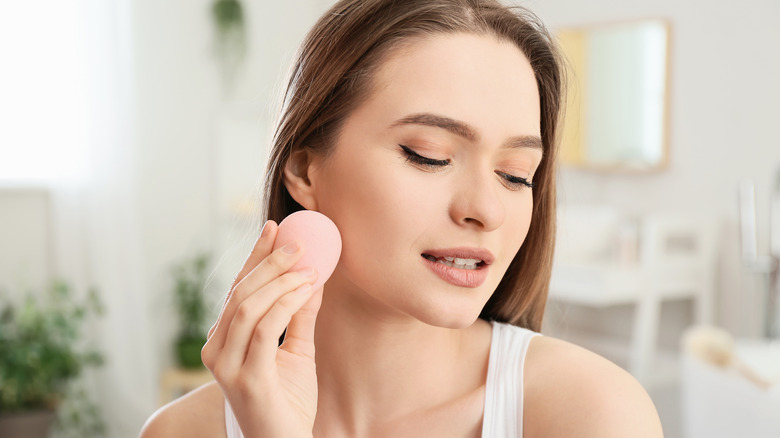 Pixel-Shot/Shutterstock
According to makeup artist Kevin Kodra's viral TikTok, you shouldn't directly spray your setting spray onto your face, but rather spray it onto a beauty sponge. After spraying your beauty sponge, dab it onto your face to seal your makeup. This method should help set your makeup and give you a dewy look. Content creator Anna Newton reiterates this method by stating that it is not only a foolproof way of setting spray but also helps prevent you from spraying too much product onto your face.
Apart from setting your look with a dewy finish and not wasting extra product, using a dry beauty sponge dampened by setting spray helps to blend your foundation into the skin better and naturally. You'll also want to use a dry sponge to wet with setting spray instead of a previously wet sponge as this will water down your setting spray and create a runny application. In the end, this TikTok hack can help you achieve that glowy look with the simple dab of a beauty sponge, but it's far from being the only way to apply setting spray.
Other ways you can apply setting spray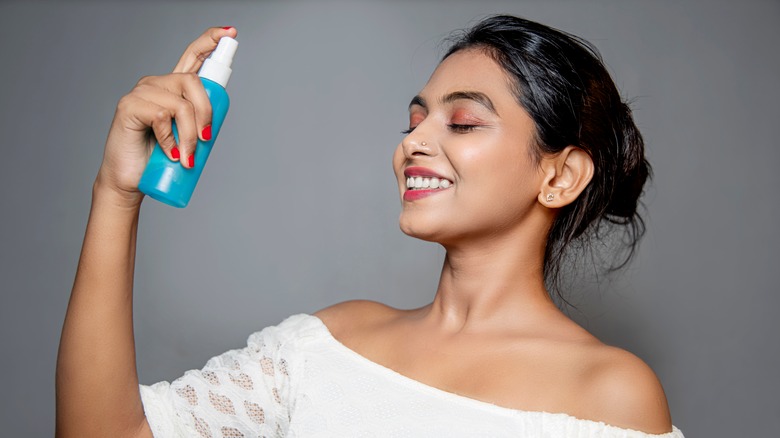 vijay solanki photography/Shutterstock
Apart from using a beauty sponge to apply your setting spray, there are other alternative ways you can use to set your makeup like a pro. According to CoverFX, you can also apply setting spray by spraying it before your makeup, as opposed to it being the last step. Using the correct setting spray before can help act as a primer and grip your makeup as you apply it. Putting on setting spray first is also ideal when you are in a humid or hot place, as this will help hold your makeup tighter. CoverFX also suggests using a setting spray to bring other makeup products to life. You can use setting spray on products like eyeshadows or highlighters to brighten the products and help them stick to the skin better.
NYX Professional Cosmetics also suggests using setting spray between each step to help strengthen each application and make your look last longer. When doing this method, you want to ensure that you let each setting spray application dry before moving on to the next step. Although this process can take a longer time, NYX assures you that it is well worth the extra time, as you'll get a makeup look that can last all day.