How To Keep Your Hair Healthy And Damage Free When Getting A Silk Press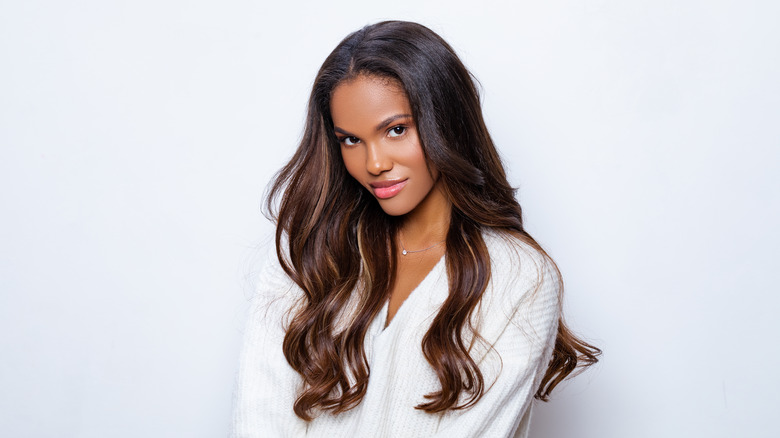 L Julia/Shutterstock
We may receive a commission on purchases made from links.
As temperatures cool down, the natural-haired girlies who wore their curls out all summer are ready for a change. With humidity levels dropping and hair-squelching sweat dissipating, thick-haired girls finally have a chance to rock straight hair again.
Straightening hair, however, has its drawbacks, especially for those with coarser textures and tight curl patterns. If not managed properly, hair experts at Pantene say that high heat can cause irreversible damage to hair and can affect your natural curl pattern, making it incredibly difficult to revert back to wearing your natural curls. According to Dr. Rolanda Johnson Wilkerson, a senior beauty scientist for Procter & Gamble, this happens because heat ruptures hair bonds that are unable to reform later if the hair is not cared for properly (via Naturally Curly). Even though excessive heat can harm natural hair, you can still enjoy an occasional press and maintain your hair's health.
If executed properly and kept well maintained, a gorgeous silk press is an answer to every curly-headed girl's prayers. By not chemically processing the hair and protecting textured curls, silk presses are able to create a velvety smooth finish that retains hair length and health, per Luxy Hair. It still requires, nonetheless, your full care and attention. 
Use the right products to protect your hair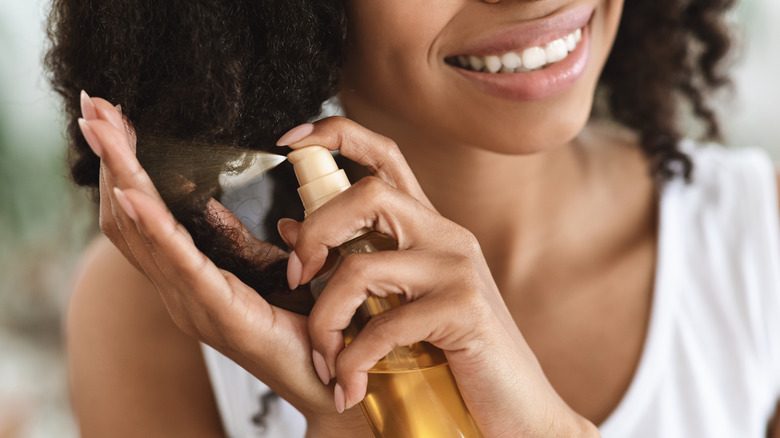 Prostock-studio/Shutterstock
Unlike harmful and toxic chemical straightening treatments, silk presses offer a temporary and much less dangerous option for thick, curly hair. According to hair stylists at Black Beauty Bombshells, silk presses combine the proper tools and products to ensure protective styling to create silky straight hair on tightly curled or afro kinky hair. Though too much heat can damage precious curl patterns, a silk press that is properly conducted on nourished hair can continue to protect long locks and hair bonds.
When deciding to do a silk press, natural hair experts Luxy Hair recommend washing with a sulfate-free shampoo so that your hair can retain its natural moisture and bounciness, which sulfates can harden and stiffen. After shampooing it's important to follow up with a hydrating hair mask to lock in moisture. According to beauticians at L'Oréal, you can also use a leave-in moisturizer to complete this important step of adding moisture to the hair.
Protect first and style in moderation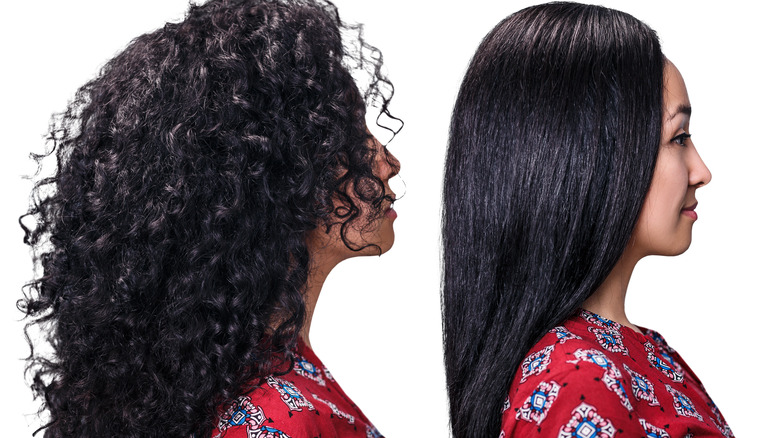 Kotin/Shutterstock
Once your hair has been hydrated after shampooing, it's crucial to then protect the hair before going in with heat. Heat protectants like Cantu Shea Butter's Thermal Shield, available on Amazon, coats hair strands with Vitamin E, cocoa butter, and other nourishing ingredients to form a protective layer of hydration against heat. Briogeo's Farewell Frizz Blow Dry Perfection & Heat Protect Creme is also another great hydrating shield that preps hair for heat.
Now that the hair has been moisturized and hydrated to the fullest extent, plus coated with a hearty layer of nourishing support, you can begin blow drying and straightening. Hairstylists at L'Oréal advise parting the hair into sections before blow drying and working with small one-inch sections when straightening. Even with thick or coarse hair, it's important not to go over 400 degrees because doing so can immediately cause irreparable damage (via Sojourn Beauty).
A thoroughly styled silk press can last anywhere from two to five weeks. In order to maintain happy healthy strands, resist putting the flat iron back in your hair. When you are ready to bring your curls back to life, wash them thoroughly and use a saturated, hydrating conditioner.