Does The TikTok Soda Can Curl Hack Actually Work?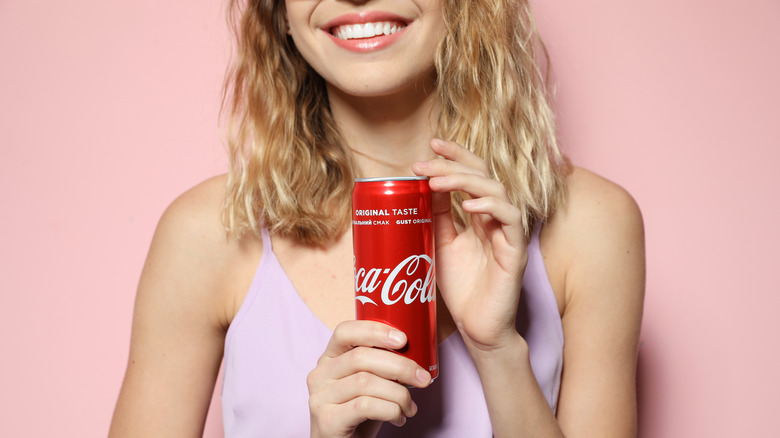 New Africa/Shutterstock
Social media users often utilize their platforms to share some unique methods for styling hair. In 2021, influencer Gillian Grace shared a series of videos on TikTok in which she wrapped her hair around a total of 10 soda cans in order to add some volume to her locks. She then used a blow dryer to apply heat to the soda can curlers and revealed the result. She explained that while her hair did achieve volume through this process, she "[didn't] think [her] hair was damp enough" to get an adequate amount of texture, so she planned to try the experiment again in the future.
Advertisement
This wasn't the only time social media users have used soda cans to achieve curls. In August 2022, The Hair Girl posted a TikTok clip of herself placing a strand of hair inside a soda can, then applying heat with a blow dryer. When the beauty enthusiast pulled her hair out of the can, a defined wave was revealed. Though this attempt appeared successful, the question still remained –– was this a one-time fluke, or can using a soda can really create ideal ringlets?
Impressive soda can curls are all over TikTok
According to TikTok, using soda cans in your hair with a specific technique can lead to photo-ready curls. TikToker Jonathan Monroe went viral after he posted a video on TikTok in June 2022 documenting his soda can curl attempt. The influencer carefully placed a strand of hair inside a Sprite can before blow-drying the can. When Monroe pulled the Sprite can away from his hair, he revealed that the strand had become defined and lustrous from this method. Viewers of Monroe's content shared their disbelief after viewing the video. "No waaaaay!" one commented, while another chimed in enthusiastically, writing, "It works!"
Advertisement
Another video on TikTok posted by user @monomunyeka shows a woman sitting for a hairstyling session. The woman's hairstylist takes a beverage can and, like Monroe, places each strand in the can and blow dries over them. Similarly, the result of this experiment was polished curls. The stylist then brushed through the client's hair to create mermaid waves. 
Since videos like these have been posted, beauty fanatics have been inspired to explore this hairstyling hack.
Some hair professionals aren't convinced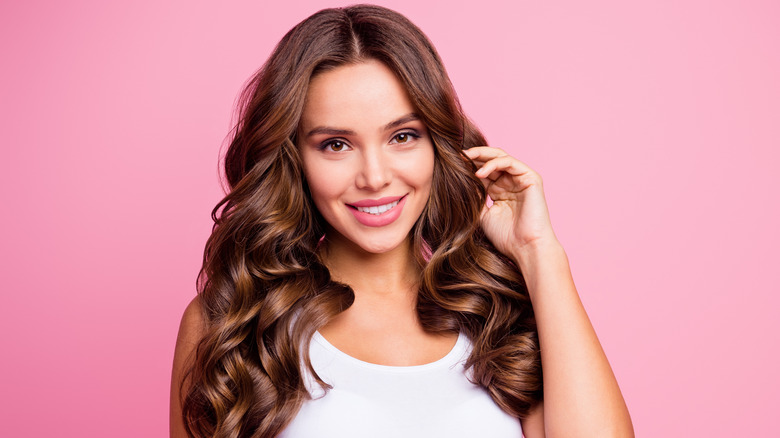 Roman Samborskyi/Shutterstock
Could empty soda cans be the solution to gaining your best hair curls yet? After being inspired by people trying the social media trend, YouTuber Lauren Godwin tested out the technique for a TikTok video she posted in October 2022. "If this actually works, I will throw away every curling iron of mine," Godwin said while curling a piece of her hair inside a soda can. Although she initially said she didn't think the hack looked promising, she was ultimately satisfied with the outcome, saying "All I have to say is, Coca-Cola girls slay. Are you kidding?!" 
Advertisement
Although this manner of curling hair has passed some social media tests, some hair professionals are not necessarily fans of the hack. In August 2022, Shape spoke with celebrity hairstylist Clariss Rubenstein to get her thoughts on soda can curls. Rubenstein explained that the approach is not recommended, as it could lead to injury. "I would not recommend inserting your hair into an aluminum can and heating it up," Rubenstein said. "It seems like a lot could go wrong here." Instead, she recommends "a pin curl technique for bouncy curls," or hot rollers. In addition, Rubenstein stated that wrapping one's hair around the exterior of soda cans without using heat is a safer bet.