This Is How Hot Your Curling Iron Should Be If You Have Fine Hair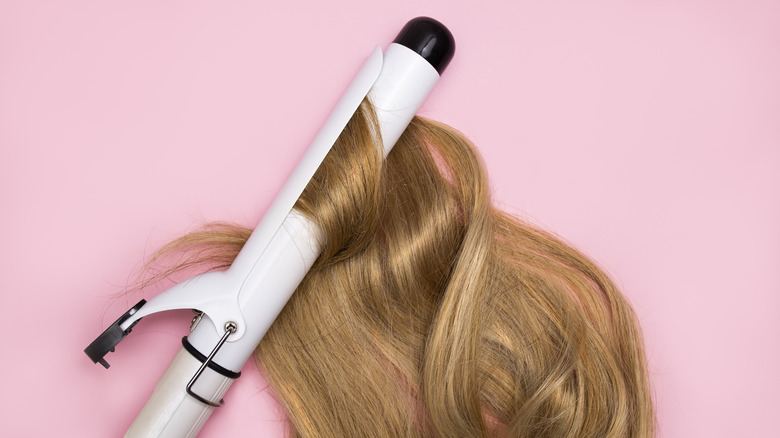 Evgeniya Sheydt/Getty Images
Fine hair can be described as thin, fragile, and more prone to breakage (via Frankie Cochrane). Because it's more delicate, fine hair needs a special care routine. Even once you determine whether you have fine or thick hair, there might be a chance you've been taking care of your hair all wrong. When it comes to hair health, hot tools are a world of their own.
Hot tools can wreak havoc on your hair, especially if they're used improperly or too often. Celebrity stylist Marco Pelusi says that hot tools can challenge one of his top priorities: maintaining hair's moisture levels. "Hair tends to mimic whatever environment it is in, so if you are heating your hair up with hot tools it will become hot and dry," Pelusi tells Well + Good. 
Frédéric Fekkai, famous hairstylist and haircare product creator, agrees that caution is required: "Repetitive use of hot tools can damage and break the hair severely—especially chemically treated hair—and can also eliminate the hair sheen on all types of hair," he tells the publication.
Hot tool temperature matters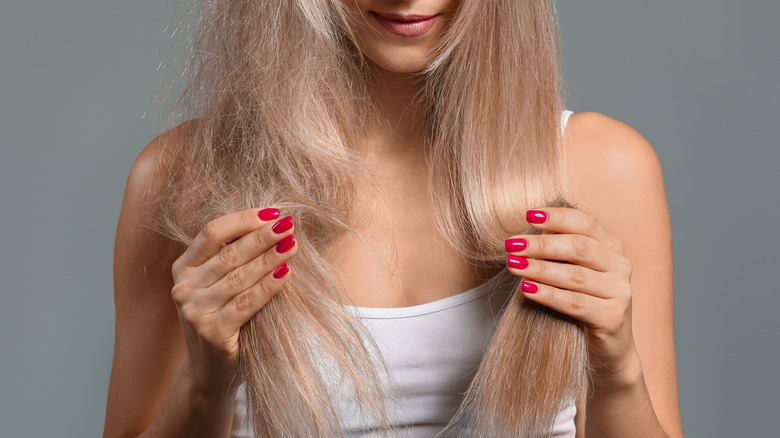 Pixel-Shot/Shutterstock
There are ways to properly protect your hair from heat. One way you can combat hair damage is to be mindful of your hot tools' temperature. Most curling irons offer temperature ranges from 125 to 425 degrees Fahrenheit, and the majority of straighteners range from 250 to 425 degrees Fahrenheit (via Pro Fashion). Unfortunately, that leaves a lot of room for error.
If you're the type that cranks up the temperature, you may want to put down the straightener for a bit. T3 stylist David Lopez discourages ever going over 400 degrees, no matter what kind of hair you have. Lopez told Self that 450 degrees is the same temperature used in keratin straightening treatments, which are designed to last for weeks. Let's leave that to the professionals.
Even if you know you have fine hair, there may be other factors to consider before using hot tools.
Check your hair type before styling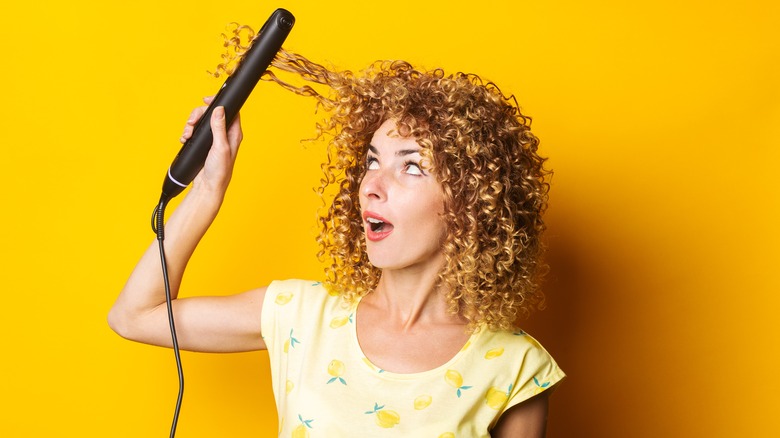 Alex SG/Shutterstock
Celebrity hairstylist Laura Polko says to consider your hair type and its history. If your hair is already damaged from chemical or color treatments, you'll need to turn down the temp. "Ignoring these factors can mean you are overexposing your hair to heat," says Polko to PopSugar. "This can result in breakage, damaged hair, and styles that don't last," 
Polko recommends fine-haired folks keeping hot tools at under 300 degrees Fahrenheit, but the stylists at Redken say less is more. Their baseline for fine or thin hair is 200 degrees Fahrenheit or lower. However, your temperature may also need adjusting based on the texture of your hair. If you've got straight hair and just need to tame flyaways, keep temperature levels around 250 (via Byrdie). For curly or coily hair, the recommended range goes up to the upper 300s.
With these tips, you don't have to compromise healthy hair to achieve your favorite looks. A little bit of knowledge can go a long way in protecting your hair. Before you pick up another hot tool, check out some of the best curling irons for fine hair.