This Is How Much You Can Expect To Pay For Classy Boudoir Photos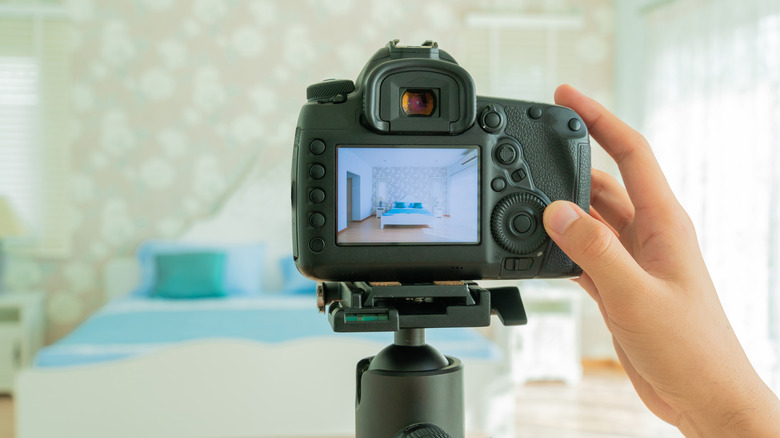 false/Shutterstock
We all love a good selfie, but sometimes, the front-facing camera just doesn't quite cut it. When you're looking to really capture your essence in a photo, look no further than boudoir photography.
According to Imaginated, boudoir photography "highlights and embraces the intimate and sensual beauty of one's body." It began in the 1920s when nudity in pictures was illegal, and grew in popularity in the pin-up scene that focused on celebrating women's curves while adorned in intimate fashion (Via HuffPost). Contrary to popular belief, boudoir photography is not inherently inappropriate — many consider it to be a form of art, just as you'd wander around a museum and admire the nude statues of Greek goddesses and early human portraits.
These days, boudoir photoshoots are far less controversial and come highly recommended for those looking to celebrate their body in a fun and unique way. Whether you're interested in taking an intimate set of photos as a gift for your significant other, or you just want to immortalize the beauty that is you, there are a few things you should know about boudoir photos and their associated costs.
The price for spicy pics might not be what you expect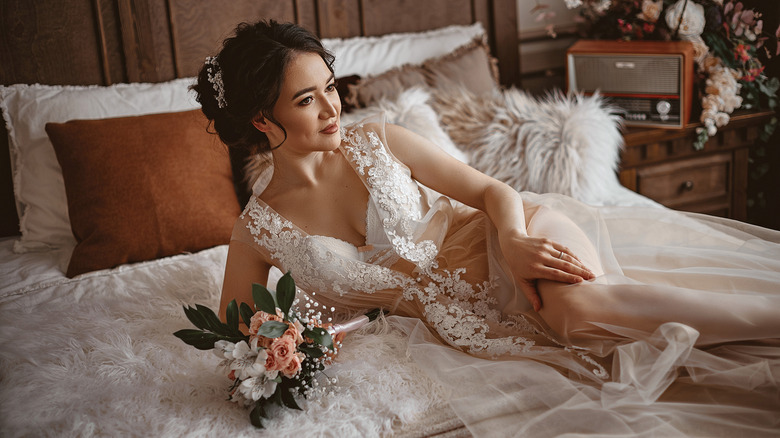 Marunich Anastasia/Shutterstock
The most important thing to look for when considering a boudoir photoshoot is finding a photographer you trust. The Boudoir Studio recommends having a consultation with your potential photographer and making sure their goals align with yours. If going full frontal for the camera makes you nervous, here's a reminder: you do not have to be nude. Boudoir photography is a celebration of your body at your comfort level. Discussing poses and outfits that you are comfortable with will give your photographer a clear idea of your vision and keep you feeling safe and sexy throughout the whole process.
According to Bella Mitri Boudoir, a boudoir season can be as cheap as $200 to $500, not including the cost of any prints or digital downloads. Each photographer is different, and the price of packages ranges depending on what services are offered and how much experience your photographer has. In total, expect a mid-range price of around $1500 including prints.
While anyone can participate in a sultry photoshoot these days, boudoir photos have been popularized by brides-to-be. Many brides will have a boudoir shoot in their bridal lingerie and gift it to their partner before their wedding night, per The Knot. It's also a great way for brides to further celebrate their body on their special day — many people who have taken boudoir photos look back on them with pride as they remember that special time in their lives.
Boudoir is a sexy way to boost your confidence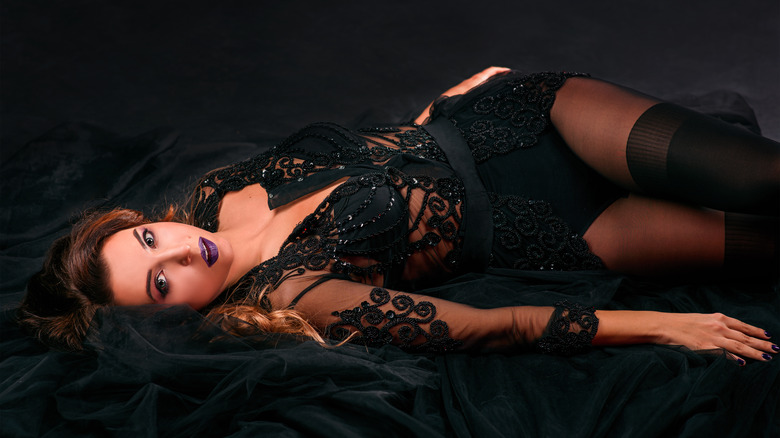 Kateryna_mostova/Getty Images
Per CBS News, a Glamour magazine survey found that 97% of women reported being unhappy with their bodies — they criticized things like their weight and overall body size. From a very early age, women are conditioned to criticize their bodies, desiring to look like the women they see in the media. But the images we consume are often altered and influenced because of what society agrees is the perfect body. One study found that constant comparison to others with a desire to transform your body based on beauty standards can be extremely harmful, and lead to conditions such as anxiety, depression, and eating disorders, via the National Library Of Medicine.
Thanking your body does wonders for your self-image, and is one of the best ways to celebrate the body you have. According to boudoir photographer Kylee Maree, these steamy shoots empower women and encourage them to appreciate their body as it is. "Imagine the power these images will have in 20, 30, even 50 years time...when you can look back at these memories and see just how beautiful, confident, and sexy you were at this stage of your life," she told Brides.
You may not feel comfortable right away, but finding a photographer you trust will help make the process easy and fun. You might be surprised how proud you feel of your body after you memorialize it with a boudoir shoot.