How To Use Powder To Make Sure Your Lipstick Lasts All Night Long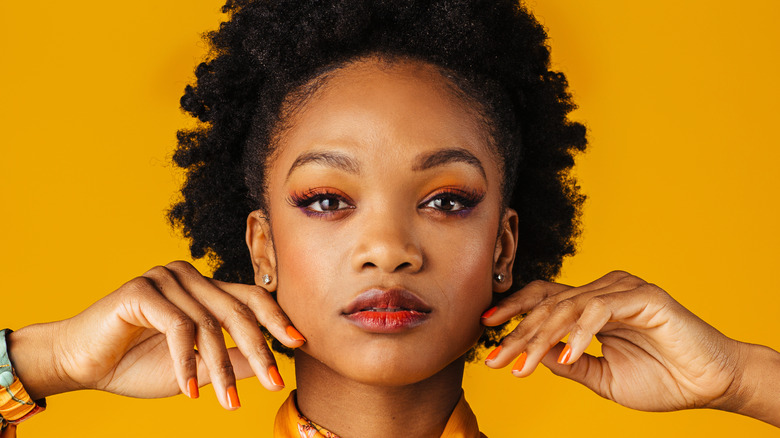 CarlosDavid/Shutterstock
While wearing lipstick, you might have found yourself in that all-too-common embarrassing position — no matter how hard you tried, the lipstick smeared, flaked, or simply faded away with a few bites of food. Worst of all, you may not have realized it until you looked in the mirror, hours after the lipstick smudged.
There may be several reasons why your lipstick doesn't stand the test of time when you need it the most. For example, if you don't exfoliate before applying it to your pout, you may be setting yourself up for failure. You also might not be lining your lips correctly, which can cut into the longevity of your overall look, per Self. If you don't blot, either, you could be wasting your lipstick entirely.
What you might not know is that there is another item in your makeup collection that could be the key to a long-lasting vibrant pout: powder. This cosmetic is essential for setting your makeup, and it's especially necessary if you're in a constant fight against excess oil on your face. However, powder may also be the secret weapon you need to keep your lipstick in place all night long. As it turns out, using it in combination with lipstick is a trick that has been around for ages. Here's how you can take advantage of it and avoid the common pitfalls of rocking a beautiful but delicate lippy.
How to use powder to make your lipstick last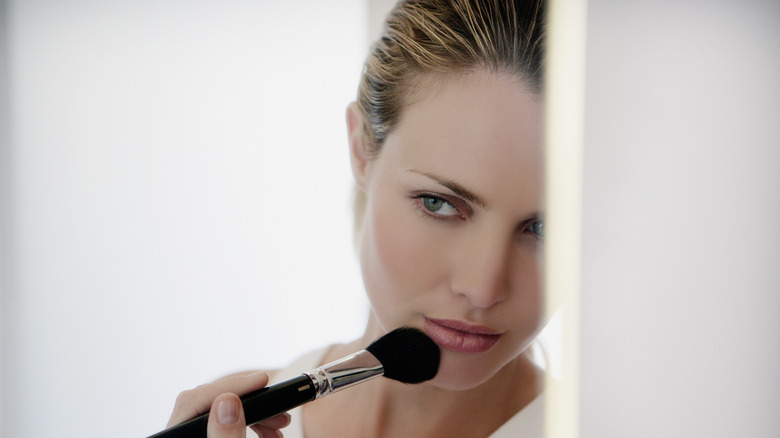 Jupiterimages/Getty Images
The first step to making sure your lipstick doesn't falter is prepping your pout before even touching your makeup bag. Ideally, you should make time to exfoliate your lips with a scrub to remove dead skin. Afterward, it's best to moisturize your lips, either with a lip balm or lip primer, per Good Housekeeping.
Once you've prepared your pout for that beautiful lipstick, you can begin to use your lip liner — but not just to outline your lips! Fill them in with the liner for even more longevity once the lipstick goes on.
Now, it's time to apply the actual lipstick. To make it a bit easier, start from the center, and then work outward toward the corners of your lips. "Sometimes I give a small smile to make sure that I'm getting in there," makeup artist Joy Fennell tells Good Housekeeping. When you're finished, gently blot your lips by closing them with a napkin or facial tissue placed in between.
Then, pull out your favorite translucent powder, a fluffy makeup brush, and a single ply of tissue. While holding the tissue over your pout, softly pat the powder onto your lips. Not only will you create a flawless, matte look, but you'll be giving yourself the reassurance you need to confidently rock your lipstick all night long.
Lip care tips for a healthy and hydrated pout
Everyone loves wearing a beautiful lippy on occasion, but when you're going bare, there's no better time to take care of your pout. In fact, adopting a lip care routine can ensure that you don't run into issues (think dryness) when it comes time to sport that new lipstick you just purchased.
Exfoliation can be beneficial for your lips, and not just before you apply lipstick. Removing dead skin can prevent problems such as uncomfortable cracking, especially in cold weather. However, exfoliation may be best reserved for those who regularly experience dryness. "If you have healthy lips, exfoliation isn't necessary," board-certified dermatologist Dr. Suzanne Friedler told Healthline. "However, if your lips tend to be dry and flaky, gentle exfoliation can smooth out rough spots, so that lip cosmetics apply more uniformly."
As The Skin Cancer Foundation notes, lips do not have oil glands, meaning they become dry quickly. It's critical to stay hydrated and avoid licking them — this is a habit that can instantly rob your lips of moisture. Finally, apply a lip balm whenever you feel dryness, and pay attention to the corners of your pout. If you spend a lot of time outdoors, look for a product that contains SPF protection. This can prevent potential damage from the sun's strong ultraviolet rays. Ideally, your lip balm should have an SPF rating of 15 or higher.