What Should You Be Wearing Under Your On-Trend Sheer Clothing?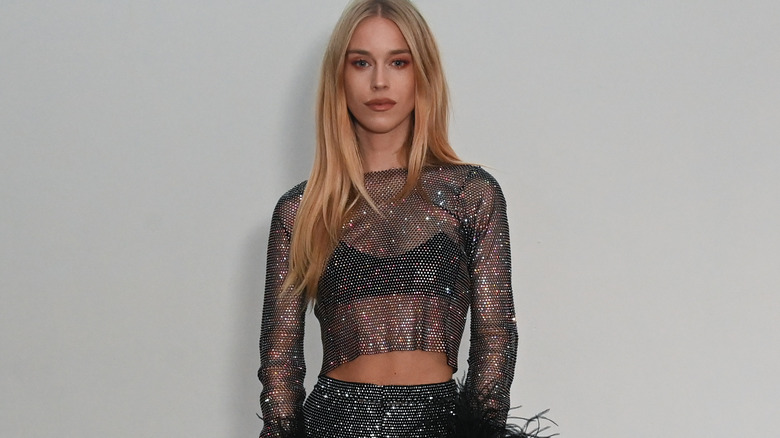 David M. Benett/Getty Images
Anyone who has seen the latest fashion trends knows that they're all about femininity and strength. Whether you use feminine pieces to show your strength or wear any clothing that makes you feel empowered, the common notion at present is using fashion to make a statement. One of the latest examples, of course, is sheer clothing. Sheer and see-through pieces have become one of the latest ways to embrace femininity and empowerment. In fact, trend forecaster Jessica Richards tells Marie Claire, "These silhouettes, created in sheers that emulate 'nakedness,' strip down the volume of their co-trend and instead promote a presence that a woman's body is her own and not to be ignored. She will make it seen and acknowledged in a fashion-forward response to the socio-political environment of the times. In these silhouettes, net fabrics and chiffons are most present."
So, while sheer clothing is a symbol of power in femininity, one of the cons of this trend is knowing how to wear it. Anyone who has worn sheer clothing knows it's one of the most challenging garments to style. Although see-through and sheer pieces are soft and gorgeous, knowing what to wear underneath is challenging. Depending on how comfortable you are with showing skin, the layers you wear can be as modest or revealing as you want. Thankfully, there are plenty of ways you can wear sheer clothing and still feel comfortable and chic.
What to wear underneath sheer tops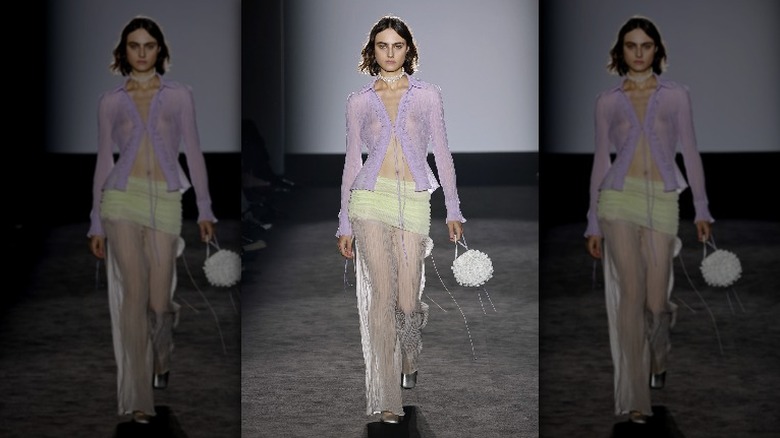 Estrop/Getty Images
Wearing a sheer top is ultimately a simple task, as there are myriad ways you can cover up underneath. In fact, there are multiple types of tops you can wear under your sheer tops and still look stylish. These include bralettes, bandeaus, shapewear, and cami tops. Bralettes are a fun way to add another flirty and feminine touch to your look, and bandeaus can be another flirty option with more coverage on the top if you still want some coverage. Meanwhile, shapewear and cami tops are great options for those looking for full coverage but still want something stylish. Cami tops, in particular, can be the most simple and inexpensive piece to wear underneath that will make you feel comfortable. 
For those who plan to wear a bra or bralette underneath a sheer or mesh top, fashion blogger Kate Waterhouse mentions on her blog that one of the best ways to rock a sheer top is with a contrasting bra underneath. While some may tend to shy away from showcasing their lingerie, going for a contrasting bra or bralette is becoming the go-to way of styling sheer tops.
What to wear underneath sheer bottoms or dresses
Estrop/Getty Images
Styling sheer bottoms or dresses can be an extra concern for those who may not want to wear something too revealing but still enjoy the trend. Fashion blog Eliza recommends choosing out of three options: a bodysuit, matching separates, and a slip dress. Wearing a slip dress is the best option for those looking for something more covered up. However, when picking out a slip dress to wear underneath, you want to ensure it is as body-hugging as possible. A loose or baggy slip dress will create too much bulkiness underneath your sheer dress.
What's more, even if you decide to wear lingerie underneath, you don't need to feel entirely exposed. Demure lingerie is an alternative to the classic bra and underwear set. This matching set will consist of a bra with more coverage and high-waisted bottoms that offer full support along the back. Demure lingerie is an excellent choice if you still want a runway look suitable for everyday situations. These high-waisted bottoms are similar to full-coverage bikini bottoms and can be an ideal piece to wear underneath sheer bottoms. A matching color or print set can give you a chic look that makes a statement, too.