Pinterest Predicts Cyber Chic Will Be All The Rage In 2023 Fashion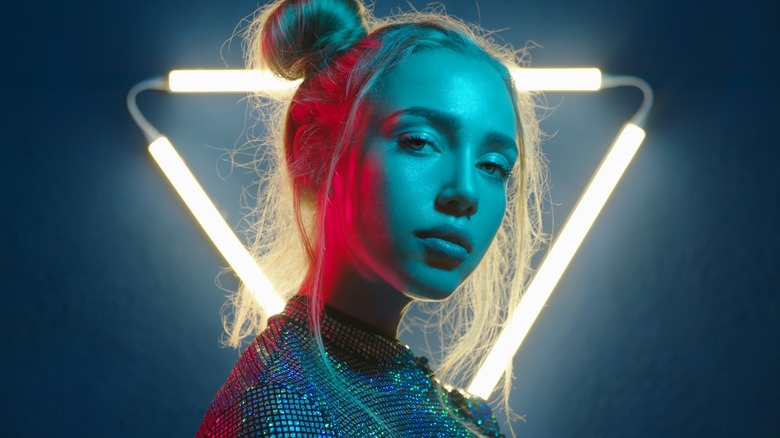 popcorner/Shutterstock
We may receive a commission on purchases made from links.
Whenever a new year looms, we can't help but look forward to fresh starts and blank slates. When that calendar ticks over from December to January, there's a sense of potential and discovery that makes us excited to jump into new habits and regimes, from adopting the latest wellness trends to mixing up our beauty routine with the hottest incoming skincare fads.
Of course, fashion is no exception. Every year, we're dying to know what's in, what's out, and how we can redefine ourselves from head to toe. If you're this kind of ever-evolving fashionista, you may be eagerly awaiting the drop of fresh outfit inspo in 2023. Fortunately, Pinterest has your back. The social platform's annual trend report, Pinterest Predicts, has already identified the fads to watch, from Gemini hair to mushroom-themed decor. And according to this intel, one of the blossoming trends for your closet is a retro-futuristic throwback classified as "cyber chic."
What is cyber chic?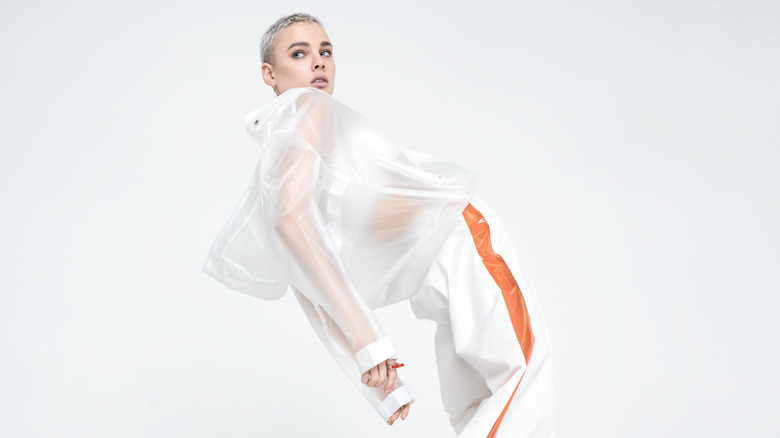 Quantiumpix/Getty Images
Cyber chic — sometimes called "cybercore" — is an edgy and maximalist aesthetic where space-age vibes meet hacker grunge. Think metallic finishes, sharp angles and cutouts, sci-fi glasses, and the gratuitous pairing of stark black or white pieces with neon accents. Diving into this trend, Pinterest likens it to such looks as gamer girl, dystopian, and cyber streetwear.
Cyber chic also has a strong tie to Y2K fashions, which have been gaining ground as a favored trend in vintage style. Proponents of the aesthetic cite iconic 2000s-era looks as touchstones, from the patent leather costuming in "The Matrix" to the futuristic outfits featured in music videos by artists like TLC and Destiny's Child.
"Bright colors, rhinestone everything, and metallics are essential staples to achieve the cybercore aesthetic," content creator Charlotte Chiasson tells Nylon. "A lot of what was popular was heavily influenced by Black culture. Many Black rappers at the time influenced this style through the use of metallic clothing and bling, with light blue colors and futuristic vibes." If you're feeling the wave of Y2K nostalgia, adopting this look can be a great way to enter 2023. So, where should you start to best embrace cyber chic in your wardrobe?
How to get the cyber chic look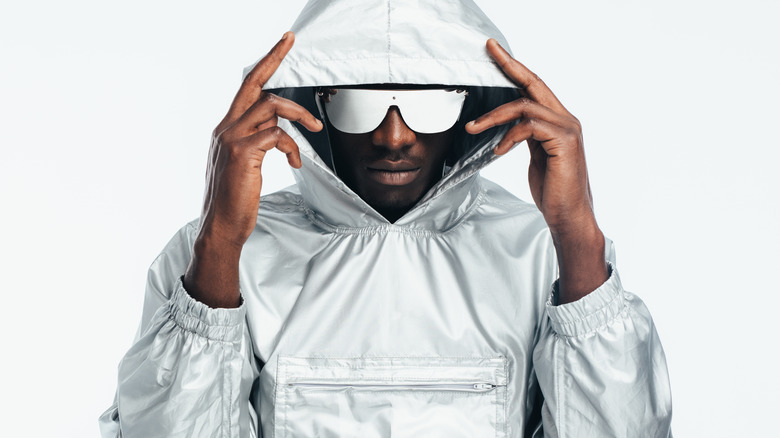 Jacoblund/Getty Images
If you're looking for some cyber chic inspiration, Pinterest isn't the only social media channel that's got your back. Try browsing through the #cybercore hashtag on TikTok, which is gaining attention and is likely to take off in 2023.
You can also add a few key pieces to your closet to start mixing in a futuristic look without having to totally reinvent your wardrobe. Glossy, patent-leather bottoms like the Side-Ruched Patent Leather Skirt from Endless Rose can be paired with your existing tops to give them a dark edge perfect for the digital age. You also can't go wrong with a metallic blouse to bring cyber vibes. For instance, Norma Kamali's Slim Fit Long Sleeve Turtle Top comes in gold or black for a versatile sheen.
Accessories are also an easy way to bring cyber glam. Accent your outfits with neon-tinted glasses, chunky headphones, and eye-catching platform boots to evoke that signature blend of old school and new school that makes cyber chic so fashion-forward and appealing.