How Often Do You Need To Cut Curly, Textured Hair?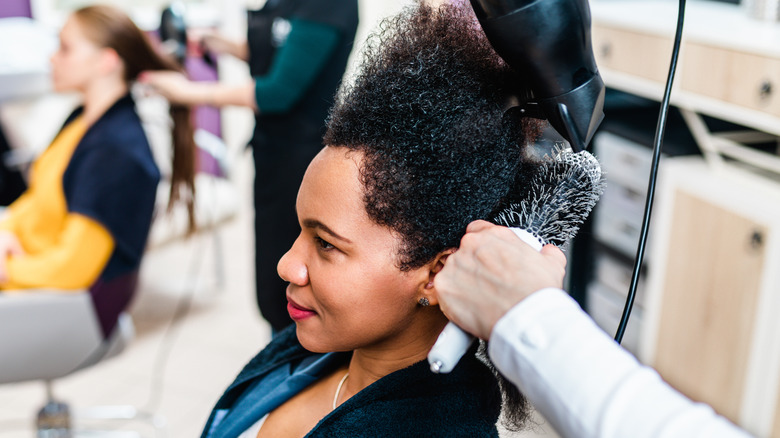 hedgehog94/Shutterstock
If you have curly, textured hair, you know it can be a process to style and maintain. Because of its volume and the potential to tangle, this hair type can quickly become a challenge if you don't manage it on a routine basis. That being said, part of maintaining any type of hair is getting it trimmed, and there's no exception for curly or textured tresses. "Truthfully, it is best to give [your] hair a trim before these signs because once you see them there is already damage done," Philip B., a celebrity hair treatment expert, told Good Housekeeping. "If you can get in front of it, your hair will always appear its healthiest, shiniest and retain the most moisture, bounce, and body."
If you're unsure of when to book that salon appointment, there are a few signs to look for in your hair. Split ends, frequent tangling, and ends with a sticky texture are all red flags that can let you know it's time for a haircut. That being said, the actual timeframe for those maintenance trims depends on your hair type, as well as what you want to achieve. For example, getting a cut every six to eight weeks is best if you're going for length. If you like to keep your tresses short, between two to four weeks is the sweet spot. Here is how often you should be cutting your locks if you have curly, textured hair.
How often you should really be cutting your curly, textured hair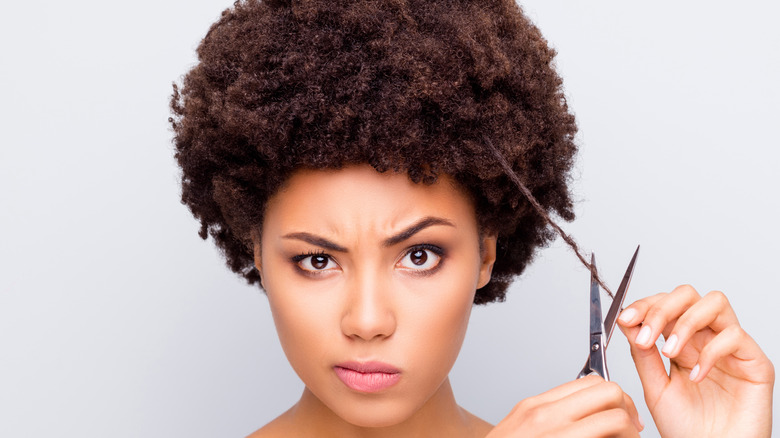 Roman Samborskyi/Shutterstock
If you have curly, textured hair, but maintenance has never been your thing, you're in luck — you may be able to go as long as six months without a cut, according to Good Housekeeping. This is because your curls give you the option to style your tresses in a variety of different ways. "There are so many types of curls and curl patterns, but the commonality for cutting usually is that the curl definition or pattern changes and loses its shape," celebrity hair treatment expert Philip B. explained to the publication.
When you do finally head to the salon, don't be afraid to ask your stylist a few questions before they take a pair of sheers to your locks. Make sure you communicate the style you have in mind and ask the stylist for their professional opinion on whether it would work with your hair. Once you get the green light, you can and should ask for tips on how to maintain your new look. This can give you an idea of what type of styling products will benefit your tresses most.
If you aren't satisfied with the answers you're getting, consider looking for a different stylist. As a customer, you have a right to work with one who is best suited to handle your specific hair type, in addition to your wants and needs.
How to identify your curl pattern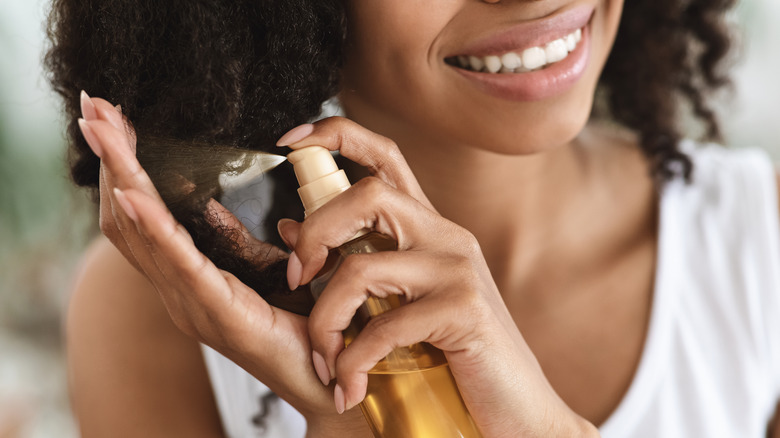 Prostock-studio/Shutterstock
One way to better understand how to care for your curly, textured hair is to identify your curl pattern. As it turns out, there are specific curl types that can be used to identify your tresses. Knowing your type can help you choose everything from shampoo to leave-in condition that is best suited for your locks.
Most professionals identify curls as one of nine different types. Type 2 curls are actually defined as waves, and they include soft (2A), wavy (2B), and deep waves (2C). Type 3 curls are soft curls (3A), curly (3B), and ultra curly (3C). Finally, Type 4 curls are defined as coily. They are either coiled (4A), zig-zag (4B), or tightly coiled (4C). Other factors also need to be considered when shopping for products to manage your mane, however, such as porosity.
To identify your curl pattern, NaturallyCurly recommends layering a moisturizer into your hair after washing and then allowing it to fully dry. Do not comb or brush your hair, as this can potentially disrupt the natural definition of your curls. Once your tresses have dried, you can attempt to identify your curl pattern. If you're still unsure, there are curl specialists out there who can help you find a more accurate answer.