All The Help You Need To Host The Ultimate Valentine's Day Party
Deagreez/Getty Images
Valentine's Day is arguably the most magical day to look forward to each February. Historically, Valentine's Day has been considered a time dedicated to true love, romance, and the celebration of blissful relationships. These days, singles are realizing they can still celebrate Valentine's Day even if they're not in a serious relationship with someone else. If you're totally single, you're dealing with a complex situationship, or you've recently entered a brand new relationship that's a bit too fresh to gauge, there are several fun Valentine's Day plans to consider with your besties. 
Advertisement
Hosting the perfect Valentine's Day party comes down to deciding which theme makes the most sense. Being surrounded by your closest friends and loved ones on this particular holiday can be incredibly meaningful. Hosting an event that makes everyone feel included and appreciated is one of the most thoughtful and considerate things you can possibly do. Now, here are a few ideas to take into account with Valentine's Day quickly approaching.
Cocktail party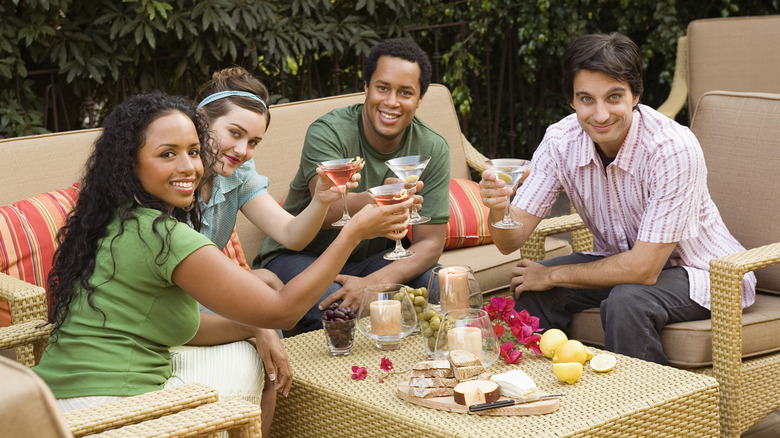 Jupiterimages/Getty Images
Hosting a cocktail party for Valentine's Day is a brilliant idea if you're hoping to get a little tipsy while making social memories. The good news about hosting cocktail parties is that you can still accommodate any of your guests who prefer not to drink alcoholic beverages. Mocktails are on the rise in terms of popularity due to the fact that they look and taste just like the real deal without any liquor. 
Advertisement
When planning your cocktail party for Valentine's Day, you'll have to decide if you want to have a full bar, batched cocktails, or a specific drink menu. You'll also have to decide if you want to hire a bartender to be on staff at your event or if you want to take the reins when it comes to mixing everyone's beverages to perfection. The best cocktail parties offer an assortment of finger foods and hors d'oeuvres. Some of the best edible options to have on deck at your cocktail party include hummus dip, fresh-cut fruit, and Pizza Rolls (homemade or store-bought are both fine).
Tea party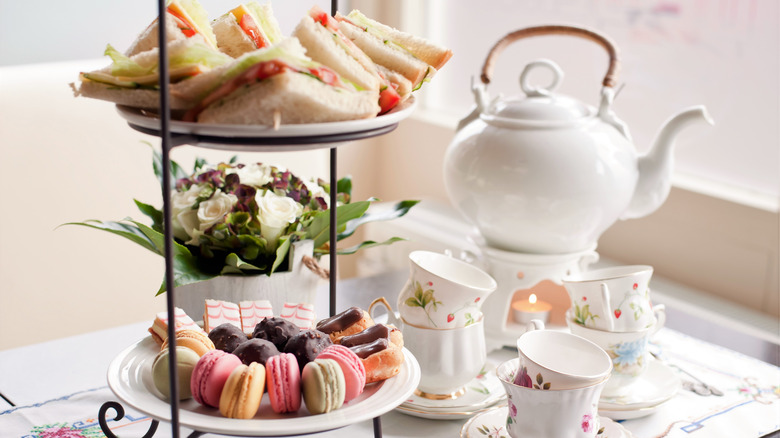 Inna Taran/Shutterstock
There's nothing boring about hosting a tea party on Valentine's Day, no matter how outdated the idea might sound. Yes, people were hosting tea parties back in the 1700s, but that doesn't mean you can't host your own version of a modern tea party right now. A tea party is quite similar to a cocktail party, except that instead of liquor being the main beverage on hand, various tea flavors are at the center of the scene. The best tea parties are laid out in the perfect settings with the most charming ambiance. 
Advertisement
You can decide whether you want your tea party to have a feminine touch or an edgier vibe depending on the group of people you're inviting. You'll want to have a truly versatile flavor assortment in place including mint tea, green tea, and black tea. Make sure it can all be customized with citrus, rose, and lavender mix-ins. Another thing you'll have to be wary of while hosting a modern-day tea party on Valentine's Day is ensuring that your kettle never runs low on hot water.
Secret Cupid gift exchange party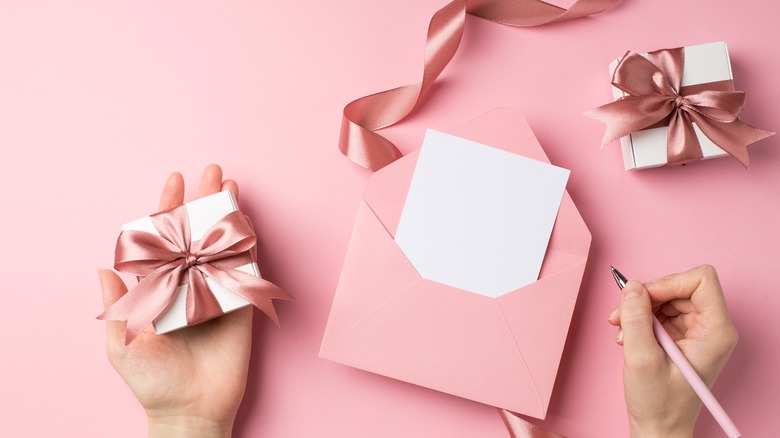 Inspiration GP/Shutterstock
In the same way that people exchange gifts with each other while playing Secret Santa at Christmas time, you can host a Secret Cupid party on Valentine's Day that follows the same rules. Secret Cupid isn't necessarily groundbreaking or unique since it copies such a popular Christmas game down to the very last detail. It's still worth considering if you and your friends enjoy purchasing thoughtful gifts for each other. 
Advertisement
Before your secret Cupid party starts, make sure that everyone knows they must bring a gift for someone else in the group. Set a strict budget for everyone to follow so no one shows up with an underwhelming gift or something that costs too much money. It wouldn't be fair for one person to end up with a keychain while someone else ends up with AirPods. 
Make sure to have backup gifts lined up in case anyone bails out at the last minute. It would be unfortunate to see the sad look on someone's face upon finding out the person in charge of bringing their Secret Cupid gift wasn't showing up. Having a handful of basic gifts on reserve can really save the day. As the host, you should think about setting aside wrapped gifts like candles, body wash and lotion sets, or tumbler coffee cups.
Advertisement
Medieval party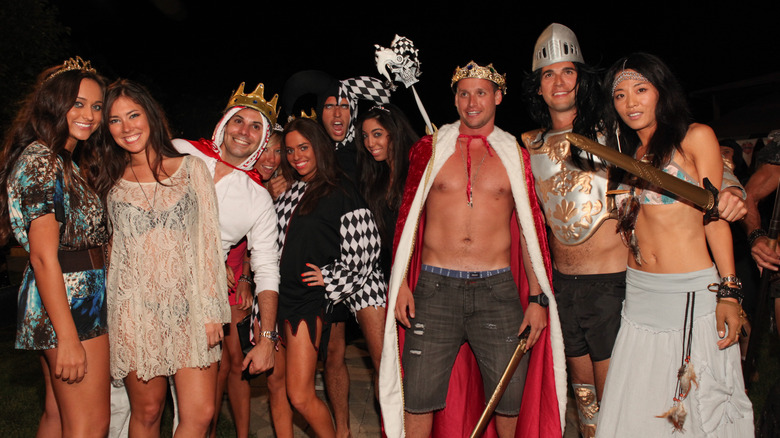 Matthew Peyton/Getty Images
People were falling in love with each other back in medieval times just as often as people fall in love with each other now. That being said, it's not that far of a stretch to consider having a medieval-themed party on Valentine's Day. You can have a lot of fun with this if you're trying to steer away from a full-on lovey-dovey vibe, considering the group of people you'll be celebrating with. Instead of decorating your home with basic pink, red, and white decor, you'll be going all out with decorations that match the essence of medieval times. 
Advertisement
You can use golden coins, flickering candles, and knights' gear, such as shiny armor, metallic helmets, and swords, as your main decorations on display. In terms of food, all of your guests should drink beverages from royal-looking goblets, whether they're made out of metal or plastic. Be sure that all of your plasticware has a golden tint to it and be sure your tablecloths are covered in cobblestone designs or something similar.
White elephant gift exchange party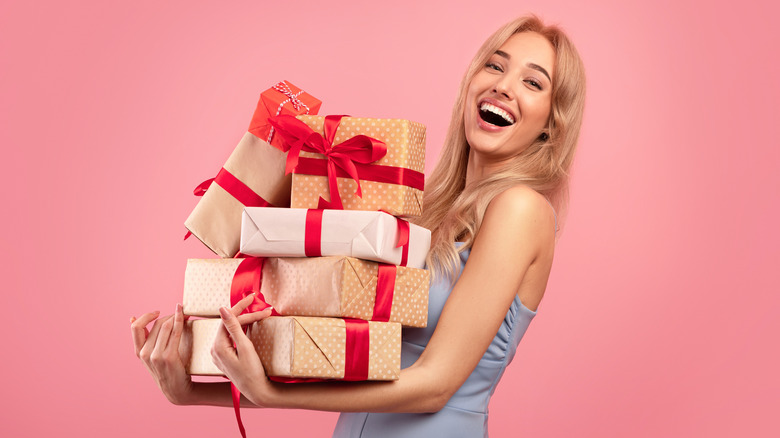 Prostock-studio/Shutterstock
Gift exchanges on a holiday like Valentine's Day can be really meaningful. If you'd rather play it safe with a White Elephant gift exchange party instead of something like a Secret Cupid gift exchange, it takes away the risk of someone getting ripped off. The reason a White Elephant gift exchange party is a little safer is that no one's necessarily beholden to another person showing up with their dedicated gift. Anyone who arrived at your party with a gift in hand is eligible to participate. 
Advertisement
Once everyone is present, participants are supposed to sit in a circle to watch the first person open one random gift from the pile. The next person in line is allowed to steal that unwrapped gift or grab a brand-new gift from the pile. The White Elephant game continues on from there with a few minor rules to consider. A gift can only be stolen once per turn to keep the most top-notch gifts from getting swapped around too aggressively. Ultimately, everyone will walk away with a gift in hand on Valentine's Day, which makes this idea particularly special.
Spa day party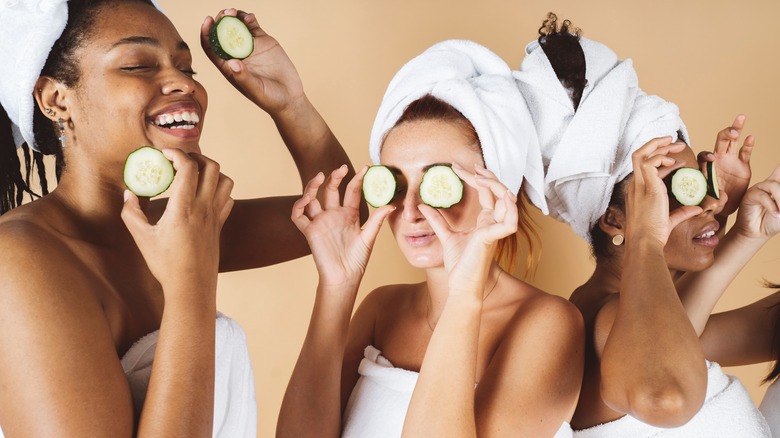 PintoArt/Shutterstock
Everyone deserves a vacation from the hustle and bustle of their busy day-to-day lives. Why not use Valentine's Day as the backdrop to a wonderfully lovely spa day with your closest friends? If you've decided to host a spa day party on Valentine's Day, you'll have your guests feeling pampered and refreshed by the time they go home. There's nothing better than experiencing tranquility and peace of mind without having to spend hundreds of dollars at an expensive spa. You can create a luxury experience at home with calming candles, an oil diffuser, and a soothing playlist on repeat in the background. 
Advertisement
Hydrating face masks, a stack of the latest magazines, a towel warmer, and heated rugs on the floor will also help set the scene. You'll want to have a foot bath or two, sugar scrub options, and sweet-smelling lotions. Based on the group of people you're inviting, you can decide between silk robes, satin robes, or plush robes made out of fluffier material. Last but not least, you'll want to make sure you have gorgeous plants and flowers strategically placed around the area to give your guests a truly luxurious spa experience.
Brunch party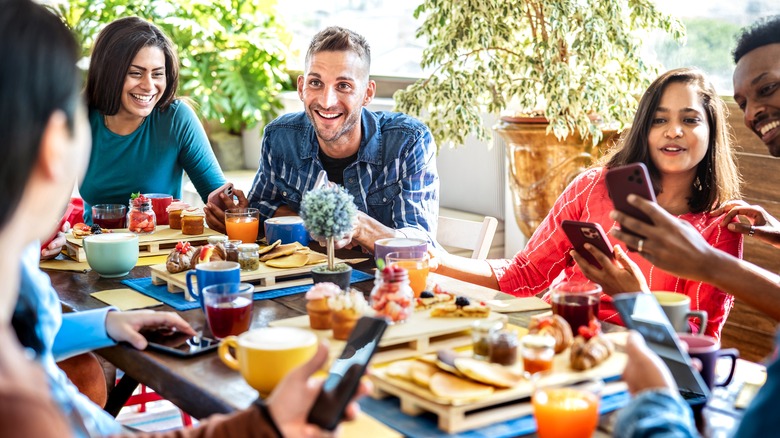 View Apart/Shutterstock
Brunch somehow successfully and casually combines breakfast and lunch for people who might be craving French toast equally as much as they're craving a cobb salad. Brunch is perfect for the crowd that appreciates a warm vanilla latte in the morning equally as much as an ice-cold mimosa.
Advertisement
 If you're planning to host a brunch party for Valentine's Day, it ends up working out perfectly for any guests who are romantically involved with someone and would prefer to keep their evenings open for a lovey-dovey date night. Brunch occurs early enough to leave the rest of their schedule unbothered. Since the entire purpose of a brunch party revolves around food, making sure that you have the most delicious menu spread out for your guests on the big day is of the utmost importance. 
You'll want to incorporate a dish you made ahead of time (for example, a breakfast casserole). You'll also want to incorporate something that can be served at room temperature, like pancakes or bagels. A fresh and healthy option like mixed fruit is a necessity. You can make things easier on yourself by including some well-liked store-bought pastries such as muffins or scones. Last but not least, you'll have to make sure that the drinks you're providing are totally on point. This means making sure you have coffee, tea, and mimosas available.
Advertisement
Movie night party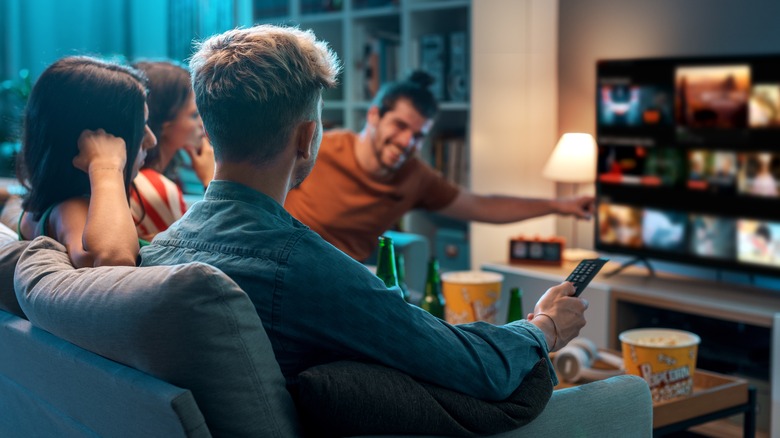 Stock-Asso/Shutterstock
Hosting a movie night for Valentine's Day can go a few different ways based on the vibe of your social circle. If everyone is on the same page about watching lovey-dovey rom-coms, make sure you have access to movies like "To All the Boys I've Loved Before," "Silver Linings Playbook," and "How to Lose a Guy in 10 Days." If everyone is on the same page about watching a tearjerker that will evoke some strong emotions, movies such as "A Star is Born," "The Fault in Our Stars," and "The Notebook" will all work. If your group has no interest in watching movies that are related to relationships or romance at all, then consider branching out to action or horror movies
Advertisement
Marvel and DC movies are always jampacked with intense moments. Scary movies made by directors like Jordan Peele and M. Night Shyamalan will leave everyone on the edge of their seats. As the host of a movie night Valentine's Day party, you have to make sure you can access the chosen movie you have in mind by having subscriptions set up with your favorite streaming service(s).
Wine-tasting party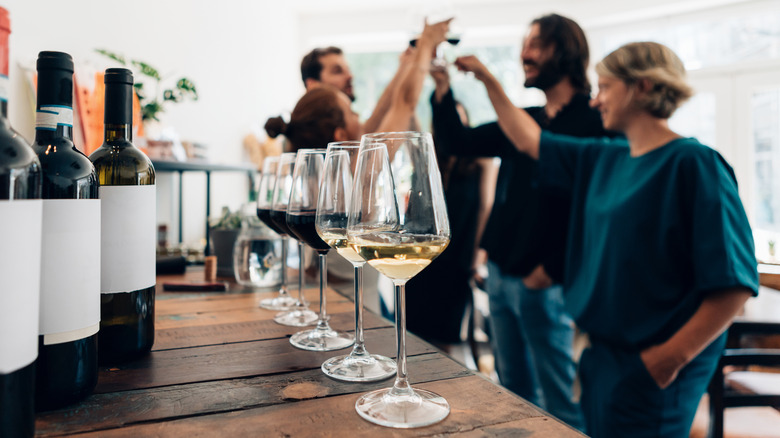 Carlo Prearo/Shutterstock
A wine-tasting party is a brilliant plan to consider on Valentine's Day for a group of people who love to drink but don't care much about fancy cocktails. The simplicity of wine is what makes it so classic and divine. Another beautiful detail about wine is that you can sip on it for hours, enjoy a light buzz, and never feel like you're getting totally trashed beyond the point of remembering anything. 
Advertisement
As the host of a wine-tasting Valentine's Day party, it's your job to choose the best possible wine flavors ever for your guests. Choose some red options, some white options, rosé, and bubbly. Make sure that the wine glasses you've selected are impressive and well-designed. The most ideal wine glasses enhance the aromas, flavors, and textures of your wine. 
If the glasses aren't on point, it can throw everything off. Last but not least, make sure that you have the right food options available to pair with the different flavors of wine. If you don't have any food available at all, there won't be food in anyone's system to soak up all of the alcohol. Food should never be an afterthought when it comes to something as chic as a wine-tasting party. Some of the top foods to pair with wine include tomato-based dishes, seafood dishes, and cheese.
Advertisement
Boudoir photoshoot party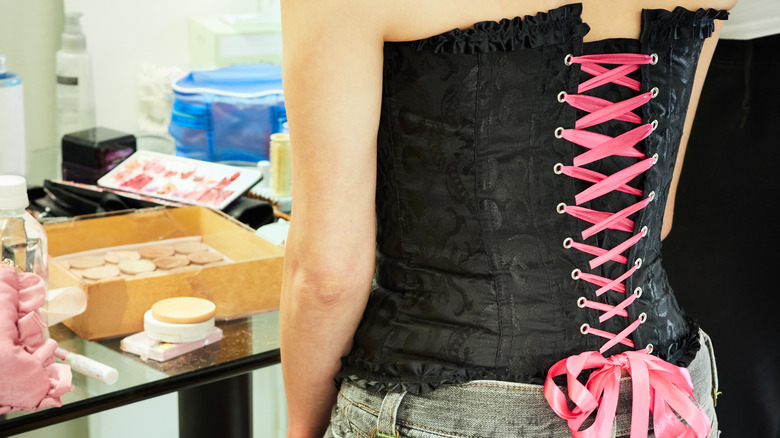 Manmarumaki/Getty Images
It takes a lot of confidence to bear all and pose in front of a camera without much coverage. For this reason, hosting a boudoir photoshoot party for Valentine's Day is an idea that would only work well if you're celebrating with a group of open-minded and outgoing people. If your social circle is way too shy to stomach an idea like this, it's better to shelve it. A boudoir photoshoot party is an amazing idea on Valentine's Day because posing for photos like these can make just about anyone feel confident and beautiful in their own skin. 
Advertisement
The biggest benefit that comes from a party like this is that everyone walks away with memories of the day in the form of elegant photos that will live on forever. Boudoir photoshoot parties are typically hosted by people celebrating bachelorette parties, the finalization of their divorce, or a positive pregnancy test. Since this is the type of photoshoot that focuses on making you look absolutely beautiful, it's hard to go wrong while surrounded by uninhibited and extroverted friends.
Baking party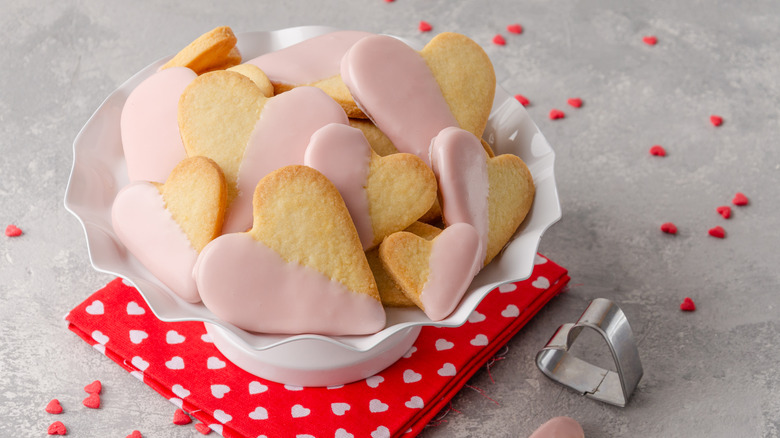 irina2511/Shutterstock
If you're considering a baking party for Valentine's Day with your friends, you're certainly in for a treat. While many people have a sweet tooth, having the right batch of sweet treats to indulge in by the end of your Valentine's Day party is a winning concept. As the host of a baking Valentine's Day party, you'll have to make sure that you have all the right ingredients available for everyone to concoct and combine. 
Advertisement
You'll also need to make sure that you have enough baking utensils on deck including multiple measuring cups, cookie sheets, spatulas, and more. Some of the most popular Valentine's Day treats to bake include chocolate-covered strawberries, red velvet cupcakes, and heart-shaped sugar cookies. It's important to find out if any of your guests have allergies before you go shopping for all of your ingredients. If you want to stay on the safe side, you can avoid buying common food allergy items, including tree nuts and peanuts.
Hot tub party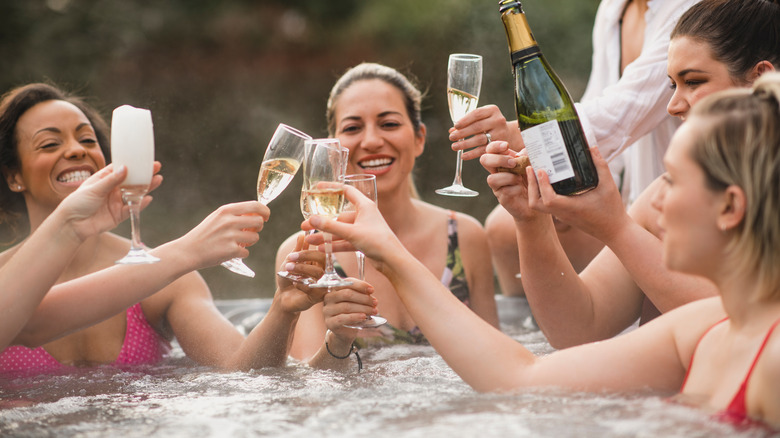 DGLimages/Shutterstock
A hot tub party is another fun idea to consider on Valentine's Day, based on the vibe and the mood of your social circle. A hot tub party can be as simple or luxurious as you want it to be, depending on where it takes place. If you already have access to a hot tub at home, you're ahead of the game already. If you don't have access to a hot tub of your own, you can rent out space at an Airbnb that includes a hot tub, find out if anyone in your friend group has a hot tub, or utilize a public hot tub that's connected to a resort or spa. You'll have to decide if you want your hot tub party to start early in the day or later in the evening after the sun's gone down. 
Advertisement
You can make it more special by adding fun music to spruce up the atmosphere. You can decorate the surrounding area of the hot tub with Valentine's Day decor, make sure that there are beverages on deck, and serve simple snacks and easily prepared foods. If you have a bit of creative control of the overall hot tub environment, you can even set up sparkling string lights or a foldable gazebo in the area. If accessing a hot tub is completely impossible for you, you can opt for an inflatable party pop-up that can be inflated in five minutes or so with easy-to-follow instructions.
Karaoke party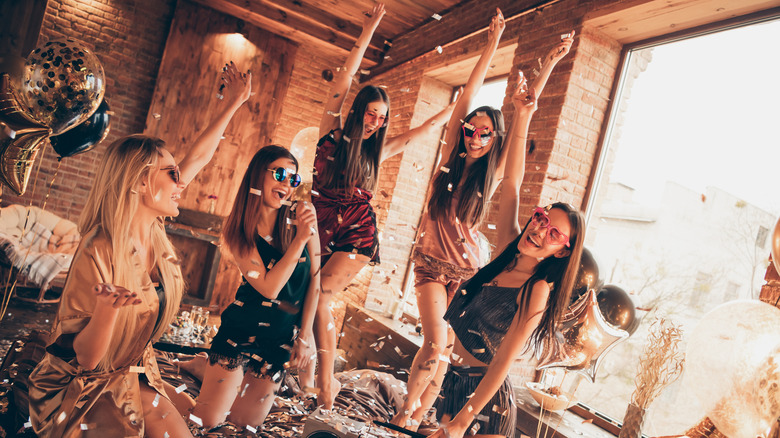 Deagreez/Getty Images
There's something very freeing and liberating about singing karaoke. If you choose to host a karaoke party for Valentine's Day, you and your friends will be able to experience that lovely uninhibited feeling as a group. Based on your social circle, you'll have to decide what type of playlist will be readily available for your at-home karaoke party. If everyone is on the same page about the beauty of true love, you'll probably want to fill your playlist with songs that hype up romance and relationships. 
Advertisement
Some of the most popular love songs from the last few decades include "Lover" by Taylor, Swift, "All of Me" by John Legend, and "Love Me Like You Do" by Ellie Goulding. If everyone in your group is feeling a little more cynical about love on Valentine's Day, Songs like "I Don't F*** With You" by Big Sean, "F*** You" by CeeLo Green, and "Flowers" by Miley Cyrus all make sense on your playlist. Make sure that everyone will be able to easily view the lyrics on a screen with working microphones in hand.
Photo booth party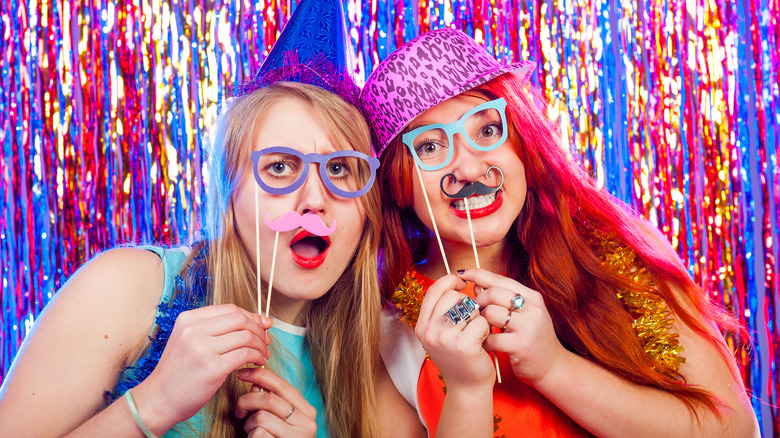 Toxawww/Getty Images
The reason a photo booth party on Valentine's Day is such a special idea is that everyone involved will be able to walk away with tons of lovely memories to look back on in the future. Photo booth parties are especially great for members of your social circle who don't typically snap selfies or pose in front of cameras on a regular basis. It will get some of those people out of their comfort zones while giving your photo-ready guests a chance to shine in their element. 
Advertisement
As the host of a photo booth party, it's your job to set up different booth stations with different silly and exciting themes for everyone to pose in front of. You can set up a booth for photos that include different hats and headwear in various shapes and sizes. You can set up another booth for photos in which people hold up different signs that describe who they are. Your options are endless!
Paint-and-sip party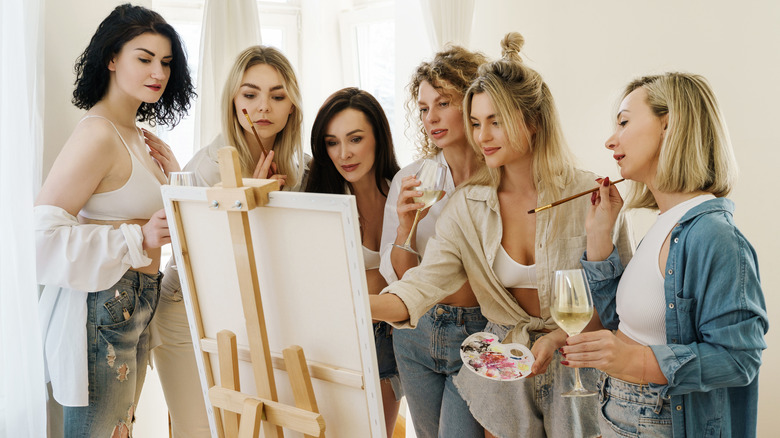 Jun/Getty Images
A paint-and-sip party on Valentine's Day is incredibly fun because it combines two wonderful things: alcohol and art. You can always host a normal cocktail party or wine-tasting party for people who enjoy drinking, but adding a fun activity to the mix makes drinking alcohol even more pleasurable. When you're hosting a paint-and-sip party, having the right alcohol available is equally as important as having the right artistic materials and utensils. You'll need easels, paintbrushes, and an assortment of paint colors. 
Advertisement
You'll also need different types of alcohol to appease everyone's taste from basic wine to hard liquor. It will be up to you to decide whether or not everyone should paint the same drawing or have fun going in their own individual directions. If no one in your group considers themself to be a talented artist who could guide the way for everyone, you can always play a YouTube tutorial on a large screen for everyone to keep up with. Old-school videos of Bob Ross still help budding artists find their way.
Game night party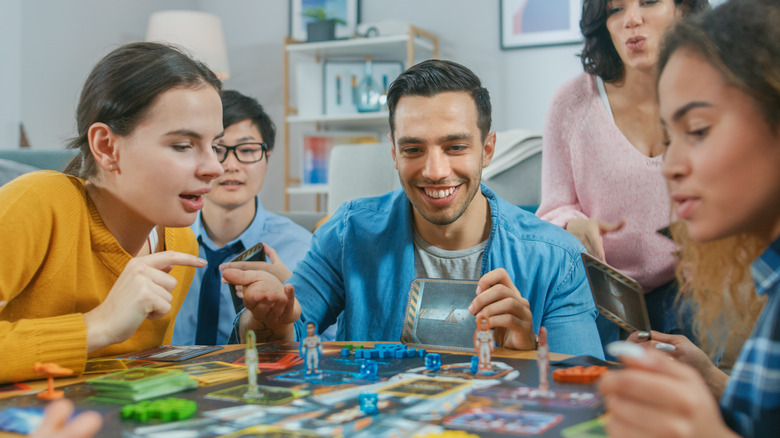 Gorodenkoff/Getty Images
Some people think that game night parties are corny and lame, but other people completely understand the magic of a fun game night party surrounded by the right people. The main benefit of hosting a game night party on Valentine's Day is that you don't necessarily need to think about the holiday to enjoy a multitude of entertaining games. For this reason, a game night party on Valentine's Day is absolutely perfect for people who are single on the holiday. 
Advertisement
There aren't very many board games in existence that are dedicated solely to Valentine's Day or the subject of love in general. There are tons of games that focus on other goals, though. Giant Jenga, corn hole, and Cards Against Humanity are some of the top choices to consider. If your friend group is obsessed with a franchise like the Marcel Cinematic Universe or "Star Wars," you can find games specifically designed to honor all of their lovable characters.
Fondue party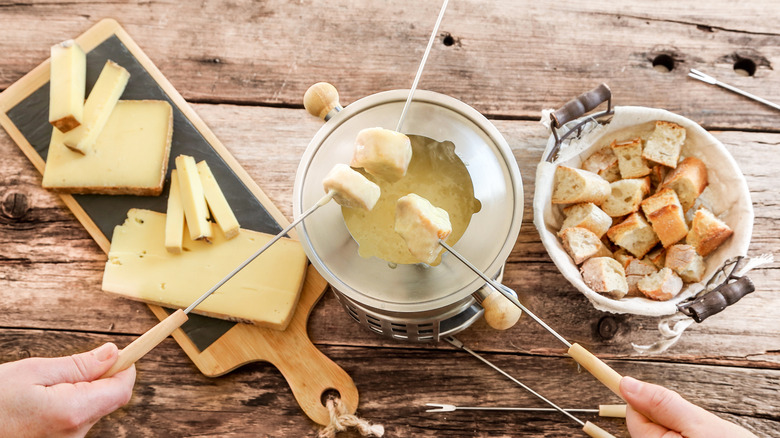 Jerome.Romme/Shutterstock
If you're thinking of hosting a fondue party for Valentine's Day, there are a handful of things to consider first. Since fondue is the center of your party, ensuring its edible appeal should be your top priority. The best fondue parties always include a pot of melted cheese in which to dip savory items like veggies, bread, roasted potatoes, meatballs, bell peppers, pickles, shrimp, and more.
Advertisement
Your fondue party will be complete if you also have pots of melted chocolate, marshmallow, and caramel to dip your sweet items. Some of the best foods to dip into your sweet melted pots include pound cake, fruit, shortbread, mini cookies, pretzels, marshmallows, graham crackers, Rice Krispies treats, sliced cheesecake, and brownie bits. Guests arriving at your fondue party will be pleased to see both savory and sweet options available depending on their palate. Making sure that your fondue pots always remain at the right heated temperature is a must, and ensuring that you always have clean skewers on deck is also necessary.
Charcuterie board party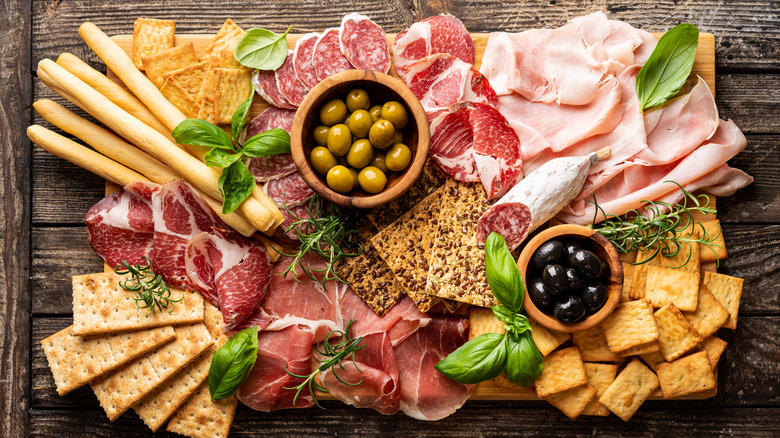 Goskova Tatiana/Shutterstock
Just like other food-themed Valentine's Day parties, charcuterie board parties focus heavily on the eating aspect. That being said, you have to make sure that everything tastes fabulous if you want your party to be a hit. The worst mistake you could make while hosting this type of party is to have a lacking or bland charcuterie board. Still, planning a charcuterie board party doesn't have to be overly complicated if you know what items taste best when paired together. 
Advertisement
Your charcuterie board should be decorated with various meats, cheeses, breads, vegetables, and dips. Some of the more popular dips to consider include hummus, mustard, honey, and jam. If you want to take a little bit of the weight off your shoulders, you can turn it into more of a potluck-style event by having everyone bring their own delicious boards. Guests can also decorate individual boards that reflect their own tastes after they've arrived.
Drinking games party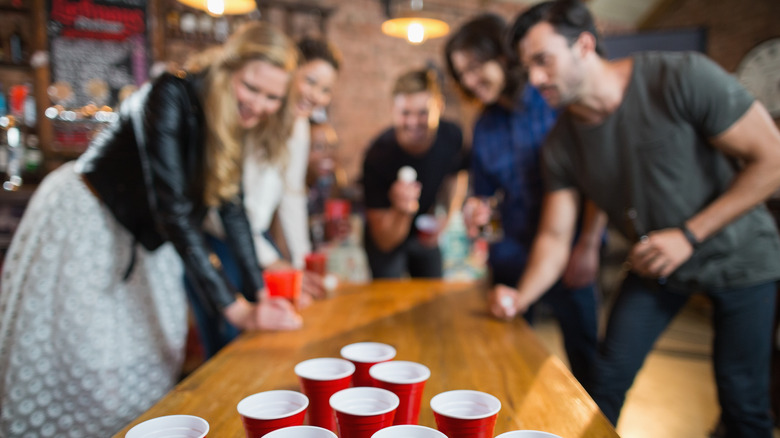 wavebreakmedia/Shutterstock
As long as everyone who's showing up to your Valentine's Day party is of legal age to consume alcohol, you might consider hosting a drinking game party to celebrate the holiday. While it's true that you don't need to drink alcohol to have a good time, adults who enjoy sipping on a beverage or two every now and then can appreciate how enjoyable drinking games can be sometimes. Of course, one of the most popular drinking games is beer pong. 
Advertisement
You don't have to be college-aged or involved in a sorority or fraternity in order to win an intense game of beer pong, though. King's cup is another fun and popular drinking game to play. You can upgrade games like Never Have I Ever into drinking games if everyone agrees to throw back shots instead of putting fingers down based on the wild things they've done in the past. If you host a drinking party with your friends, odds are, you'll discover brand new games you've never played before that are just as fun as the games you already know.
Camping party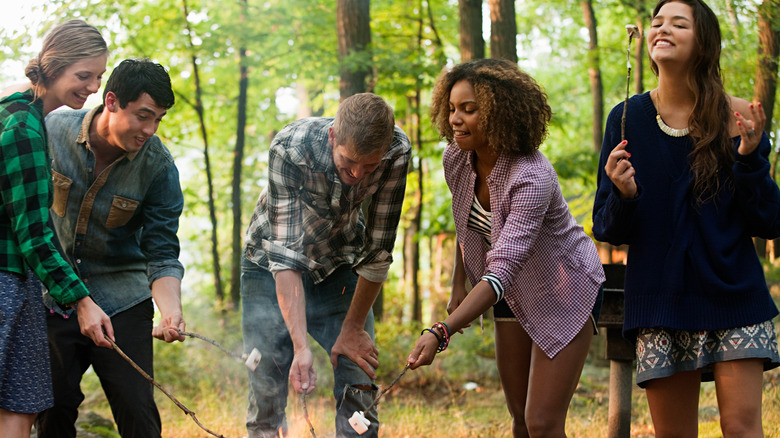 Image Source/Getty Images
Camping parties aren't for everyone, but if this is an idea that suits you and your friends on Valentine's Day, why not jump at the opportunity? People who enjoy camping tend to be outdoorsy types who appreciate the beauty of nature. There's so much to explore in the great outdoors and there's always so much to admire. If you'd rather spend Valentine's Day indoors somewhere with air conditioning and clean seating to lounge on, then a camping party probably isn't for you! 
Advertisement
Camping parties for nature lovers can be exceptionally fun for people on Valentine's Day who want to focus on things outside of their relationship status. if you have a spacious backyard or outdoor space to use, you're in business. You can make sure that your camping party is superior to anyone else's by gathering all the ingredients for s'mores, ensuring the perfect campfire set up, and making sure everyone bring a hauntingly scary story to share with the group. 
Ugly bridesmaid dress party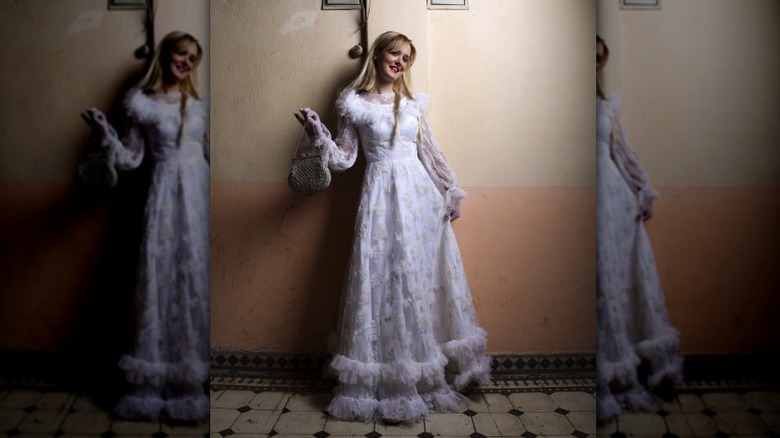 U.ozel.images/Getty Images
Are you always the bridesmaid but never the bride? Whether you've been a bridesmaid one too many times, you're already married, you're engaged to be married, you're dating someone, or you're totally single, it's easy to admit that an ugly bridesmaid dress party is a super fun option to consider. If you choose to host an ugly bridesmaid dress party, you can treat it similarly to an ugly Christmas sweater party. 
Advertisement
Instead, everyone must show up wearing the ugliest possible bridesmaid dress they can find. Everyone participating must vote and whoever pulls in the most votes will become the winner. As the host of an ugly bridesmaid dress party, you should have a cute or thoughtful prize on hand to give to the champion who wears the ugliest dress. A Starbucks gift card, fuzzy blanket, or simple bottle of perfume are some easy prizes to set aside.
Elementary school-style candy exchange party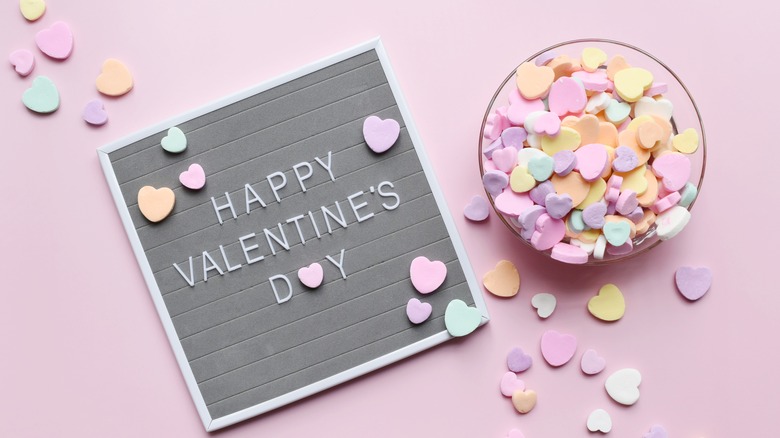 Nodar Chernishev/Getty Images
Back in elementary school, a lot of young students would participate in candy exchanges on Valentine's Day. Unfortunately, these precious exchanges don't typically translate to adulthood. Some offices encourage similar practices, but this tradition isn't commonly found at many jobs. If you choose to host a Valentine's Day party that incorporates elementary school-style candy exchanges, you'll have everyone feeling nostalgic and sentimental — the perfect emotions for any V-Day celebration.
Advertisement
It's easy to find the miniature cards and candy sold in boxes from stores like target or Walmart. If you're feeling especially frugal, you can also find these items at places like Dollar Tree and Five Below. Instead of doing full on gift exchanges with your closest friends on Valentine's Day, everyone can exchange small cards with candy attached. This means that no one goes home empty-handed, and everyone will feel special regardless of their relationship status.
Lingerie party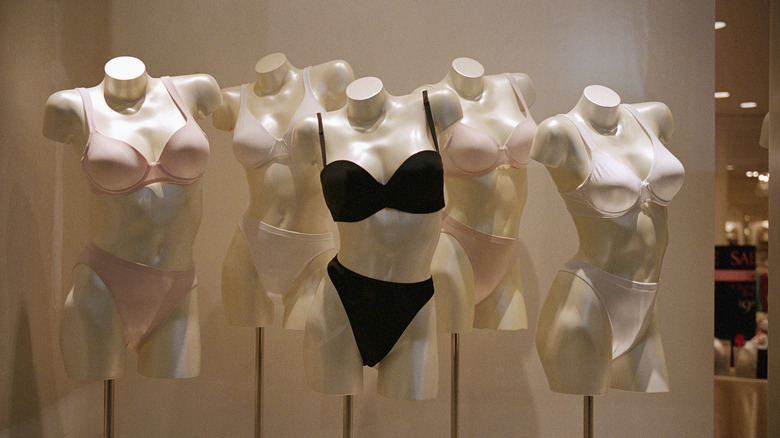 Hitoshi Nishimura/Getty Images
A lingerie party is a great idea for people who are boiling over with confidence and self-love. This is different from a boudoir photoshoot party since there won't be a professional photographer on site to snap any pictures of you and your friends while you're all dolled up in lingerie. Still, you and your crew can capture as many pictures as you want in order to maintain the memories. 
Advertisement
Having a lingerie party is fun when you're surrounded by good friends who don't make you feel self-conscious or insecure about anything. Along with dressing up in your favorite pieces of lingerie, you and your besties can go all out with hair and makeup as well. If your group is feeling extra vivacious, everyone can agree to purchase lingerie in matching colors or complete matching sets from the same brand. Since lingerie is considered to be intimate, it's totally fine if you and your friends prefer to avoid taking pictures and videos.
A pink party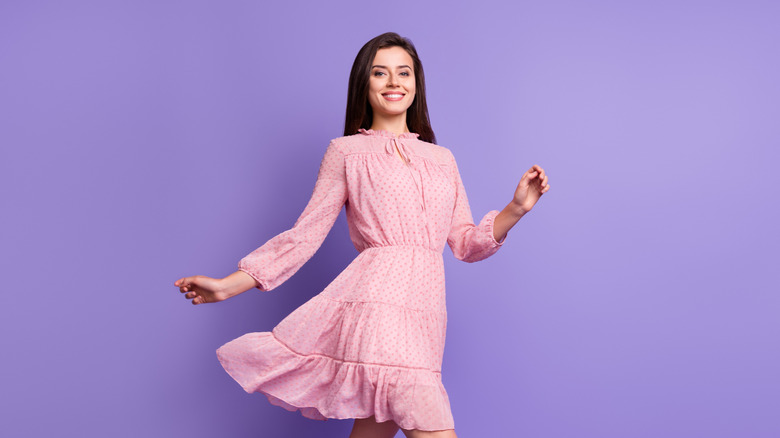 Roman Samborskyi/Shutterstock
There's no denying the fact that pink is one of the top colors connected to a holiday like Valentine's Day. Pink is closely related to sentiments of romance, love, beauty, and femininity. If you host a pink party for Valentine's Day, it means that you expect all of your guests to show up wearing a shade of pink. You can decide whether or not you want everyone wearing hot pink, baby pink, or a completely different shade. 
Advertisement
You can also give everyone free rein to choose the shade of pink they prefer the most. As the host of an all pink party, decorating your space with pink decor is an absolute must. This means finding pink banners, balloons, plasticware, napkins, table, cloths, and table accents. When you invite your guests to your pink party, you should also make sure to send your invites out on pink cardstock.
A goth party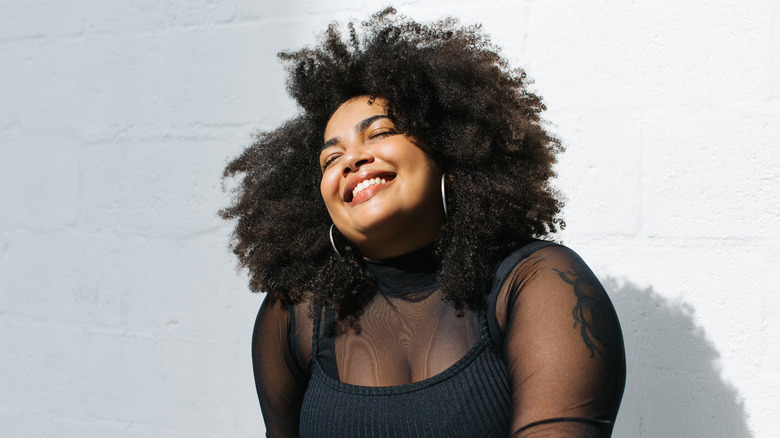 JLco Julia Amaral/Shutterstock
When you think about your social circle, do you picture a group of people who love wearing girly colors like pink and red? Or do you picture individuals who prefer the suave chicness and mystery of a color like black? When you think about your besties, are they the type of people who swoon over holiday like Valentine's Day? Or would they rather pretend like the holiday doesn't even exist on the calendar? 
Advertisement
If you have the type of friends who aren't gung-ho about Valentine's Day at all, hosting a goth party might be your best bet. When you host this party, everyone arrives wearing dark colors with no connection to any lighter and more lovey-dovey hues. Instead of decorating your space with Valentine's Day decor that reminds people of love, you'll fill your space with black decorations from top to bottom. That includes balloons, party favors, and even paper lanterns. The most cynical people attending your party can treat it like a funeral for the death of true love.
Heart-shaped pizza party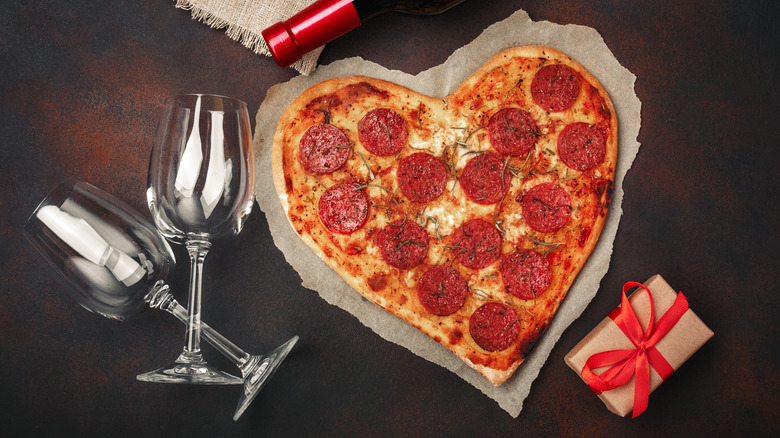 Dz Lab/Getty Images
Pizza is one of the most universally loved food items of all time. It's pretty rare to find someone who absolutely despises pizza since it can be customized to suit just about anyone's taste buds. That said, having pizza as the focal point of your Valentine's Day party is sure to win over your guests. You add the perfect romantic spin to things by making sure that the pizza being served is heart-shaped. 
Advertisement
There are two ways you can make this happen. The first way is by having everyone shape and design their own pizza crusts at home. If you go this route, you'll have to make sure you have all the right toppings, sauces, and a large enough oven to bake everything. You can also order heart-shaped pizzas from popular restaurants who offer it on Valentine's Day. Papa John's is one such chain pizza joint that has historically offered the coveted heart-shaped pizza.
Disney fairy tale party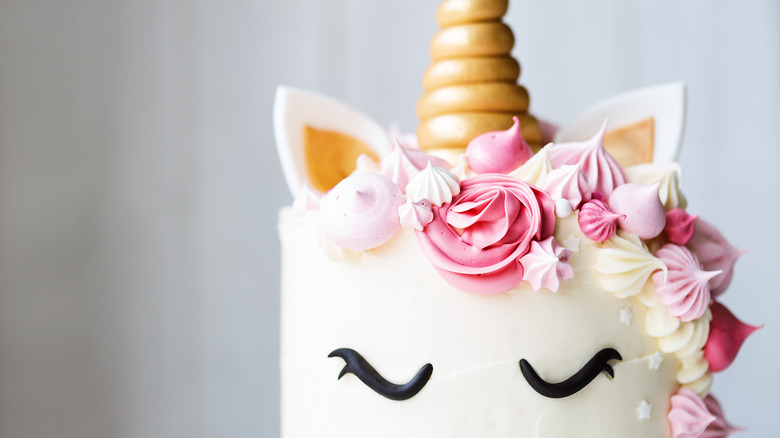 Ruth Black/Shutterstock
Growing up watching Disney fairy tale movies is something a lot of adults can look back on fondly. The premise of almost every Disney fairy tale focuses on a gorgeous young princess who gets swept off her feet by a charming young man. Ultimately, she's able to fall in love forever, though we are seeing a shift in this narrative, with more recent films like "Frozen" and "Moana" being more personal rather than romantic.
Advertisement
Hosting a Disney fairy tale party on Valentine's Day might be your way of paying homage to all of the whimsical movies you enjoyed in your childhood. It's optional if you want your guests to show up wearing fairy tale costumes, but decorations are non-negotiable. You can turn your space into a total fairy tale experience with the right ambiance, including an enchanting unicorn cake and sparkling tiaras for everyone to wear.
Murder mystery party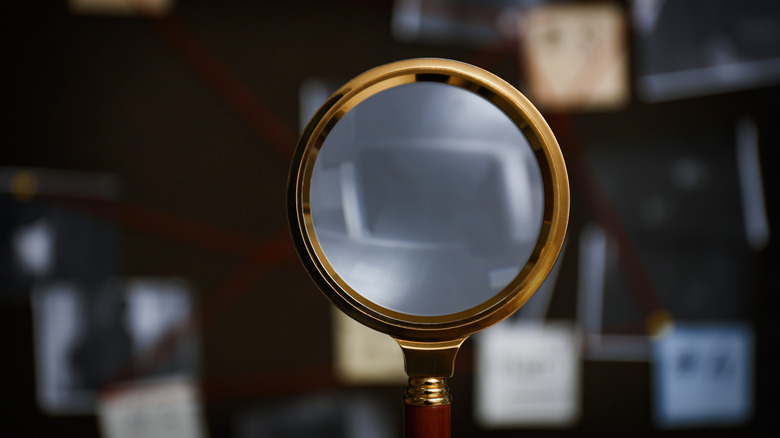 New Africa/Shutterstock
There's nothing inherently Valentine's Day-themed about hosting a murder mystery party, but that's what makes it perfect if you're celebrating with anti-lovey-dovey people. It all depends on the type of group you're trying to entertain! You don't have to mention Valentine's Day at all while hosting a super creepy and fun murder mystery party, but you can also tie the holiday in by getting creative. 
Advertisement
You might opt for a murder mystery game that follows a title like "Till Death Do Us Part." Your guests will have to solve the murder of a bride who tragically passed away on the night of her wedding day. If it's too difficult for you to plan out all of the nitty-gritty details of a murder mystery on your own, you can find free step-by-step guides online that will walk you through how to set everything up in a way that keeps your guests totally confused until they've collected all of the necessary clues.
Tiki luau party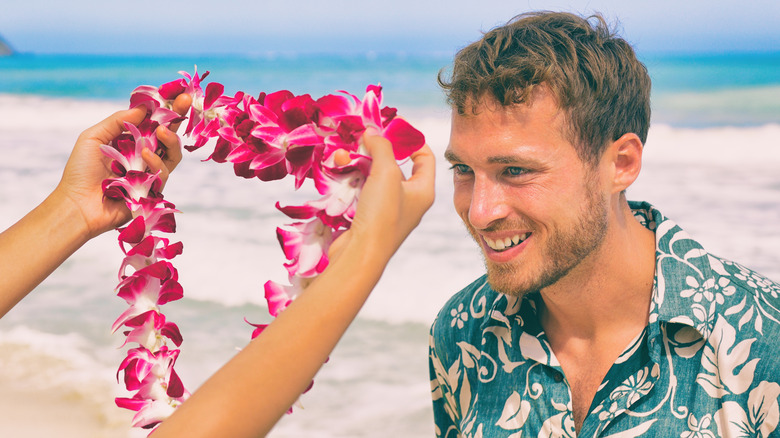 Maridav/Shutterstock
You can have loads of fun by hosting a tiki luau party on Valentine's Day. When you think of tiki luaus, you probably envision grass skirts, coconut shell bras, and delicious fruity cocktails. You can turn this type of event into a totally unforgettable Valentine's Day experience by letting your guests make their own DIY leis. A tropical-themed dessert table featuring candy pearls and chocolate seashells will get you far when it comes to evoking excitement among your friends. 
Advertisement
Decorations are beyond important when it comes to hosting a party like this. You can certainly incorporate decorations that honor the Valentine's Day holiday, or you can keep the vibe totally tropical with the tiki torches, string lighting, coconut candles, and papier-mâché surfboards. Tropical islands like Hawai'i and Barbados are known for being covered in lush greenery with beautifully blossomed flowers. You simply can't forget to decorate with an abundance of flowers.
Pajama sleepover party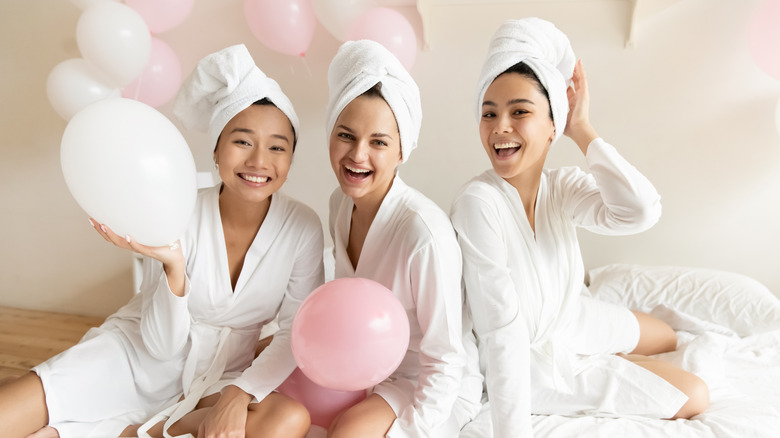 fizkes/Shutterstock
While it's true that not everyone might be able to stay over for a sleepover on Valentine's Day based on work schedules, school schedules, and other obligations, it's still a fun idea to consider. Pajama sleepover parties don't need to be reserved for middle school and high school-aged kids. Adults can have just as much fun with a pajama sleepover party on Valentine's Day if they have all the right details lined up. 
Advertisement
You can agree ahead of time to wear matching pajamas with your friends for memorable photo opportunities or you can tell everyone to show up wearing whatever pajamas they personally love to wear. Enjoyable sleepovers tend to include at least one DIY craft, at least one board game, and/or at least one movie. You and your friends can enjoy baking a dessert together, dancing together, playing charades, and snacking on popcorn together — anything you collectively agree on.
Casino night party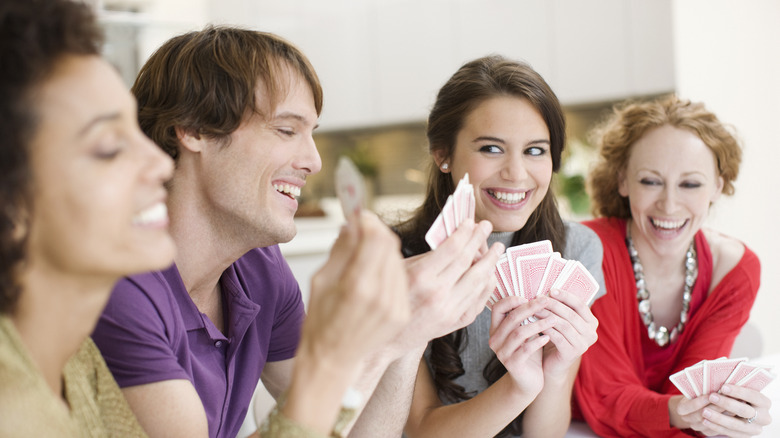 Paul Bradbury/Getty Images
A casino night party on Valentine's Day might be the best possible thing to do with your closest friends if they love taking trips to Las Vegas. There's nothing inherently lovey-dovey about gambling, but that doesn't make it any less fun when you're among good people. You and your friends can decide ahead of time if you want to gamble with real money or use play chips instead. You can also gamble with candy, shots of alcohol, and more.
Advertisement
Another wild idea to consider if your group is especially frisky would be playing strip poker. When playing strip poker, you have to remove a piece of clothing whenever you lose a hand instead of losing out on your actual cash. Some of the other top casino games you can play at home aside from poker include blackjack, roulette, and craps. Ultimately, as long as everyone involved knows how to be a good sport, casino night on Valentine's Day can be an epic plan.