Here's How To Pull Off The Season's Coziest Shoe Trend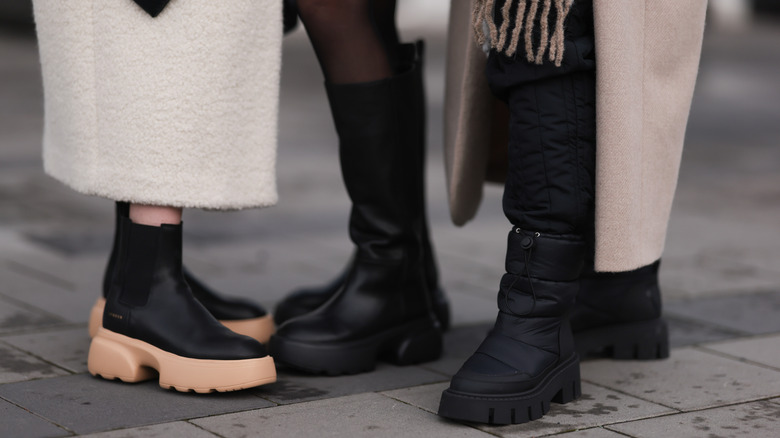 Jeremy Moeller/Getty Images
Like it or not, the 'ugly' shoe trend is here to stay. While this trend started years ago with the reintroduction of the dad shoe, this season saw the beginning of the cozy 'ugly' shoe. Shoes have gained a new layer of comfort and warmth with the weather dropping. Although not everyone is a big fan of this cozy shoe trend, there's no doubt that it's gaining popularity fast. From puffer clogs to nylon puffer boots, there are plenty of options to keep your feet warm and comfortable during the colder seasons. Kendall Becker, a fashion and beauty editor at Trendalytics, tells The Zoe Report, "Arguably, the puffer clog can be seen as Fall/Winter's swap for sneaker, as it falls at the cornerstone of cool and comfortable. As our wardrobes continue to evolve post-COVID, designers are finding creative ways to meld comfort with fashion, and the puffer clog is the perfect example of this."
While it's true that our wardrobes have significantly altered since the start of the COVID-19 pandemic, it doesn't mean there's any shortage of fashion. Mixing comfort and fashion is the mark of the season, and knowing how to style this trend is vital to a stylish look. Instead of keeping your comfiest footwear indoors, style these shoes with the right look for a chic and cozy ensemble.
Cozy and chic
Whenever you have a comfy pair of shoes, you want to ensure you keep the rest of your body comfortable as well. UGG slippers are one of the season's most popular shoes due to their easy-to-put-on and comfy design. Fashion content creator Francesca Saffari shared via Instagram how the best way to style these slippers is with a teddy jacket for extra warmth. Pairing them with a heavy-duty coat or jacket will help bundle up and create a fabulous winter look. Throw on denim jeans for a casual look you can take anywhere. 
Monochrome looks
Whenever you wear a monochrome look, it immediately elevates your style. Wearing one color from head to toe is the best way to style any piece you find hard to wear. Since nylon padded boots and slippers are rising in popularity, combine them with similar colored pieces for a cohesive and intentional look. Balance your look with tighter-fitting clothing pieces to avoid bulky outfits. Add accessories in the same color for an extra flair to your look.
Bundled winter fits
Even if you aren't headed to the mountains, you need to keep yourself warm. If you're worried about your puffer boots looking out of place with your outfit, take the opportunity to bundle up all of your winter clothing pieces. Fashion influencer Antoniya Toneva shared on Instagram how she paired her white moon boots with a warm quilted puffer jacket for the ultimate winter ensemble. With more brands releasing their puffer boots and ski-inspired footwear, opt for a ski outfit that looks like you're on your way to the slopes.
Active and casual looks
There's no denying that athleisure remains a popular fashion trend no matter what the season is. Combine your cozy, quilted footwear with your favorite activewear clothing pieces for a sporty look. Like padded boots, quilted slippers are also growing in popularity. These slippers are much more lightweight and easy to style than bulkier boots. If heavier boots overwhelm you, opt for puffer slippers that still deliver warmth but look slimmer and chic.
Fun and colorful
Just because it's winter season doesn't mean you can't add fun color to your outfits. Use your puffy and cozy footwear as the perfect way to include color and prints into your look. Fashion content creator Pauline June showcased via Instagram a colorful quilted jacket paired with puffer cowboy boots. While initially you might feel overwhelmed by the combination, there's nothing chicer than a statement outfit from head to toe.
Sleek and chic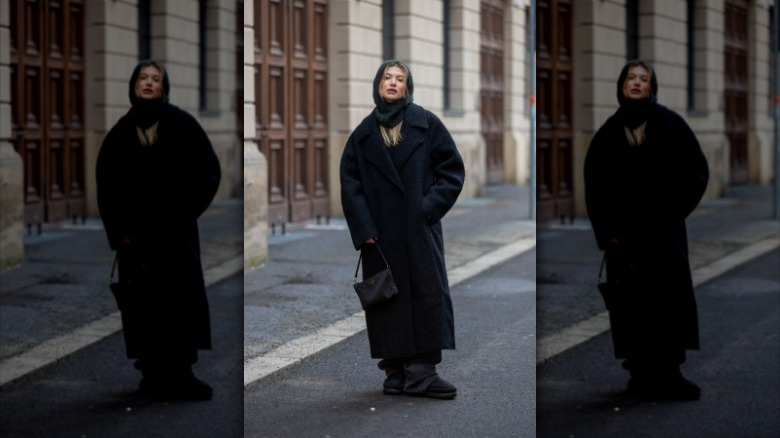 Christian Vierig/Getty Images
Finding various layers to match this shoe trend might be the most challenging part of this footwear. Keep the layers to a minimum, and simply opt for an oversized coat that only shows your shoes and coat. An oversized outerwear piece will keep you warm during the cold weather and will also help conceal the clothing pieces you are wearing underneath. This trick will help keep your look minimal without having to style multiple layers.