Liquid Vs. Cream Highlighter: The Real Difference Between The Beauty Products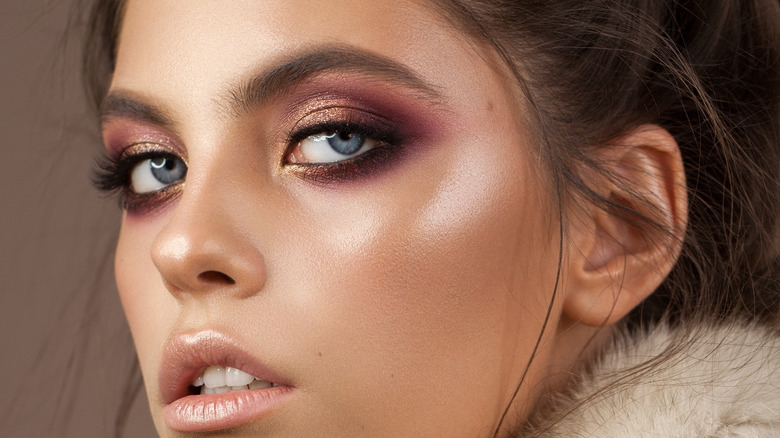 Tata Mamai/Shutterstock
Highlighter, sculptor, lift, strobe — this trend has become a global phenomenon and is a standard step in many people's makeup routines. Credit for this trend can be spread to popular MUAs and celebrities like Kim K, who rock the highlighted look regularly and have introduced it to many. Regardless of how they skyrocketed to the top of your makeup bag, there is no doubt the products used to create a flawless glow are growing in number every day. It can be hard to know which is best for you, especially when choosing between creams and liquids.
Advertisement
With so many products on the market offering to give you the ideal strobe effect, which one will suit your look and complexion best? Creams and liquids offer pros and cons for different skin types, but the good news is there is a highlighter for everyone. Discerning the difference between these products will help you know what to grab next time you're shopping, and it isn't just about the color. Consistencies, finishes, and formulas affect how highlighter appears on your face, so the more you know, the better. With numerous techniques to choose from when applying this step, your possibilities are endless to mix and match products, but the following tips will ensure everything looks clean, seamless, and sculpted.
Advertisement
Liquid highlighter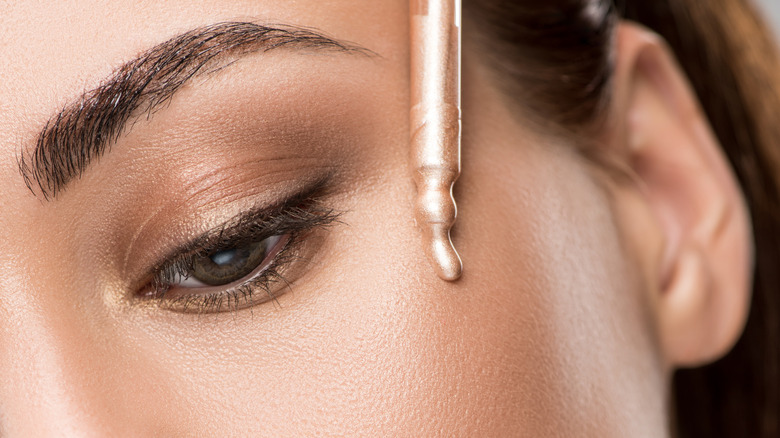 Lightfieldstudios/Getty Images
A liquid highlighter can be an excellent option for dry skin, especially if they want a dewy or glowing look. Because it can be easily combined with other products, it also develops into a lovely natural finish. Most liquid highlighters aren't concentrated, giving them more versatility when applying them over foundation or mixing them into your favorite. The latter will provide you with a bright all-over coverage, or you can stick to highlighting spots you want to pop.
Advertisement
If you have an oily complexion, liquid highlighters aren't ideal. Throughout the day, these formulas can slide off and leave an uneven surface that looks messy. People can still get a dewy look without using a liquid product, but this option is genuinely transformative if you lean towards dryer skin. It is also easy to apply, and most come with an applicator and a formula that blends well when you use a sponge or brush (or even your fingers).
Cream highlighter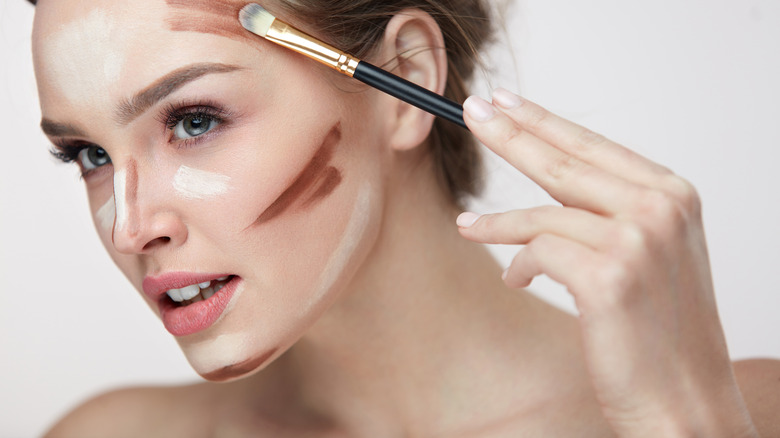 Puhhha/Getty Images
Vastly different from liquid highlighter, cream generally offers complexions a matte finish that some people prefer. This is mainly because cream products don't feature shimmer, leaning instead into full coverage. Concealers double as highlighters and often come in this form, making it easier to apply under the eyes and along contour lines. The cream can be your BFF whenever you're trying to achieve a lifted, sculpted appearance, especially if you're drawing lines or attempting new trends like micro-highlighting.
Advertisement
For those battling oily complexions, creams can help negate them and offer an alternative to dewy skin. You can still have a sculpted and bright look without being shimmery, which many prefer, especially if they are already shiny. To highlight areas like your under eye, the cream is efficient and won't cake as a powder can. Choose a shade that's a few levels brighter than your actual complexion. This will brighten and make your contour pop simultaneously.
Tips for using liquid and cream highlighter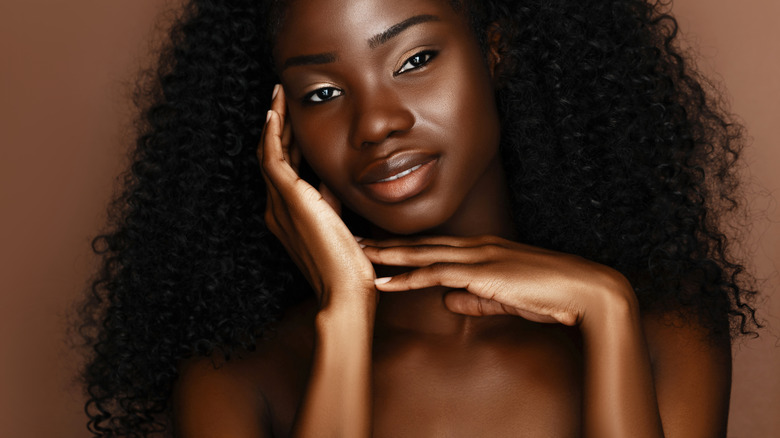 Beauty Agent Studio/Getty Images
If you have opted for a liquid highlighter, a few tricks will help it look flawless once you have applied it. Think of your highlighter as a frosting over an already delectable cake. This finishing touch will make everything else dimensional and eye-catching, but you do not need too much to make a statement. According to L'Oréal Paris, your hands (specifically, your fingers) can be some of the best blending tools at your disposal for one simple reason.
Advertisement
Because of the natural warmth, your fingers can help "melt" the liquid into your skin, so it absorbs enough to look seamless. This trick will give your highlighted areas a more natural and dewy finish without disrupting the product's glow. This also works with cream, meaning regardless of which option works better with your skin, you don't need an extra brush or sponge if you don't already have one.
Highlighter hacks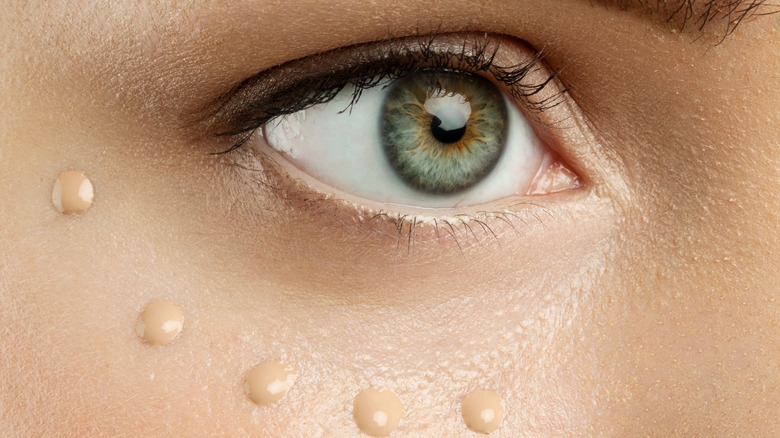 Deniskomarov/Getty Images
Highlighter can go on at any point in your makeup routine. Depending on when you use it, the results are vastly different but equally lovely — adding a highlighter before your foundation creates a base that will continue to glow below the surface of your color. Shimmery or dewy options will illuminate more when mixed with your foundation, primarily because the formulas work well together.
Advertisement
You can use liquid or creams with varying powders, but trying different products layered on top of one another on a patch of skin to make sure they blend seamlessly is always ideal. If certain ingredients or formulas don't mix, you might notice areas that look dry or patchy throughout the day. Put a highlighter under your blush for a brighter glow, or add cream products to regions like the corners of your mouth (pulling up toward the cheek) and under your brows for an extra lift. Just make sure to blend, blend, blend to avoid harsh lines or noticeable seams.