Learn How To 'Scent Pair' Body Products So You Smell Good All Day Long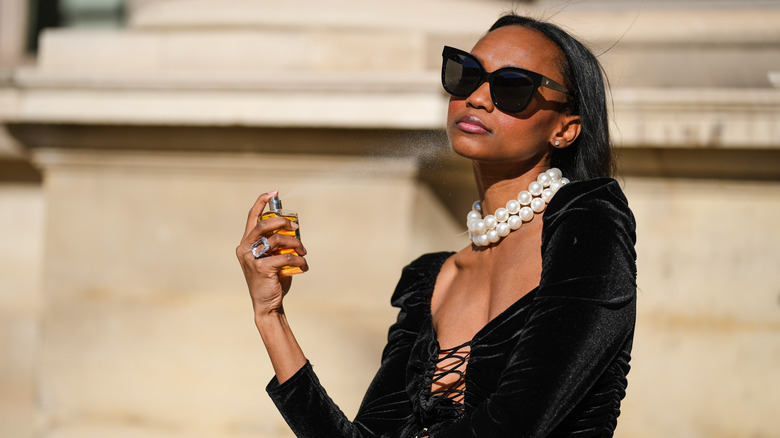 Edward Berthelot/Getty Images
Back in the day, freshening up and getting ready for your day was a ritual known as "toilette" and it had nothing to do with going to the proverbial potty! It included getting dressed, and doing your hair and makeup, per The Fashion Historian. In fact, many works of art by the likes of Morisot and Picasso have depicted women sitting at their vanity mirrors with their powders, brushes, and perfumes. 
While we may not call it "toilette" anymore, we still have our tried and true tricks to becoming the most effervescent bathing beauties of 2023. Some of those practices today are timeless, like lathering, rinsing, and repeating with our skincare. Others are more timely, like peeling face masks or at-home red light therapies. Another new idea that has sprung up this year is something called "scent pairing" or "scent layering," and it will make you rethink everything you know about soaps, lotions, perfumes, and how they interact together. It's so popular that the hashtag #howtolayerscents is taking over TikTok, with many users posting videos on their favourite ways to smell good all day long. With the hashtag currently sitting at over 6 million views, it's safe to say that this year's greatest trend is "scent pairing." Here's how to achieve it. 
Match your soap and body lotion to your perfume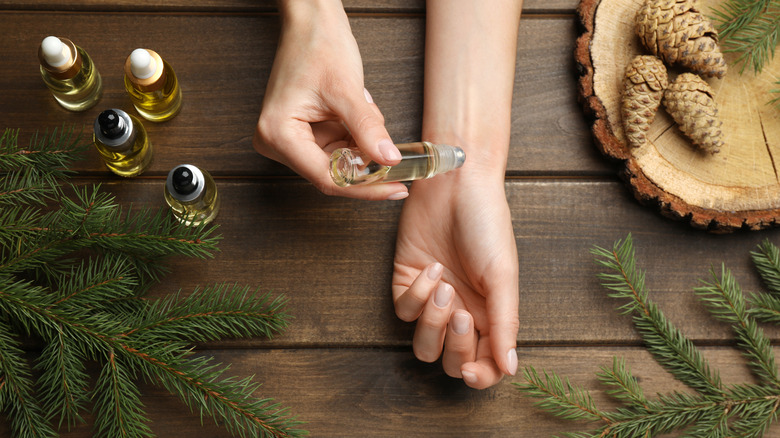 Liudmila Chernetska/Getty Images
What is "scent pairing" or "scent layering?" One fragrance expert has the answer. "It's the idea of 'layering' one scent on top of another, to create an intensified fragrance," William Andrews from Coty told Boots. He goes on to explain that products from the same range often carry the same scent, like those gift baskets that carry the same scented shower gel, body lotion, and perfume. When using them all together for your daily beauty ritual, he says the ritual "builds up a layer of perfume" on your skin, ultimately leaving it with a "long-lasting, intensified cloud of scent."
But say you don't have a gift set full of the same perfumed products, you can do some scent pairings on your own. L'Oréal Paris spills the tea on which differing scents you can pair together to make the ultimate perfume hack. They recommend putting oriental and fruity scents together (like spices and woods), fruity scents with floral scents, floral and woody (like musky outdoor scents, pine, and sandalwood, for example), and floral and oriental scents (vanilla and cinnamon).
You can pair scents depending on your activity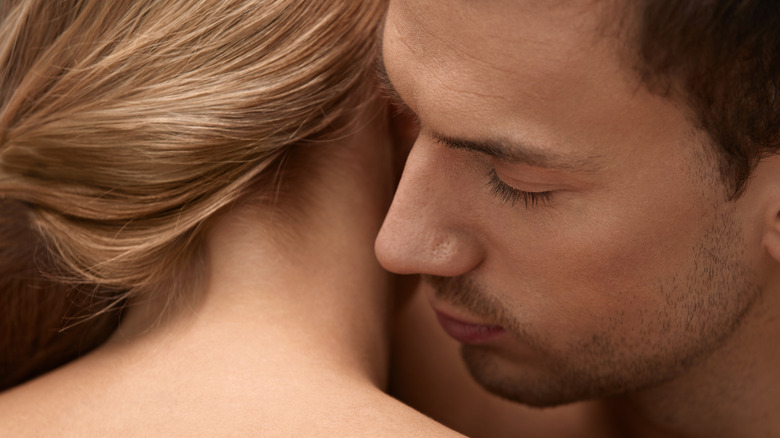 Puhhha/Getty Images
So we know which scents pair well together, but how do we put that into practice? Are there rules to follow? Would it be a faux-pas to wear a woody scent to a business meeting? Or a floral scent to the gym? Luckily, two scent experts (or "scentperts," if you will) spoke with Grazia India to reveal the best scents for every occasion. Olfa Originals founder Pallavi Bhatia told the outlet that if you're going out for a romantic night on the town with your loved one, you can't go wrong with balancing "rose with fine woods like cedar or oud." All Good Scents founder Rajiv Seth added more floral scents to the mix, telling the outlet, "Vanilla and lily of the valley and rose and patchouli are great options for a date."
"Scentperts" Bhatia and Seth had recommendations for other occasions as well. Going for a night of sweaty clubbing? Try long-lasting vanilla. Just going to the café on a Sunday for a croissant and an afternoon of reading? Try lime, bergamot, and myrrh!
No matter which scents you choose, remember to apply like the ol' ladies of "toilette" used to — daintily. Clean Beauty Collective recommends that you dab your fragrance on your skin, don't rub it in! This way, the complex fragrance will be able to breathe and smell its best.