Our Best Face Powder Application Tips For A Perfectly Matte Look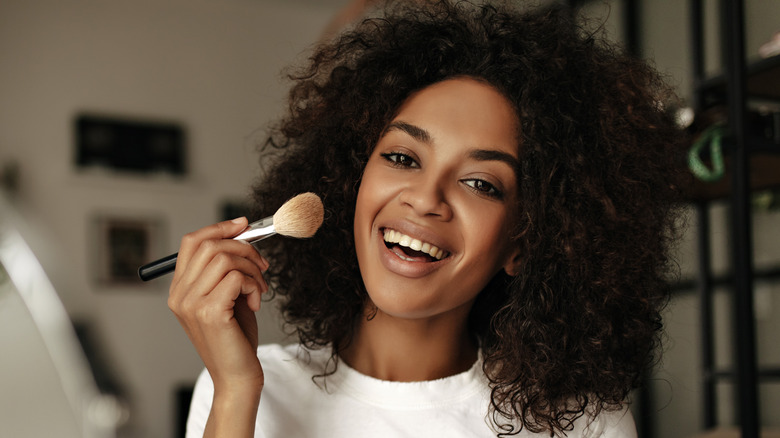 Look Studio/Shutterstock
While dewy, glowing makeup has been the prevailing beauty trend for the last several years, matte finishes have been slowly creeping back into style. Matte makeup is an elegant, timeless look that evokes crisp autumn days and vintage film photography. Moreover, matte makeup is a true friend to folks with oily or combination skin.
Advertisement
The perfect matte finish requires the skillful application of face powder, a far trickier task than quickly spritzing on setting spray. A setting powder soaks up moisture and gives you that gorgeous matte texture, but misusing it will result in dry, cakey makeup and many spilled products. For this reason, many people avoid matte makeup and stick to hydrating liquid products instead.
That said, don't throw out all your setting powders just yet — those finicky face powders can be mastered with just a few easy tips, opening up a new world of luxurious, matte makeup looks.
When to use face powder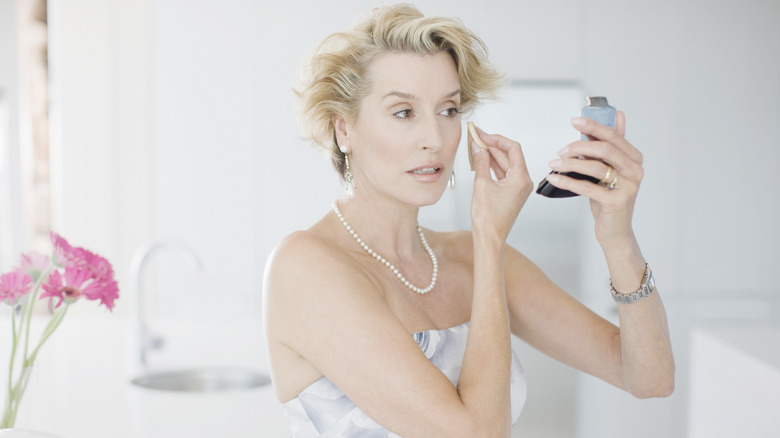 Paul Bradbury/Getty Images
One of the biggest confusions with face powder is knowing when to use it. Most face powders are setting powders, meaning that you apply them after you finish your makeup to keep all your product in place, unlike setting sprays, which usually give your face a dewy, radiant finish, setting powders to absorb excess moisture, thus creating a matte finish.
Advertisement
Some people prefer to wait until their makeup is done before applying a light powder coating. Other people like to use layers of face powder in the middle of the makeup process to protect specific parts of the face, such as putting powder over eyeshadow or foundation and concealer. Ideally, deciding which makeup elements will need powder would be best so you don't have to apply the powder multiple times throughout your routine.
Face powder is also a great product to have on hand when dealing with oily skin. After you're done with your makeup, you can apply small amounts of powder to areas of your skin prone to getting greasy.
You don't necessarily need to use face powder every time you do your makeup, but knowing when and how to use it will give you better, more consistent results.
Advertisement
Types of face powders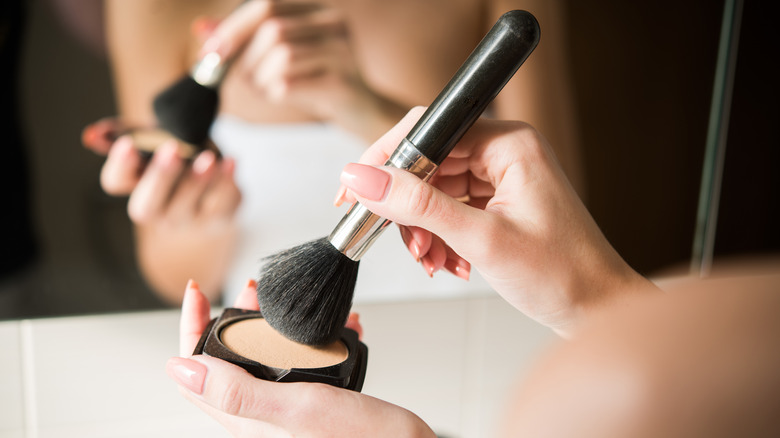 Flymint Agency/Getty Images
Face powder is a relatively broad term for several types of products. It would be best to have different face powders styles depending on your makeup needs. A face powder can come as either a loose or pressed powder. A loose powder is a fine, light powder packaged in a container. Loose powder has a consistency somewhat similar to sifted flour. In contrast, a pressed powder comes in a compact container, much like a powder foundation or blush. Because the pressed powder is formulated with ingredients that bind the powder particulates, the texture is a little thicker than loose powder and easier to apply.
Advertisement
Generally, loose powders will give you the best matte finish. Loose powders are drier than pressed powders and can be applied in a thinner layer, giving you a subtle, velvety look. Pressed powders are a good option if you don't want to risk the mess of loose powder or if you have dehydrated skin that can't handle a pure powder formula.
Face powders also come in translucent and tinted varieties. Typically, you will want to use a translucent powder if you've already applied other makeup to your face. However, on a light makeup day, you can use a tinted face powder instead of a full-coverage foundation. Note that some powders are designed as finishing powders instead of setting powders. Finishing powders will help set your makeup, but their primary purpose is to smooth out your skin texture.
Advertisement
Choose the right beauty tools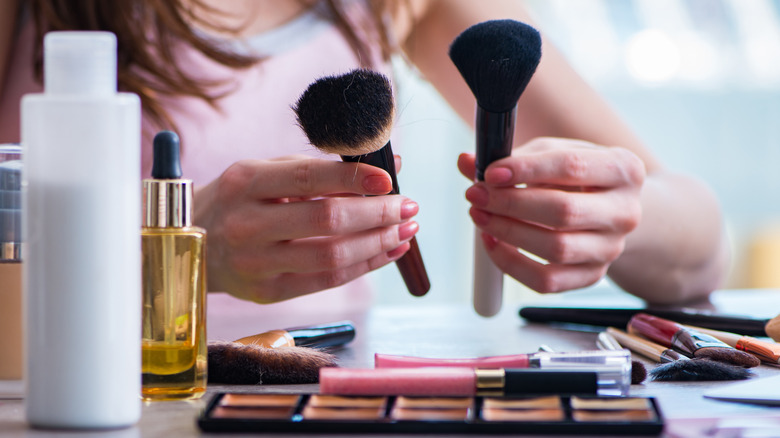 Elnur/Shutterstock
The applicator tool you choose is as important as the powder you use. With the wrong tool, your face powder will be unevenly distributed in cakey patches. Brushes, sponges, and powder puffs are the three main beauty tools for applying powder.
Advertisement
Makeup brushes are the most popular way to apply face powder, especially if you want a natural matte finish that isn't overly drying. Choose a large makeup brush with soft bristles. The large brush makes blending a small amount of powder effortlessly across a wide skin area.
If you need a more concentrated application, use a blending sponge. Sponges are smaller and enable you to apply powder to a specific section of your face without getting powder everywhere. You can use a sponge to place the extra powder on an oily skin patch or put the finishing touches on makeup for a special event. Sponges are also a good application tool for using powder on older skin. As professional makeup artist Kate Lee recommends to Martha Stewart, using a damp sponge will give you a matte look without depositing too much drying powder.
Advertisement
For a more old-school approach, you can use powder puffs. Powder puffs are fluffy disks that are perfect for patting powder into your face instead of blending it out. If your primary goal with face powder is to keep your makeup in place, using a puff to press the powder into your skin is the most thorough approach.
Apply less product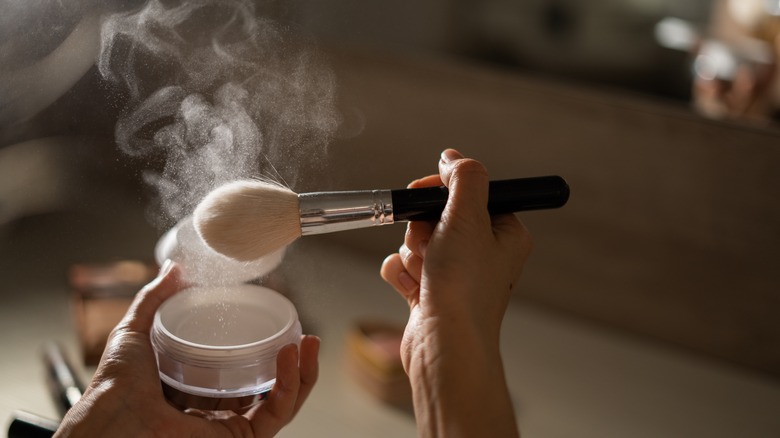 Lysenko Andrii/Shutterstock
In your zeal to be a fabulous beauty queen, you may find yourself scooping up a generous serving of powder and gleefully blending it across your face. As fun, a tactile experience as this is, it's not the way to get attractive matte makeup.
Advertisement
Face powder is a less is more product. The fine particles of powder fall into every crack and line in your skin. The more powder you use, the more emphasis you put on your skin texture. Your skin texture is beautiful and should be embraced, but it's best to let it shine naturally, not coated with grainy powder.
When picking up the powder with your makeup brush or sponge, the goal is to get as little product as possible. Instead of dipping your brush directly into the powder container, pour some powder into the lid or another separate tray. The extra space will allow you to spread the product out thinly on your applicator tool. Once your brush or sponge has picked up the face powder, please give it a light tap to allow the excess powder to fall off. If you don't shake off the extra loose powder, it will either stick to your skin in clumps or make a mess as you lift the brush to your face. Only when you have a light dusting of powder on your sponge or brush should you begin applying it.
Advertisement
Focus on your T-zone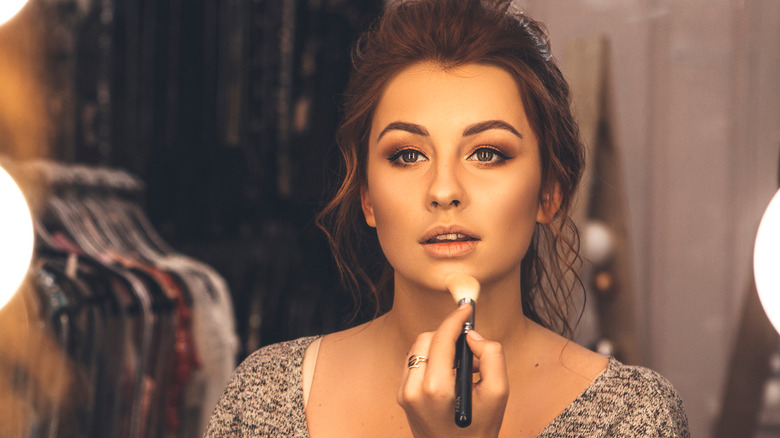 Anna Demianenko/Shutterstock
When applying face powder, focus on the oiliest parts of your face: the T-zone. Your T-zone, consisting of your forehead, nose, and chin, will produce oil even if you have a dry skin type. These areas of your face have the most significant number of sebaceous glands, which produce natural oil for your body (via Healthline). Your T-zone will likely need the most face powder to achieve a matte finish.
Advertisement
Once you've applied face powder to your T-zone, you can gently blend powder across the rest of your face. Folks with oily skin types may also have areas outside the T-zone that need extra powder. If you have older skin, stick to the locations of your face with fewer fine lines, such as your cheeks. More aged skin produces less moisture and is already naturally matte, so you won't need as much powder to get the desired look.
Avoid a cakey look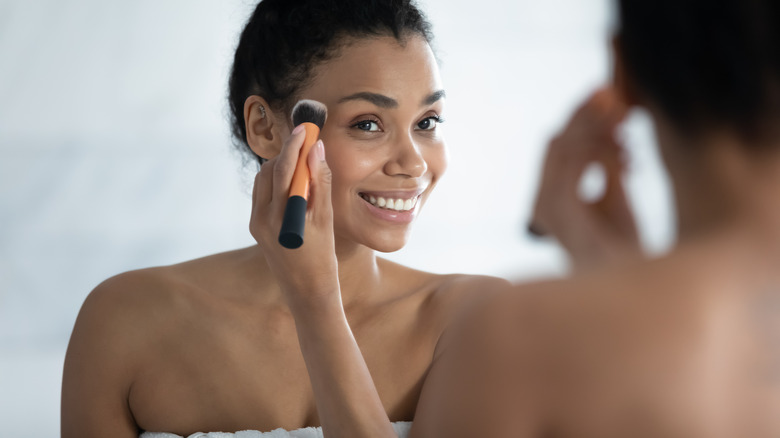 Fizkes/Getty Images
Unless you're performing on a stage under bright lights, there's no reason to have multiple layers of powder makeup. Liquid and cream makeup products can easily blend into our skin, but powders sit on top of our skin, making even the smallest amount of extra product stand out. By being intentional with your makeup application, you can get an elegant matte finish without drifting into the dreaded cakey dance recital makeup.
Advertisement
Matte makeup should be balanced, not overly dry. Think of the aesthetic of your favorite '90s romcom or mid-20th-century beauty trends. Those styles appear smooth and soft without having an overt powdery texture. If you want that gentle matte finish, focus your powder application only on the areas of your skin that need it. A shiny nose or forehead might benefit from mattifying powder, but your cheeks and jawline are probably already matte without it.
Avoid layering several powder products on top of each other when you can. For instance, do you need a full-coverage mineral foundation and a setting powder? Realistically, if your skin is thickly coated with a powder foundation, an additional face powder won't do much for you. The same goes for powder blushes and eyeshadows. A face powder is excellent for mattifying cream and liquid makeup, but products with a matte finish don't need extra dryness. Instead, try using a minimally hydrating setting spray or applying small amounts of powder with a damp sponge.
Advertisement
Be prepared for touch-ups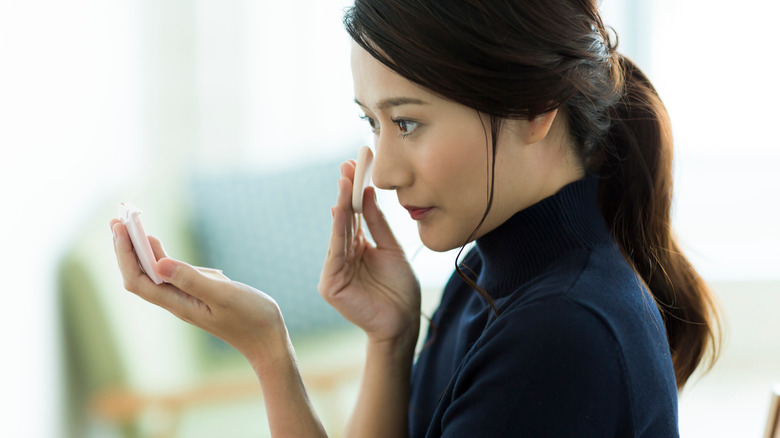 sukiyaki/Shutterstock
Matte makeup is a bit of a commitment, so be prepared to do touch-ups throughout the day and evening. Matte makeup requires more maintenance than radiant makeup because the style contradicts natural skin texture. The average adult produces 1 milligram of oil per 10 square centimeters of skin every 3 hours (via Applied Dermatotoxicology). That doesn't even account for people with skin types that produce more oil than average. When you're done applying your matte finish, your body produces more moisture. Without touch-ups, your matte makeup will be shiny by the end of the day.
Advertisement
You have a few options for matte makeup touch-ups when you're out on the town. Keeping loose powder in your purse is a guaranteed way to ruin the inside of your bag. Loose powder spills quickly and is impossible to clean up thoroughly. Bring a pressed powder in a compact case and a small brush as an alternative. This way, you can quickly apply small amounts of powder without risking a mess.
Most professional makeup artists recommend blotting before reaching for more powder. Per Byrdie, makeup artist Anthony Nguyen advises touching up with powder only when "absolutely necessary." Blotting paper and tissues both work for dabbing up excess oil.
Matte finishes require some effort, but with a light face powder application, you can rock smooth, photo-ready makeup.
Advertisement