Gel Vs. Liquid Eyeliner: What's The Difference, And Which Is Best For You?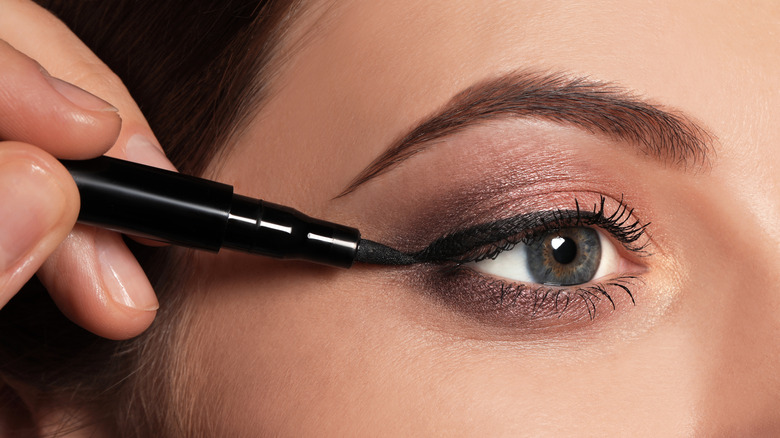 New Africa/Shutterstock
Any makeup lover will know that eyeliner is the best way to add definition to your eyes and create a dynamic makeup look. No matter if you like a simple black wing or a colorful graphic vibe, eyeliner is an amazing tool to bring out your inner artist. However, like other makeup products, there are various types of eyeliners to choose from. Nowadays, you can even turn your eyeshadow into an eyeliner. With so many options, it's essential to know the best one to achieve all of your makeup looks. 
Depending on your application skills, some eyeliner formulas might be easier for you than others. Besides the level of ease, there are many reasons why you should consider one formula over another. Certain eyeliners will lend themselves better when you're on the go and want to touch up your makeup. And some formulas might be better depending on what kind of look you are trying to create. Like any beauty product, there's no one-size-fits-all approach. 
Knowing the difference between gel and liquid varieties, in particular, will help you avoid errors and quickly get the best eyeliner look. Ultimately, the two have different consistencies that make them suitable for people with different styles and different skills.
Different consistencies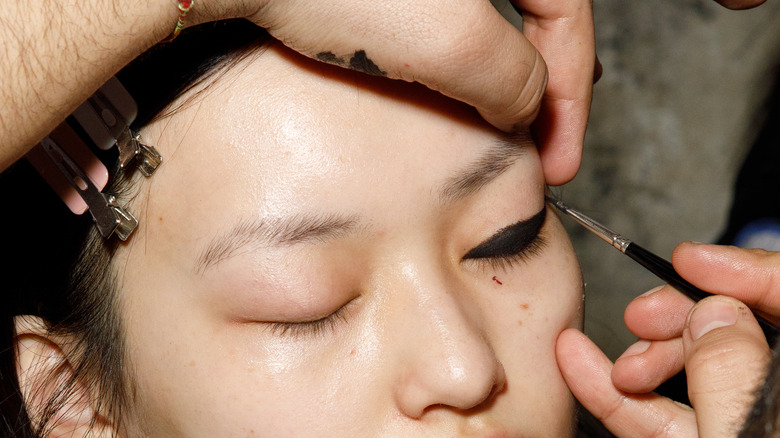 Rosdiana Ciaravolo/Getty Images
Gel eyeliners are thicker than liquid eyeliners, and therefore can be easier to manage. Revlon's National Trainer Susan Vargas tells Beauty Heaven, "They allow more imperfection and often move better with the delicate skin around the eye." Because of their smoother and creamier formula, gel eyeliners are ideal for creating thicker streaks rather than fine lines. A gel liner can also give you a more natural application as it's not as dark or noticeable as a liquid. If you're looking to use gel to create a dramatic look, you'll need to apply several layers to get a darker line.
On the other hand, liquid eyeliner is more watery. While liquid eyeliner creates a more refined look, it is a fast-acting formula that dries up the moment you apply it.  Unlike gel liners, liquid can create sharp lines and curves. Because of its consistency, liquid eyeliner typically comes with a built-in applicator, while gel liners tend to come in small pots that you can apply using a brush. 
Which eyeliner to pick for you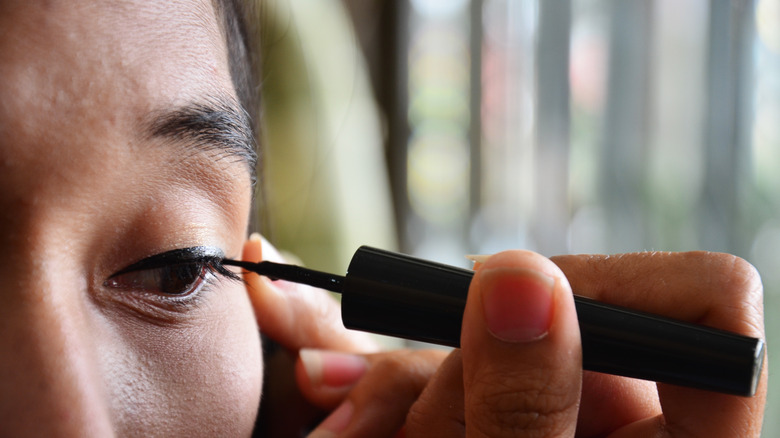 Tuayai/Getty Images
Knowing which eyeliner to pick will ultimately come down to two factors. When deciding which eyeliner product to use, ask yourself which consistency you are comfortable using. If you've never applied eyeliner before or have failed to apply liquid eyeliner, a gel eyeliner could be a great way to build your skill as the buildable formula allows for more mistakes. If you happen to be an expert at applying eyeliner, liquid liners are the best at completing any look. Even if you are an expert at eyeliner, gel eyeliner can  still be a great go-to product to reach for when on the go, since it's typically easier to apply. 
Another factor to consider is the type of look you want to achieve. For those looking to create a natural or a barely-there eyeliner, a gel eyeliner can help you achieve this. Since it's not as opaque, gel eyeliner is great for a casual day when you aren't looking to create a statement. On the other hand, liquid eyeliner is a staple for creating dramatic looks. If you want to rock a sharp winged eyeliner or graphic liner, liquid liner is your best bet. We Heart This points out that liquid eyeliner may sting when applied to the waterline, so tightlining fans should opt for a gel.