Here's How You Should Really Be Applying Your BB Cream For The Most Natural Look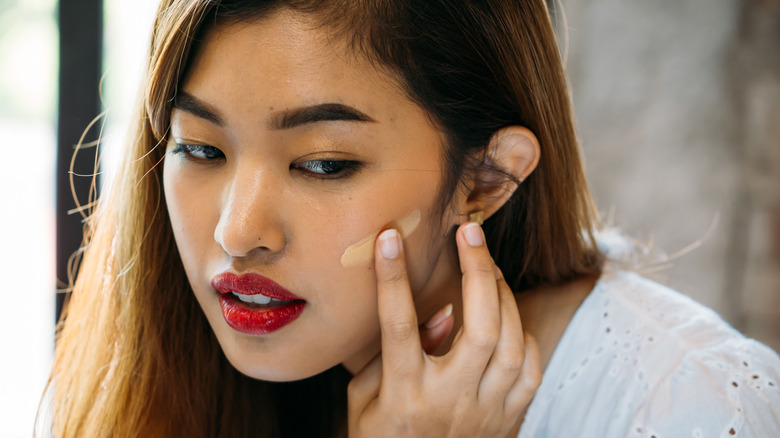 Twinsterphoto/Getty Images
Though we used to spend hours watching YouTube tutorials to perfect our sculpted, Kardashian-approved contour complete with a full under-eye baking session, the "clean girl" aesthetic has since taken over. As more and more people are embracing self-care, there seems to be an increased societal focus on skincare and enhancing natural beauty as opposed to trying to cover it up.
Advertisement
When it comes to 2023 makeup trends, "we're finally embracing skin and products that enhance our skin and leave a skin-like finish versus aiming to have a more full-coverage finish," says Sir John, celebrity makeup artist and CCO of CTZN Cosmetics (per Marie Claire). "The vibe is definitely much more natural, dewy, and fresh."
Somewhere between makeup and skincare lies BB cream, making it a popular staple among those looking to enhance their natural beauty. "BB cream, short for 'beauty balm,' is a multipurpose product that combines skincare benefits, such as moisturizing and sun protection, with light coverage," says makeup artist Courtney Hart (via Who What Wear). Knowing the ins and outs of BB cream and how to apply it to get your desired finish can help you best take advantage of its skincare and beauty benefits.
Advertisement
How does BB cream differ from foundation?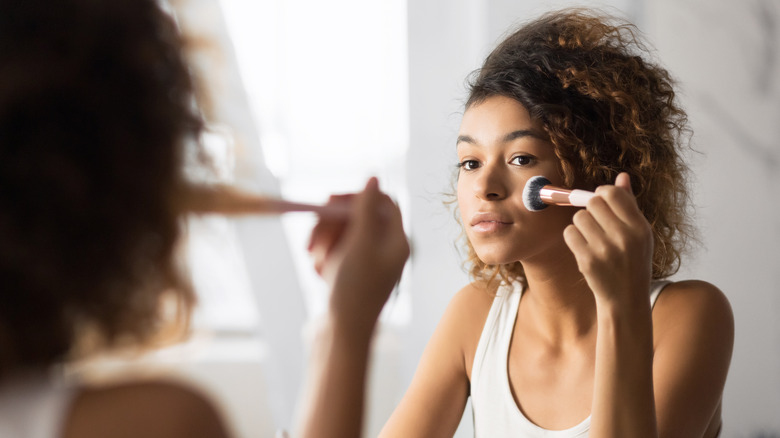 Prostock-studio/Getty Images
BB cream offers much lighter coverage than foundation while still evening out your complexion in a way that looks natural and still like your skin. Foundation is thicker and provides color correction to a level that BB cream doesn't, with the added ability of being able to conceal blemishes. If you are looking for a "your skin but better" glow, then try a BB cream.
Advertisement
Because of its light texture and its list of skincare benefits, BB cream is a good option for those seeking to subtly enhance their skintone but who don't like the feeling of thicker foundation on their skin. BB cream is also a good option for those who don't struggle with skin issues like redness or hyperpigmentation and simply want to enhance their natural complexion without needing much color correction. "If you like the idea of a BB cream but have some skin issues like discoloration or redness, try a CC cream," suggests celebrity makeup artist Brittany Spyksma (via Byrdie). "It has color correcting qualities that can make it a better fit for people who need a little more color balance." CC cream offers many of the same benefits as BB cream while providing coverage to a level more on par with foundation.
Advertisement
Though BB cream provides less coverage and color correction than both CC cream and foundation, it's thicker than a tinted moisturizer, providing a similarly light feel on the face with slightly more coverage.
How to apply BB cream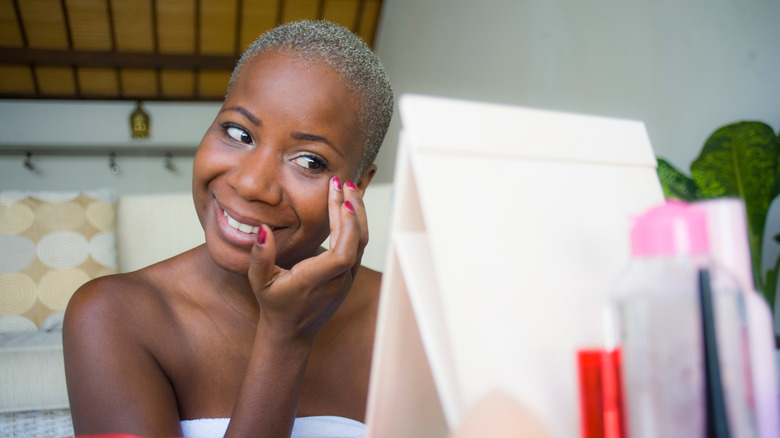 TheVisualsYouNeed/Shutterstock
Since BB cream doesn't offer a lot of coverage or color correction, most people who use it are looking for a natural, minimal makeup look. With that being said, the way you apply it can make a difference in the level of coverage the product gives you.
Advertisement
If you want the coverage to be as minimal as possible and still like your natural skin, it's best to just use your hands. "If you want to get the most natural application possible I recommend applying with your fingers as you would a moisturizer," says Courtney Hart (per Who What Wear). This helps the product melt effortlessly into your skin in a way that makes you look lit from within. 
On the other hand, if you want your BB cream to even out your skin tone as much as the product allows, Hart suggests using a makeup sponge to press it into your skin instead. Though BB cream will never give you a full coverage finish, using a makeup sponge to press in the product can provide more coverage than using your fingers. She also warns against using your sponge in a swiping motion, as this can drag and move the product around, removing it in some areas and leaving you with an uneven application. Tapping the BB cream into your skin using a bouncing can give you coverage where you want it.
Advertisement