Hair Waters Are The Lightweight Treatments That Boast Big Results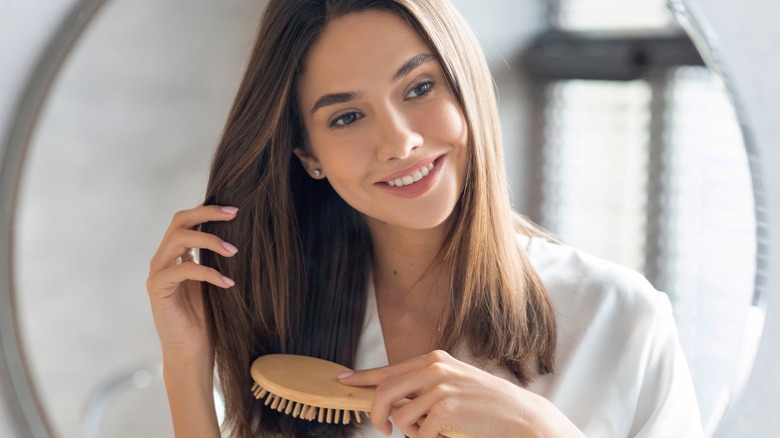 Prostock-studio/Shutterstock
We may receive a commission on purchases made from links.
Trying to reach your ultimate hair goals? Whether you're looking for softness, smoothing, or shine, everyone has their favorite products and routines. But no matter your hair type and styling needs, everyone can agree that dry, breakage-prone strands are a no-no. That's why some people prefer deep conditioners for hydrated locks, while others love a weekly hair mask to keep their locks bouncy and vibrant. Creamy and thick, these moisture-infusing treatments feel luxe, but they can also take a long time to work. What if we told you there's a faster, more lightweight way to restore hydration to your hair?
Advertisement
Masks and conditioners can move over, because hair waters are reimagining the moisture treatment game. Much like refreshing facial mists once stormed the skincare scene, hair waters are surging in popularity — and it's no wonder why. Claiming to provide a nearly instantaneous boost of hydration and shine, these handy products seem to offer an easy, breezy solution to your bad hair day. But how do they work, and do they really deliver the tress-transforming results they brag about?
What is hair water?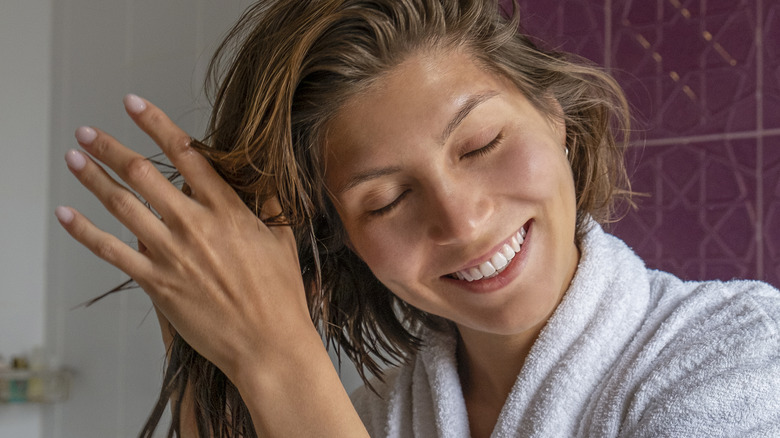 Evrymmnt/Getty Images
Hair water, also known as lamellar water, began like so many beloved hair products: as a salon staple that caught the public eye. Now, a whole range of hair waters from many different brands are enjoying an influx into the hair care marketplace, but their H2O bases are largely built around the same principle.
Advertisement
Balanda Atis, AVP of scientific communications at L'Oréal Paris, explains to Allure that lamellar water takes its name from the word "lamella," meaning a thin layer. The name is apt, as it encapsulates the way that lamellar water works. Its lightweight formula targets areas of hair damage on an atomic level, so that the treatment's active ingredients seep quickly and directly into the sections that need them the most. This means that you only need to use lamellar water in thin applications, rather than glooping your entire head of hair with heavy oils or conditioners.
Beyond hydration, the effects of your hair water will depend on the unique formulation of the product. Active ingredients like amino acids are popular to enhance your hair's strength and shine, as well as conditioning ingredients that revive the fullness and texture of your strands. "[Post-treatment] you'll find your hair has instant softness and it will be extremely shiny since the cuticle of each strand will be smoothed while the treatment creates an extra layer on the cuticle to boost shine," international Redken artist Catherine Allard tells Chatelaine.
Advertisement
But how fast is "instant," really? Brace yourself, because Redken reports that lamellar water is effective in as little as 10 seconds. What's more, it's suitable for all hair types — though it will probably show the most dramatically helpful results for people struggling with parched, frizzy manes.
How to incorporate hair water into your routine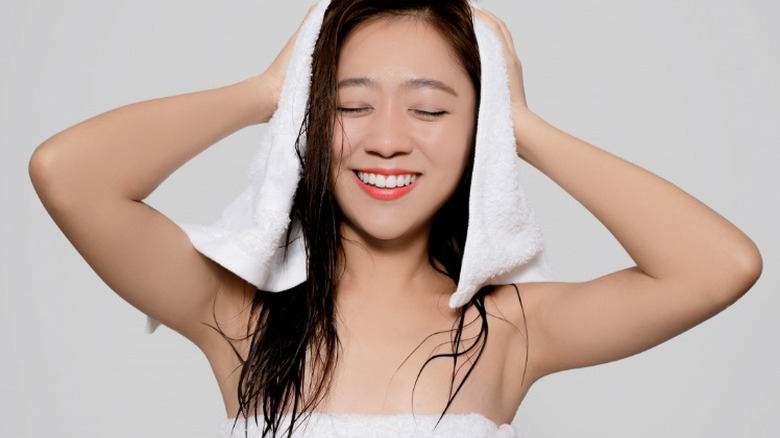 Phira Phonruewiangphing/Getty Images
Hair water got its start with salon favorite K Water by Kérastase. But without a doubt, the hair water currently making the biggest stir in the beauty community is the L'Oréal Paris Elvive 8 Second Wonder Water, an at-home lamellar water treatment that is mind-bogglingly affordable. Currently available on Amazon for just over $8, Wonder Water has racked up over 37,000 ratings and boasts an average of 4.4 stars, making it a perfect starting point for anyone who wants to dip a toe into the hair water fad.
Advertisement
As an enthusiastic Wonder Water convert explains in a review on the L'Oréal website, the product is easy to use. First, shampoo as you normally would. Then apply Wonder Water along the lengths and ends of your hair, avoiding the scalp. Massage the product into your strands for the advertised eight seconds, then rinse it out thoroughly. You can then follow up with your regular conditioner if you like — though it might be worth seeing how well the Wonder Water does on its own before you decide whether you still need the extra bump of conditioner in your regimen.
Of course, while L'Oréal may currently be leading the hair water charge, it's far from your only option. Instead, feel free to check out products like the Redken Extreme Bleach Recovery Lamellar Water Treatment or the award-winning Garnier Fructis Sleek & Shine Glass Hair Water.
Advertisement