The Beyoncé-Approved Eyeliner Tip For The Boldest Cat-Eye Look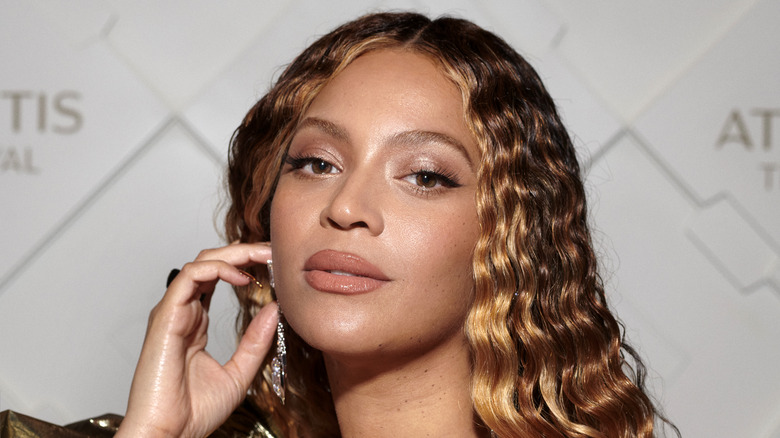 Mason Poole/parkwood Media/Getty Images
The cat-eye eyeliner look can be traced all the way back to Ancient Egypt, with Cleopatra supposedly being one of the biggest fans of the style. Today, it's a hot makeup style that is still donned by celebrities, with Beyoncé being one of them. As any proud member of the Bey Hive will tell you, Beyoncé is one of the most notable style icons of our time, but that doesn't mean she's averse to taking advantage of past trends — the cat-eye look being one of them.
Advertisement
While this makeup look certainly turns heads, many people will tell you that executing it is no cakewalk. Even the most skilled makeup lovers have trouble perfecting cat-eye eyeliner at home, and it has led to the development of endless tools — from winged eyeliner stickers to stencils – to help achieve the look.
That being said, A-list celebrities like Beyoncé have professionals to help them get it right every time. Makeup artist and L'Oréal Paris brand ambassador Sir John B has worked with the singer in the past, and he shared a must-use tip for cat-eye lovers while speaking with Byrdie writer Faith Xue. "Lift your lid up and trace your waterline with a soft pencil eyeliner, making sure to fully connect it with the initial liquid line you traced on your eye," Xue explained to Byrdie after watching Sir John B work his magic.
Advertisement
How to properly start and finish a cat-eye look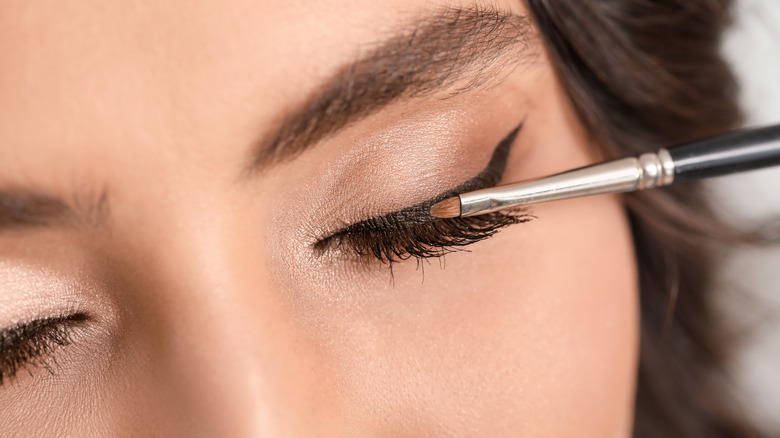 Pixel-Shot/Shutterstock
As Xue went on to explain to Byrdie, using this little-known hack makes "a world of difference." However, it can be tricky to connect the two lines you create on your waterline and lid, so a soft eyeliner brush can help you blend both together for a seamless look.
Advertisement
If you've always had trouble creating the cat-eye look, it may help to go back to the basics. Knowing exactly what goes into the foundation of creating the cat-eye might be all you need to nail it. To start, make sure you prep both eyes with an eyeshadow primer or concealer. This will give you a smooth base, which can help prevent accidentally drawing a jagged line when it's time to reach for the eyeliner. In turn, you may also be able to avoid having to start over.
Once you're ready to begin drawing, try to maintain a 45-degree angle as this typically works with any eye shape. If you aren't confident in your drawing skills, you can also give the dotted line trick a shot. This technique involves creating a dotted line from the corner of your eye, upward toward the end of your eyebrow. Afterward, you can simply trace the line you've created to flesh out the cat-eye line. As you're drawing, remember to keep your eyes open — applying your eyeliner while they're closed can warp the end result, as your eyes may change in shape.
Advertisement
Other hacks for creating perfect the cat-eye look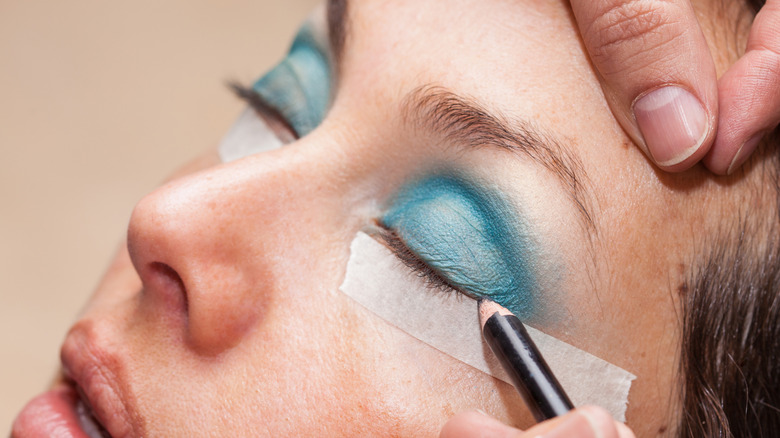 Anamejia18/Getty Images
If you feel like you've tried everything in the book to master the cat-eye look and you're still not seeing satisfying results, don't reach for those winged stickers just yet — there's hope for those who are willing to try hacks until they get the look just right.
Advertisement
An alternative to using a stencil is applying tape. A small strip of tape is all you need to use as a guide to help you draw on your eyeliner and create a flawless look. Once you've completed the cat-eye, remove the tape and you're ready to go.
Keep in mind that you can always go back and clean up any minor mistakes you make during the application process. Make it easier on yourself by having your bottle of eye makeup remover or micellar water and cotton swabs nearby before beginning. As you perfect your cat-eye, you'll be able to polish your look as you go.
At the end of the day, don't forget that how you create a look that makes you feel confident — whether by stencils, stickers, or Beyoncé-approved makeup tricks — is entirely up to you.
Advertisement