15 Revenge Outfits We'll Never Forget From Women Who Got The Last Laugh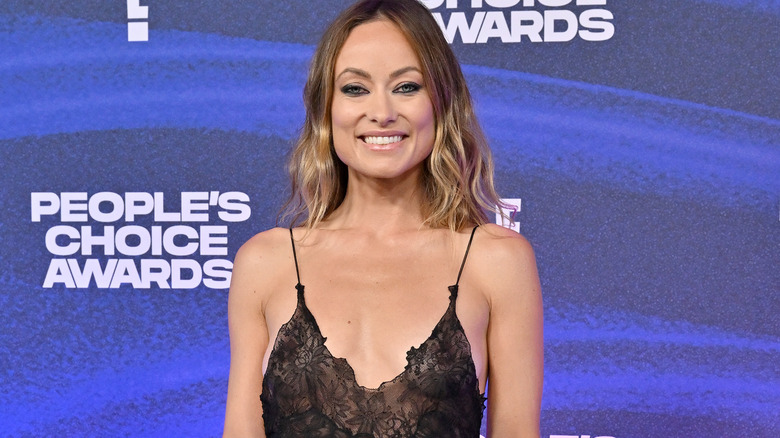 Axelle/bauer-griffin/Getty Images
Going through a breakup isn't easy, but there are certain tactics you can employ to make yourself feel better. One such tactic is rocking a revenge dress. It's been nearly 30 years since the term revenge dress became part of our lexicon, and we've gotten plenty of great examples in that time. A revenge dress is exactly what it sounds like: a dress (or two-piece set or jumpsuit) that you wear to get revenge on your ex and to make them sorry for whatever it is they did to you.
Though we don't wish the circumstances under which you'd wear a revenge dress on anyone, we definitely root for anybody who dons one, particularly those who wear one in the public arena. Not all revenge dresses have made a major impact on the zeitgeist, but that doesn't mean we've forgotten about them. Here are 15 revenge outfits and the women who wore them that we'll never forget.
Princess Diana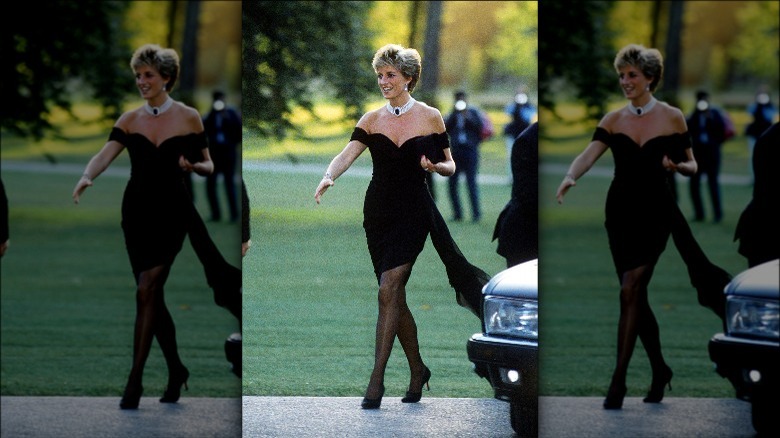 Princess Diana Archive/Getty Images
Having worn the garment that created the term, it's impossible to talk revenge dresses without mentioning Princess Diana. The royal icon stepped out in a fitted little black dress designed by Christina Stambolian to attend a gala after splitting from then-Prince Charles, who famously cheated on her with Camilla Parker Bowles. With a single outfit, Princess Di redefined getting back at your ex and proved that revenge is best served hot. If you're ever looking for revenge dress inspo of your own, Diana is a good place to start.
Ariana Madix
If there's a modern equivalent to the amount of buzz Princess Diana received for her revenge dress, it's Ariana Madix's ensemble for the "Vanderpump Rules" reunion. After ex-boyfriend Tom Sandoval cheated on Madix with former best friend and co-star Requel Leviss — and in turn created one of the biggest reality television scandals in history — Madix arrived to discuss both the season and the infidelity in the hottest way possible. Madix wore a second revenge dress for her solo "Watch What Happens Live" appearance, but her red number is now unquestionably iconic.
Mariah Carey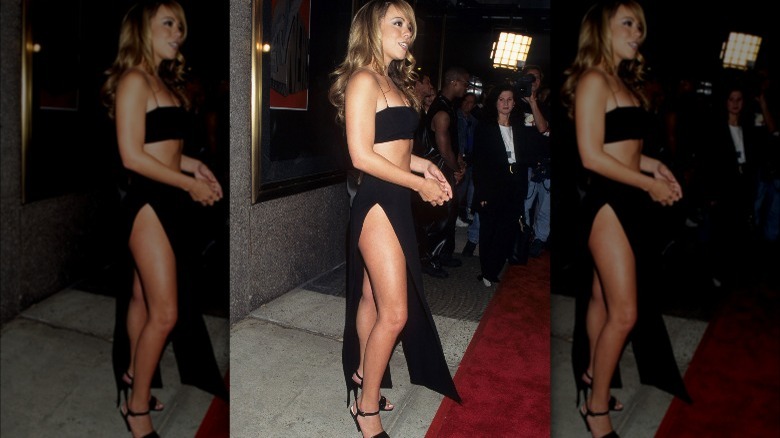 Kevin.mazur/Getty Images
After separating from Tommy Mottola, Mariah Carey gave us her take on the revenge dress. It was 1997, just a few years after we learned what a revenge dress is, so the public didn't yet have a definitive idea of what one looks like. But even without a proper definition, we knew a revenge dress when we saw one, and Carey's two-piece black set with a hip-high slit was most certainly a revenge dress (or revenge outfit, rather). The Elusive Chanteuse was on full display that evening, and scorned women around the country thanked her for it.
Elizabeth Hurley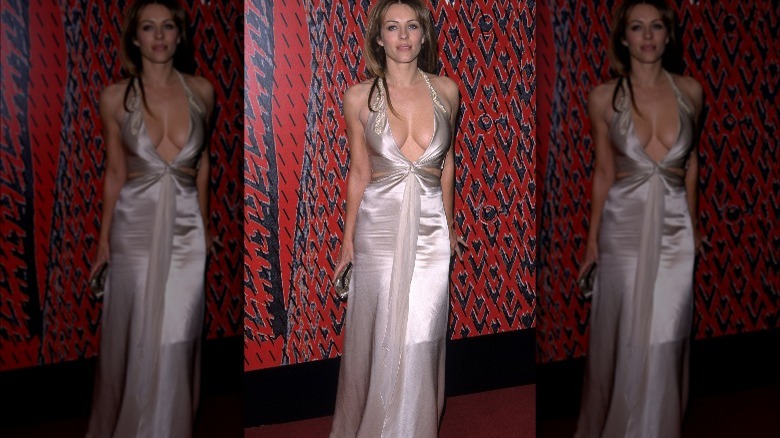 Kevin.mazur/Getty Images
Revenge dresses are most often worn when the woman was wronged by her ex, but sometimes they're worn even when the relationship ended on good terms. Elizabeth Hurley is a perfect example of the latter. After splitting with Hugh Grant after a 13-year relationship, Hurley stepped out in a décolletage-baring Valentino number. Though beige, the dress was anything but boring, and it reminded us that sometimes revenge dresses are needed for a confidence boost after a breakup rather than to send a subliminal message to an ex.
Miley Cyrus
Revenge dresses don't need to be worn immediately post-breakup. As Miley Cyrus proved, they can make just as much of an impact when donned a few years later, particularly when filming a video for a revenge song released on your ex's birthday. Cyrus' gold YSL cutout dress from her "Flowers" music video was first seen on the runway in the early '90s, but it was a much more potent cultural moment in 2023.
Zoë Kravitz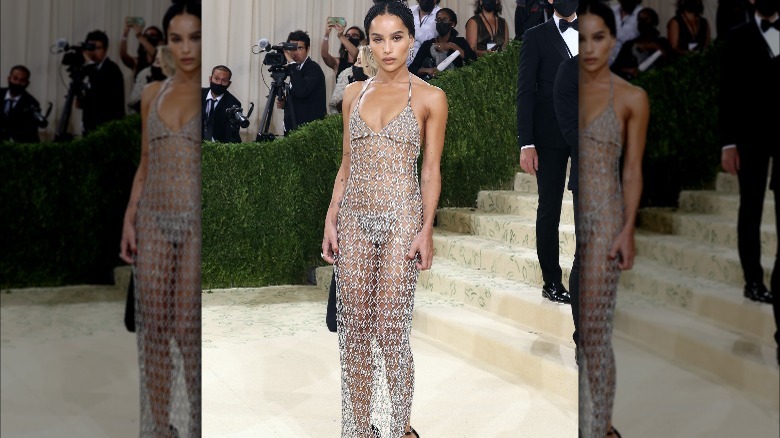 Taylor Hill/Getty Images
They say success is the best revenge, but others would argue it's wearing a provocative dress to a highly publicized event that you're certain your ex will see photos of. We suspect Zoë Kravitz is in the latter camp. After splitting from actor Karl Glusman, Kravtiz arrived at the 2021 Met Gala in a YSL (who's apparently inadvertently in the business of making revenge dresses) chain link dress with a barely-there bra and thong as undergarments. While it's fun to see revenge dresses, we'd also like to get the exes' takes, especially on this one.
Gisele Bündchen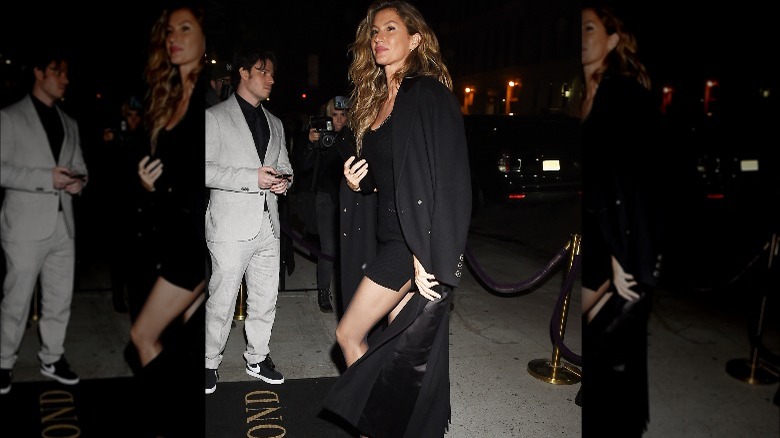 Mega/Getty Images
When your ex-wife is a supermodel, it's less of a question if she'll wear a revenge dress and more when she'll wear it — and where to. After her divorce from Tom Brady, Gisele Bündchen stepped out post-Met Gala in an LBD à la Princess Diana. She paired the fitted dress with black tights and heels just like the original, too. Though Bündchen certainly looked better than a championship ring, we have to note that she could make just about any dress look like a revenge dress.
Emily Ratajkowski
Once again, when you're a supermodel, every dress is a revenge dress, but some pack a little more punch. After splitting from Sebastian Bear-McClard, Emily Ratajkowski wore her revenge dress to W Magazine's 50th-anniversary party. The model's take on the look was a Tory Burch fishnet dress that she paired with a satin bra and underwear. And to make sure the public saw her in the dress, Ratajkowski posted a photo of herself wearing it to Instagram, even garnering the attention of the dress's designer. That's one effective revenge dress.
Vanessa Hudgens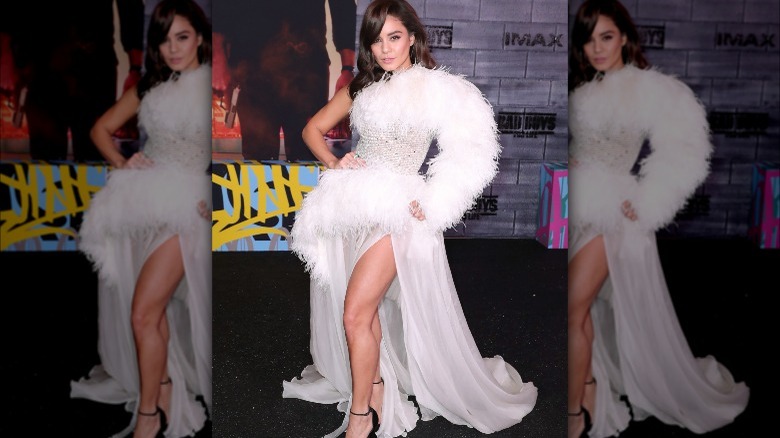 Leon Bennett/Getty Images
As we've learned in the nearly three decades of revenge dresses, they come in all shapes and sizes. We typically expect them to be skin-bearing or ultra-fitted, but they can also simply be proof that you're thriving post-breakup. After ending her nine-year relationship with Austin Butler, Vanessa Hudgens hit the red carpet in a fun white dress adorned with feathers and featuring a bedazzled bodice and prominent slit. More than anything, Hudgens looked like she was having the time of her life, and that sent just as loud a message as the dress itself.
Jennifer Garner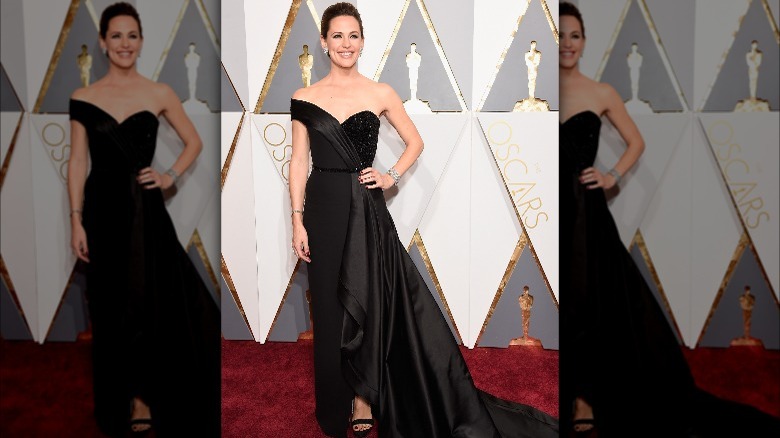 Kevork Djansezian/Getty Images
It's been said that black is the lucky color for Oscar winners, and it's clearly a good color for revenge dresses, too, especially ones worn to the Oscars (even if you're not nominated). Post-breakup from Ben Affleck, Jennifer Garner wore a striking black dress to the 2016 Academy Awards. The dress was form-fitting in all the right places and highly glamorous while the divorce came off the heels of rumors of infidelity on Affleck's part, though Garner denied such rumors. Whatever the case, Garner looked stunning in her revenge dress.
Julia Fox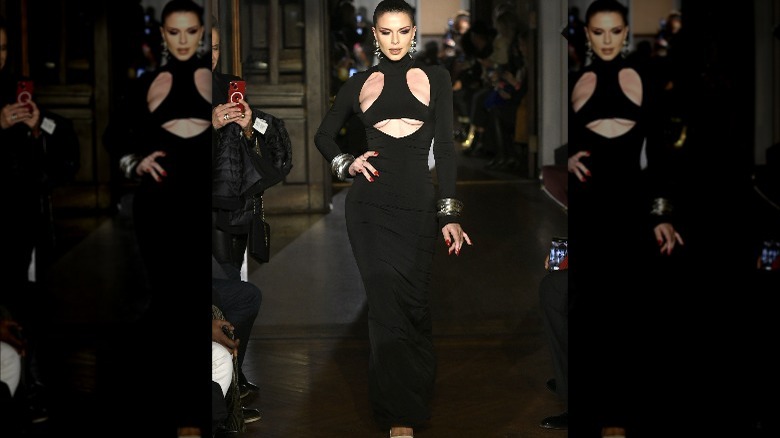 Fernanda Calfat/Getty Images
Julia Fox is unafraid to wear daring dresses, so we should've expected nothing less from the revenge dress she sported after her breakup with Kanye West. Fox wore a figure-hugging black dress with careful cutouts near her chest to a fashion show, completing the ensemble with chunky jewelry and smoky glam. Fox and West famously had a whirlwind romance, and though perhaps their breakup didn't necessarily warrant a revenge dress from Fox, we'll never criticize a woman for wearing one, especially one that's quintessentially them.
Reese Witherspoon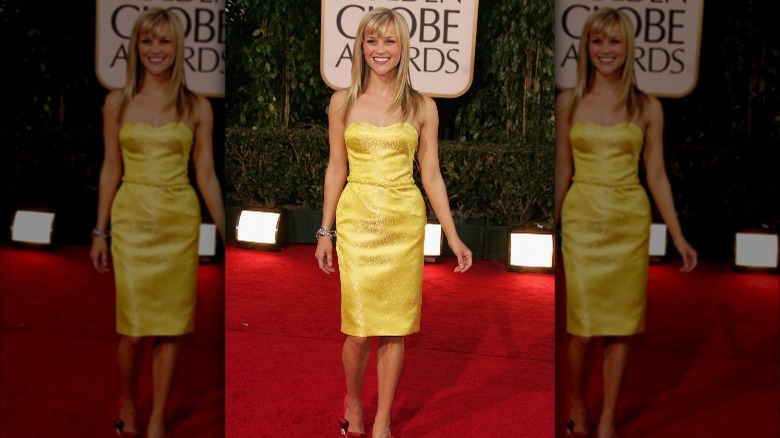 Frazer Harrison/Getty Images
Reese Witherspoon's revenge dress was wholesome and sweet, just like the actor herself. Witherspoon donned a yellow strapless knee-length dress on the red carpet after her split from ex-husband Ryan Phillippe, and she was the first woman to prove that revenge dresses are about more than just looking really good — they're a symbol of strength and tenacity in adversity, and for Witherspoon in particular, a stamp of grace and self-assurance. If you're not comfortable in a Zoë Kravitz-esque revenge dress, take your cues from Witherspoon and simply show up feeling confident.
Olivia Wilde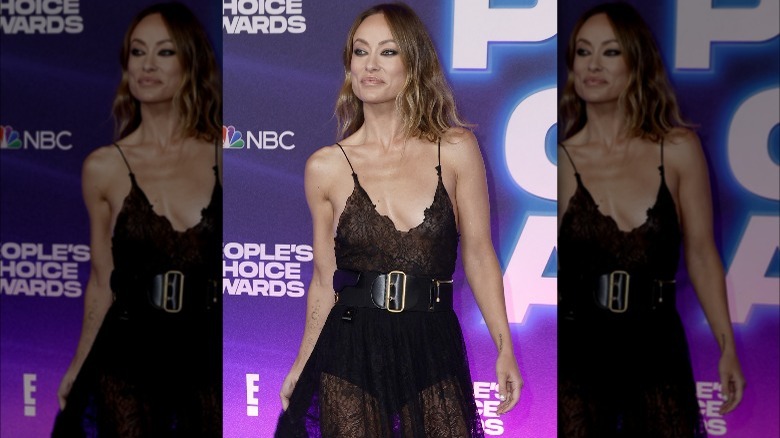 Frazer Harrison/Getty Images
There was ample chatter surrounding Olivia Wilde's breakup from Jason Sudeikis, but the closest Wilde seemed to get to revenge was feeding Harry Styles her infamous salad dressing (is there such a thing as a revenge salad dressing?). When Wilde and Styles split, though, she upped her revenge game and wore a black Dior gown to the People's Choice Awards that showed plenty of cleavage and leg thanks to its sheer lace. Per reports of the nature of both breakups, the revenge dress might've been more appropriate in the wake of her Sudeikis split, but we're not here to judge.
Selena Gomez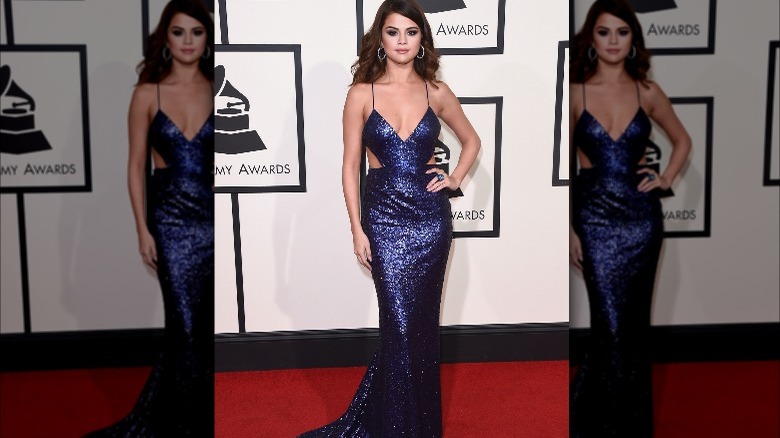 Jason Merritt/Getty Images
Selena Gomez has several revenge dresses in her fashion history. The singer and actor has had multiple high-profile breakups, and each time she's stepped out afterward in a 'fit worthy of praise. Our personal favorite was the blue gown she wore to the 2016 Grammy Awards post-split from Justin Bieber. The low-cut cutout gown sparkled on the red carpet, and Gomez glowed in stunning glam and hoop earrings. She even made an outfit change later in the night for a revenge dress double feature.
Princess Diana (again)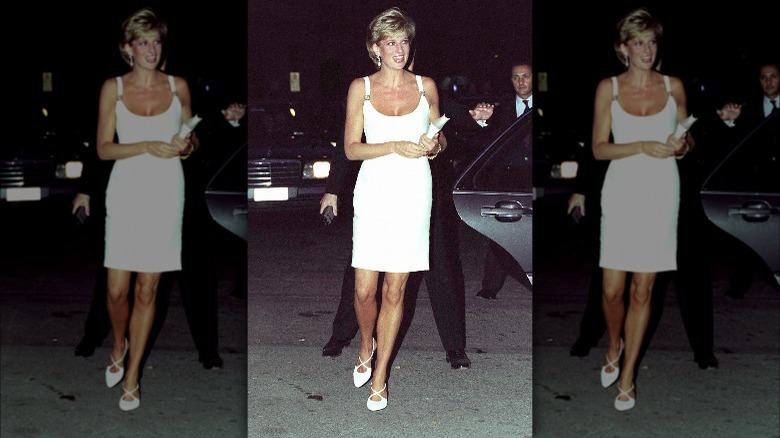 Tim Graham/Getty Images
If there's anyone who had reason to wear multiple revenge dresses, it was Princess Diana. Princess Di wanted her original revenge dress to come in white, but the designer swayed her to wear it in black. Diana had her moment in white the following year when she wore a white Versace slip dress out in Italy. Her public appearances following the royal cheating scandal proved to be nothing more than a revenge dress tour, and for that, we are eternally grateful.