Is Moisturizer An Effective Swap For Neck Cream? An Aesthetic Nurse Settles The Debate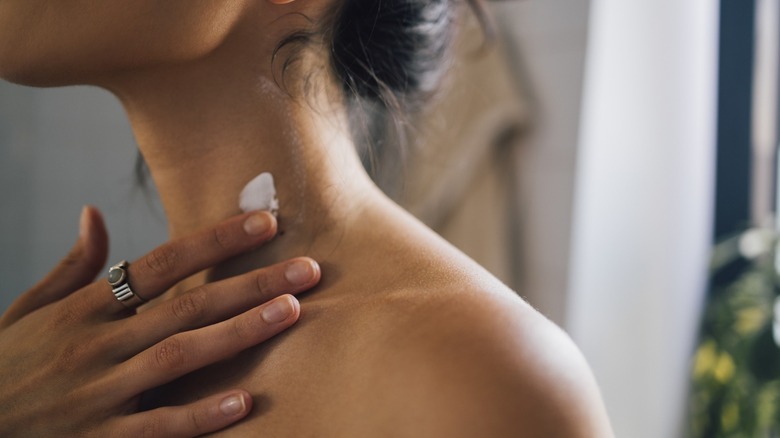 Freshsplash/Getty
We may receive a commission on purchases made from links.
We've all heard about the importance of moisturizing our faces, but the precious skin on our necks shouldn't be neglected, either. Skincare advice can often sound like a gimmick to get consumers to buy more creams and serums, and neck creams might certainly seem like hyper-specific products in which to invest. For this reason, it's tempting to swap out a fancy neck cream for your regular facial or body moisturizer. After all, every moisturizer does basically the same thing, right? Unfortunately, skincare can get a little more complicated than moisturized versus not. To find out more about how neck cream compares to a standard moisturizer, Glam exclusively chatted with aesthetic nurse Marina Sominsky, R.N., the owner of Capital Aesthetics.
According to Sominsky, a neck cream really can make a difference in our skin's health. Per Sominsky's expertise, the necessity of a neck cream comes down to the unique traits of the skin on your neck compared to that of your face. Not only is a neck cream helpful, but it should also be moved way up on your skincare priorities.
Why your neck needs extra attention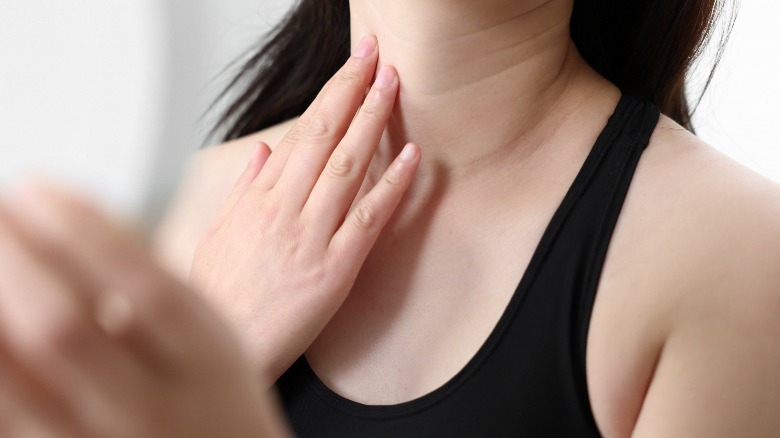 bigshot01/Shutterstock
During our exclusive chat, Marina Sominsky shared that the skin on our neck is both sensitive and likely to be neglected in people's skincare routines. From a cosmetic perspective, Sominsky notes that the neck can easily get fine lines and wrinkles, which are signs of aging that some folks wish to avoid. What's more, the neck can be extra vulnerable, with Sominsky noting that people tend to put less sunscreen on their necks and that the neck naturally "has few oil glands and is more prone to stretching due to the thinner dermis and epidermis layers compared to the face."
Before anyone shrugs this neck skin talk off as pure vanity, they should that taking care of your skin is about more than looking good. As you age, your skin becomes weaker, and you're far more injury-prone (via MedlinePlus). With that in mind, keeping your skin healthy and protected can make a difference in the long run, and using a neck cream could be a smart choice to keep it firm and healthy — so, yes, neck creams are necessary, if it wasn't clear.
Neck creams are made differently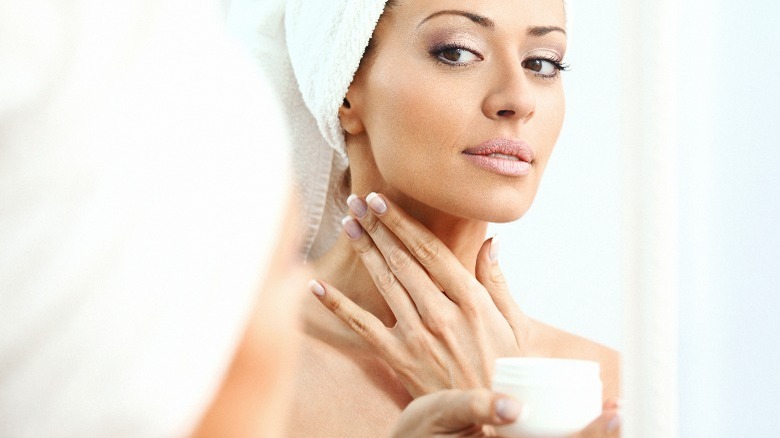 Gilaxia/Getty
A regular moisturizer won't give the skin on your neck everything it needs, Marina Sominsky exclusively tells Glam. From Sominsky's expert perspective, a body moisturizer hydrates your skin but doesn't have other nourishing ingredients from which your neck would benefit. Furthermore, Sominsky explains that "many neck creams are specifically formulated with peptides, retinol, and hyaluronic acid, ingredients that all work together to stimulate collagen production and compensate for the lack of oil production on the neck skin."
So, will a body moisturizer hurt your neck? Of course not. Moisturizing your skin is excellent, but, per Sominsky, the skin on your neck is thin and needs more than hydration. In comparison, a neck cream typically has collagen-boosting ingredients that can strengthen your skin and reduce fine lines and wrinkles.
A neck cream sounds like an excessive beauty purchase, but it's an important item to have in your collection if you want to stay on top of your skincare. And if you're really trying to stretch your budget, you can always find a drugstore cream that packs as many nourishing ingredients as possible into one product, like the RoC 5-in-1 Multi Correxion Cream. At the end of the day, skincare doesn't have to be complicated or overly expensive, but you should always make sure you're taking care of your whole body, from head to toe.