Multani Mitti: What Is It And Why Should It Be Part Of Your Skincare Routine?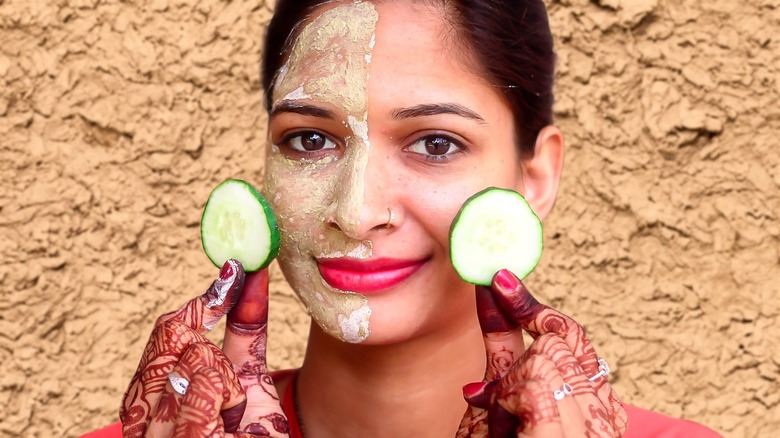 Static Media/Shutterstock
Skincare can kind of be confusing. Sometimes your regime just isn't working no matter how many products you try. Here's a tip: focus on the ingredients your skin needs instead of on the cosmetic product. Beauty is personal, so often general cleansers or serums won't do the trick. However, natural ingredients can help, whether you find them in products on the shelf or DIY your goods yourself.
For a DIY face mask that actually works, multani mitti is the answer. Multani mitti, also known as fuller's earth, is a clay commonly used in beauty regimes in South Asia. This absorbent ingredient works on behalf of your skin to fend off and tackle an array of cosmetic issues. The organic powder might just be what your skincare routine is missing. Learn exactly what it can do for your skin and how to use it to make your skincare a little less confusing.
The clarifying benefits of multani clay
Multani mitti is a natural cleansing clay that works great on oily and acne-prone skin. Thanks to its magnesium chloride, this clay acts as an exfoliator. A 2020 research study published in the World Journal of Pharmacy and Pharmaceutical Sciences also found multani mitti removed dead cells from the skin's surface and dirt within the pores without causing irritation. Its unclogging property can reduce the appearance of pores and control breakouts. Plus, its cooling effect eases redness from inflammation, sunburns, and bug bites.
Using multani clay can also reduce hyperpigmentation while brightening your skin. This clay is an astringent, meaning it constricts body tissue. The tightening can prevent fine lines and encourages circulation, which combats a main cause of dark circles — lack of oxygen. It is a natural product that works for your skin in a mirage of ways. What's even better is it's easy to add to your beauty regime.
How to add multani mitti to your skincare routine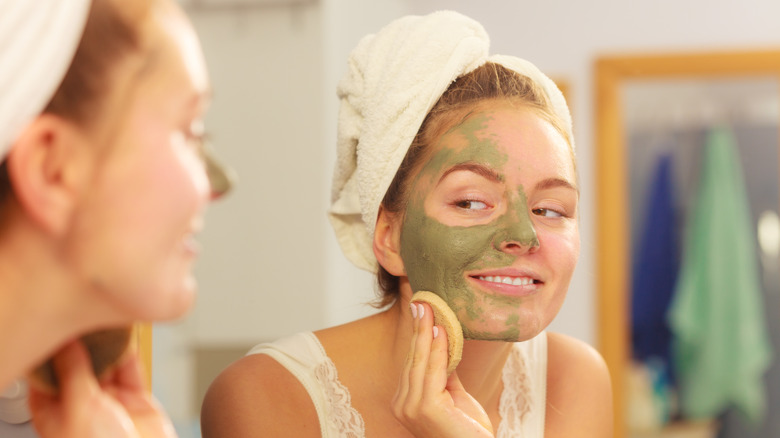 Voyagerix/Shutterstock
You can use multani clay to target specific regions of excessive oiliness or inflammation. Mix the clay with neem powder and water before applying it to your problem areas. In that way, it's like a natural pimple patch. Apply it to acne to dry out zits and eliminate redness. You can leave the clay on until it dries or apply it before bed and rinse it off in the morning.
To get the full brightening and cleansing benefits, use multani mitti as a face mask once or twice a week. Combine equal parts of the clay powder with aloe vera gel to create a thick paste. Then, smother an even coat on your clean face and let it sit for 10 minutes. After your rinse, apply your moisturizer. Remember, results aren't overnight. Like with all skincare, consistency is key.
This clay might be too harsh for you if you have dry skin. It sucks up oil, so it can leave your skin excessively dehydrated. For those with sensitive skin, it's always best to patch test any new products.