Are HydraFacials Good For Acne-Prone Skin? Here's What To Know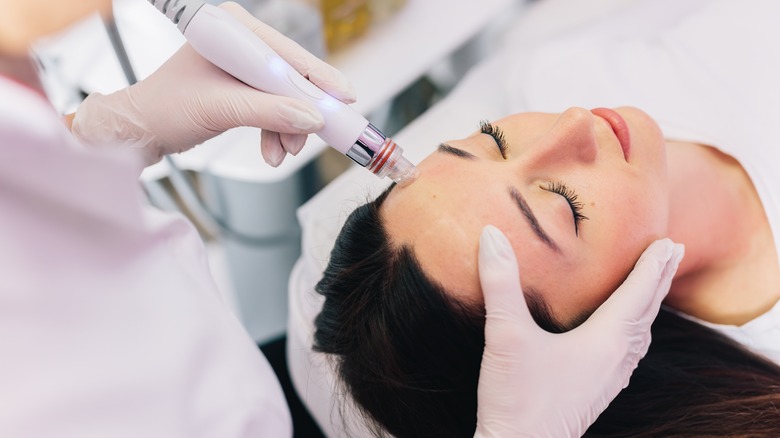 PHOTOCREO Michal Bednarek/Shutterstock
HydraFacials have been around since 1997 following the release of the very first HydraFacial device. Since then, HydraFacials have remained the go-to facial treatment for a variety of skin concerns. "HydraFacials can be helpful for all skin types and work to boost radiance, hydrate, plump, and brighten the skin," New York-based dermatologist Marisa Garshick shares with Allure. They also target a myriad of skin issues, including uneven texture, hyperpigmentation, fine lines, and general skin congestion, so each facial is highly customized to the individual (per Healthline).
These popular facials also function as an effective treatment option for acne, according to a 2022 study published in the Journal of Clinical and Aesthetic Dermatology. Those with acne-prone skin benefit from classic facials, as they provide a deep cleanse that helps unclog your pores and prevent future breakouts (via Healthline). HydraFacials, however, offer greater benefits for acne-prone skin due to the gentle exfoliation and customizable booster serums. If your congested skin is in dire need of a deep clean, you should absolutely consider a HydraFacial.
What is a HydraFacial?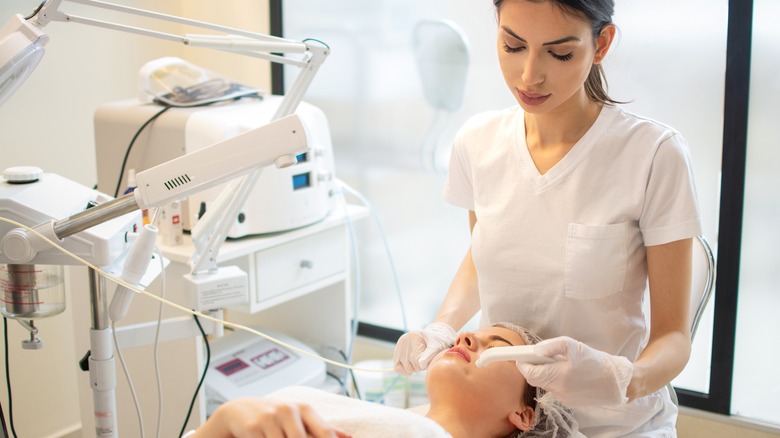 Bojan Milinkov/Shutterstock
A HydraFacial is a gentler alternative to microdermabrasion and it is referred to as hydra-dermabrasion. "Microdermabrasion uses crystals and can be irritating to those with sensitive skin due to the abrasive nature. The HydraFacial uses water and suction to do a more thorough job with no irritation or downtime," board-certified physician assistant in dermatology Merry Thornton explains to Byrdie. The vacuum device performs three main functions: cleansing, exfoliating, and hydrating, per Healthline. After a deep water cleanse, the skin receives a gentle resurfacing using a solution that contains active exfoliants such as salicylic or glycolic acid.
The last step in the HydraFacial process involves the use of hydrating serums which are infused into the skin. "Because it gets rid of dead cells, products you use after the fact can penetrate more effectively, and it also creates a nice smooth canvas for makeup," Thornton tells Byrdie. As a result, your skin receives the full benefits of the serums used during your treatment. These booster serums typically consist of rich, skin-plumping ingredients, such as hyaluronic acid, peptides, antioxidants, and collagen, according to Ellemes Medical Spa.
How does it help acne?
The two main exfoliating acids used during a HydraFacial, glycolic acid and salicylic acid, remove dead skin cells and unclog your pores, revealing a fresh layer of skin. Glycolic acid is a type of alpha-hydroxy acid (AHA) that is known for its acne-fighting properties, as it encourages cell turnover (per Healthline), while salicylic acid, a beta hydroxy acid (BHA), penetrates pores to remove the build-up of skin cells and sebum. The combination of an AHA and BHA produces the most effective results for treating and preventing breakouts. Exfoliating acids also help reduce scarring and hyperpigmentation caused by past breakouts (via Healthline). Those with sensitive skin, however, may not tolerate both exfoliants at the same time, so let your aesthetician know if you tend to react to certain actives.
Also, keep in mind that you will not notice immediate improvements after a single session, consistent treatments are often required before you begin to observe changes in your skin. In fact, many people experience an increase in blemishes following a treatment, but this is a normal reaction to any facial due to the pore extraction process. According to the Laser Aesthetic Center, maintaining a routine schedule, as set out by your aesthetician, will reduce the severity of breakouts and speed up healing to decrease the chance of scarring. For the best experience, remember to discuss your skin goals and concerns with your aesthetician prior to your HydraFacial so they can tailor your treatment to your skin needs.