How To DIY Daisy Print Nails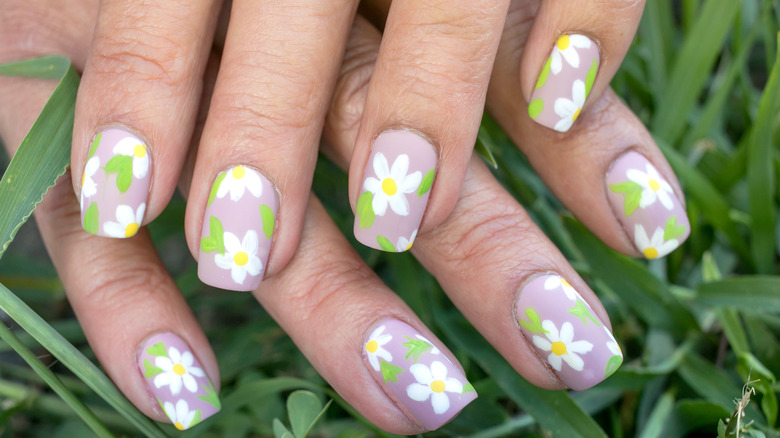 CHRISTINA RADCLIFFE/Shutterstock
We may receive a commission on purchases made from links.
We can't get enough of the nail colors we're seeing everywhere in summer 2022. According to The Zoe Report, one of summer 2022's hottest nail colors is playful hot pink, and we're already obsessed with this vibrant hue. The Zoe Report further notes that light yellow is another trendy option, along with lovely lilac and bright reds and oranges. For those who prefer a simpler look, creamy neutrals are trending, too. If you want to experiment with summery nail patterns in addition to colors, daisy nail art is perfect for summer and still looks great all year round, thanks to its adorable charm.
Advertisement
Daisy-inspired nail art is such a popular style that over 81 thousand posts popped up on Instagram when we searched #daisynails, and there are so many variations of this floral design! For instance, one beauty enthusiast kept it minimalistic with one small daisy design toward the bottom of each nail, while another got creative by printing daisies and strawberries all over. Luckily for anyone who wants to flaunt their own daisy nail print, the design is easy enough to do at home.
How to create a daisy nail design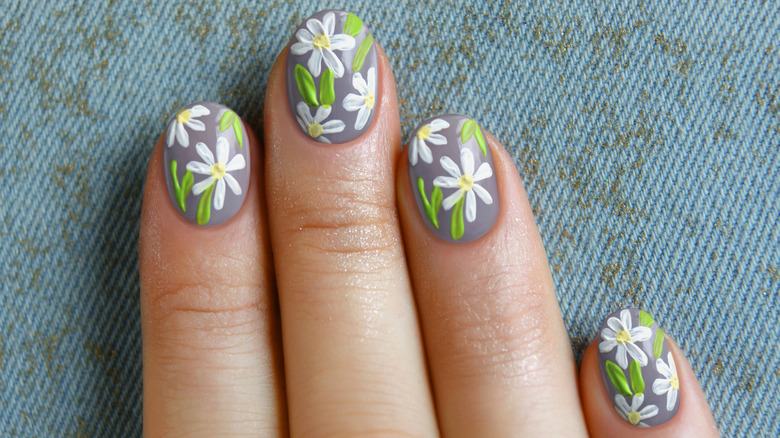 Mrs.Tea/Shutterstock
Refinery29 outlined the steps to do daisy print nails at home, and they're not too advanced at all. The outlet suggests using white, yellow, orange, and top coat nail polish for this design, and you'll begin by making six flower petals in a circle with a nail dotting tool in any of those colors. Then, put one dot in the middle with another color to complete the daisy. Keep in mind that they don't have to be perfect, and feel free to switch up the colors as you go to keep them interesting. Like any other manicure, don't forget your top coat when you're done.
Advertisement
If you're looking for an even easier way to rock daisy nail art, nail stickers are another option. All you have to do is stick them on your nails! Anyone on the hunt for some daisy nail stickers should check out the 3 Sheets Daisy Nail Art Stickers from Amazon, which are available for around $6. Additionally, Shein sells its Daisy Shaped Nail Art Decoration box for only $1.
We can't wait to start experimenting with daisy-inspired nail art!