Why You And Your Partner Should Consider Taking An 'Earlymoon' Before Your Wedding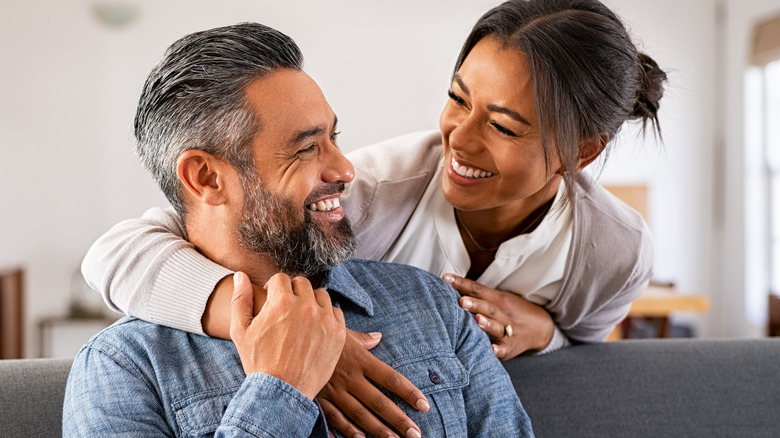 Rido/Shutterstock
Just wait. If you've only just started planning your wedding, the stage is bound to erupt. It's a stage marked by animated debates, sullen disagreements, and probably a few clear-out-the-rafters arguments. And this is just between friends and family; you and your partner may encounter even more tensions as you try to orchestrate what is often touted as "the most important" day of your life.
Advertisement
Now you know what people mean when they say that planning a wedding can be one of life's most stressful experiences. After all, you and your partner are trying your best to accommodate and please two families, two sets of friends, and two groups of coworkers, all while somehow making the day reflect the best of the two of you. From a certain point of view, it would seem almost impossible to plan a wedding without stirring the pot of emotion occasionally.
But there is a solution — or at least a partial solution to cooling off that pot. You can escape the wedding planning madness by taking what's called an "earlymoon."
Why take an earlymoon?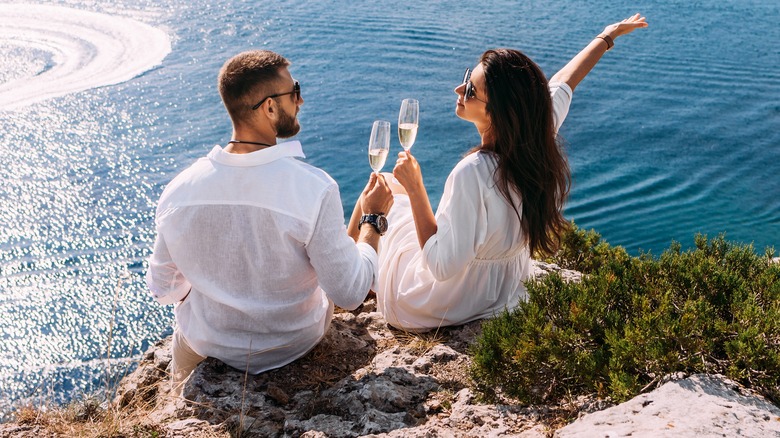 Sotnikov Misha/Shutterstock
Whereas a honeymoon is a post-wedding trip, an earlymoon is a pre-wedding trip. It can be an ideal time to get away from debates and arguments with those well-meaning friends and family members before your big day. Still, Romantics Travel notes that there are other reasons to consider taking an earlymoon, too. Consider that it can serve as a much-needed time-out from what has probably become a constant topic of conversation between you and your intended. If you remember the days when you used to talk about your work life, your shared interests — anything but planning a wedding — an earlymoon might serve as a pleasant reminder that calmer days really do lie ahead.
Advertisement
An earlymoon can also be a great time to reconnect as a couple — and maybe even reignite the spark between the two of you. That pot of emotion has a way of unwittingly splashing and extinguishing the flames of passion between two people. An earlymoon can be a reminder that more intimate days lie ahead.
While you're away, you may wish to take some time to evaluate how the wedding planning is going, make changes, and, perhaps, set some ground rules for your wedding day. For example, some couples make a pact to set all the stress and worry aside and enjoy the day, whatever happens and whatever does not go according to plan. In this way, an earlymoon can be like hitting the reset button to set the tone for what's left of the wedding planning (via The Knot).
Advertisement
What an earlymoon looks like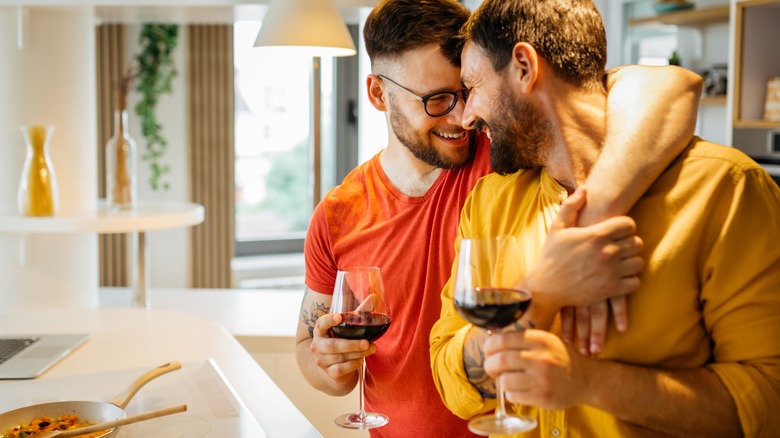 astarot/Shutterstock
While no one seems to be keeping track of how many couples are taking earlymoons these days, there is little doubt that it's a growing trend. It's one that may be influenced by high-profile people like Pippa Middleton, the sister of the Duchess of Cambridge, Kate Middleton. Pippa Middleton and her future husband, James Matthews, apparently jetted off to St. Barth's before their 2017 wedding (via The Knot).
Advertisement
Of course, not everyone has the financial resources of this couple. And you may be wary of adding a big expense to the already costly proposition of getting married. In this case, it may help to remember that the key to an enjoyable earlymoon is not where you go but who you're with. If this tenet sounds a little like your honeymoon, consider: A short weekend getaway at a local hotel or resort, perhaps combined with a visit to the spa; a road trip to one of the most important memory-making places in your relationship; or a "staycation" at home — but not before unplugging phones and computers and putting the focus squarely on the two of you.
Some of these ideas are offered courtesy of Shutterfly, which advocates for couple-togetherness. After taking an earlymoon and honeymoon, you may, too. You may even embrace the next "moon" on the horizon: the "babymoon."
Advertisement