Regencycore Is A Royally Fun New Fashion Trend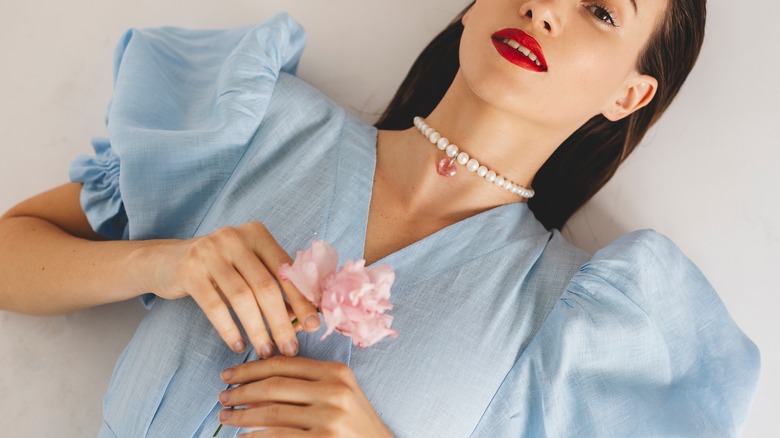 Ekateryna Zubal/Shutterstock
Inspired by the popular debut of Netflix's "Bridgerton" in 2020, a new fashion trend has made its way into many people's closets. Regencycore, as it is called, is a mix of feminine, soft flowing looks. This style includes florals, empire waists, puff sleeves, the ever-so-popular babydoll dresses, and a delicate design of elegance with a touch of royalty. This look is also accessorized with dazzling pearls and jewelry, opera gloves, and, of course, a tiara. This fun new trend can turn you into your own diamond of the season.
During London's Regency Era in the early 1800s, there existed a high society that focused on elegance and etiquette (via Shondaland). The fashion of this era was once popularized by the likes of Jane Austen, who helped visualize the life of the Regency Era as well as "Bridgerton," which is inspired by novels by author Julia Quinn.
"I was visually captured by the work of Genieve Figgis, a fine artist whose exciting palette immediately represented what the world of 'Bridgerton' could be. We went on to devour research, paintings, and drawings of the Regency period in London 1813," "Bridgerton" Season 1 costume designer Ellen Mirojnick tells PopSugar. "After that, we moved onto imagery that included decades of the 18th, 19th, and 20th centuries. The world of 'Bridgerton' was born from this mix."
Regencycore comes to life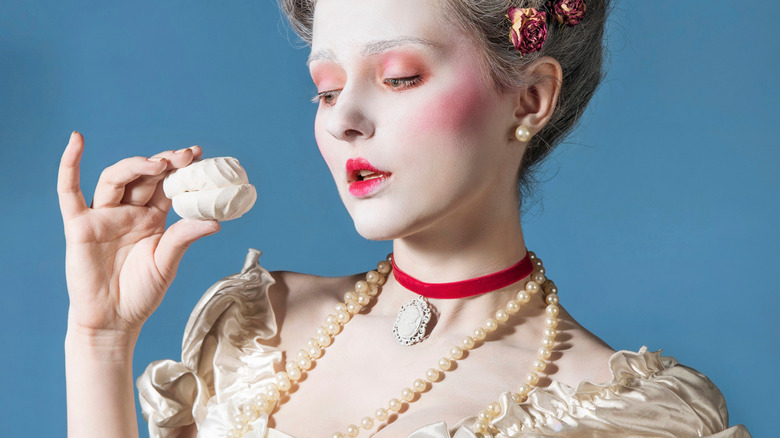 Ramonki/Shutterstock
A simple search for the style on Instagram, TikTok, or Pinterest displays thousands of posts to inspire users. Instantly, you'll see posts with soft pastels, corsets, and updos with tiaras. In fact, following the premiere of "Bridgerton" on Netflix, web searches for "floral print dresses" went up by 146%, "Regency dresses" by 84%, and "silk gloves" by 63% (via Women's Wear Daily).
Asta Darling, a content creator who describes her social media pages as "a carefully curated collection of time travel," has also participated in the trend. Normally featuring Victorian-esque looks to her 2.1 million followers, she has garnered about five million views as the "top liked" video under the Regencycore search on TikTok. Darling made her own version of the trending strawberry dress with a dash of Regency, paired with light pink opera gloves, pearl jewelry, a tulle headband with an updo, and a pink feathered palm fan.
General manager at ShopStyle Alison Stiefel tells Women's Wear Daily that this style has been around for a few years, gradually growing in popularity. "It actually probably started back in 2020 or so if you remember when people were starting to be at home and still wanted some sort of fashion element," Stiefel tells the outlet. "There were a lot of puffy sleeves on T-shirts and more embroidered sweaters, so those little pieces started to come in a more casual way. Toward the end of last year, it started to be a little bit more refined and more focused on outfits you can wear day-to-night — things like dresses: more Empire-waist dresses and puffy sleeve dresses." Fast forward from 1813 London to the 2020 global fashion scene and Regencycore is born.
Implement Regencycore into your personal style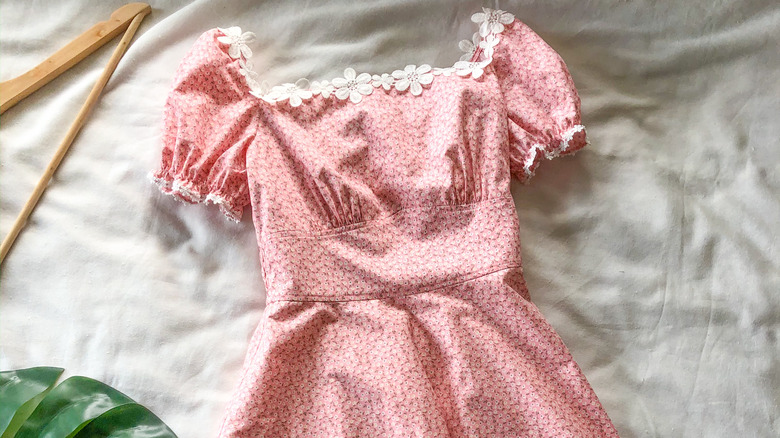 Tangerinesky/Shutterstock
Many brands in the fashion industry are providing their own ways to help you tap into Regencycore. You can participate in this trend as if you are actually attending a ball, or you can give it a modernized touch. Regencycore can be narrowed down to five essentials, per Stitch Fix Style Guide: the empire dress, corsets, intricate necklines, puff sleeves, and a variety of accessories. Brands like Selkie offer a variety of dresses, having contributed to the rise of the trend with its puff dress, which is offered in soft pastels, florals, and beautiful layers of gathers to give it that elegant flow.
Implement it into your everyday looks with corset tops, pearl earrings, silks or feathers, and flowy dresses or skirts. TikTok user Agus Panzoni, who goes by TheAlgorythm, is a trend forecaster who says that Regencycore is about mixing Victorian items with underwear (the Victorian kind) as outerwear, such as a corset. "I recommend taking your favorite cottagecore dress and updating it with all of these," Panzoni tells her viewers in a TikTok video, as she displays a corset, pearl headband, garters, stockings, and elbow length gloves as ways to implement the look into your daily style.