Don't Make These Cleansing Mistakes If You Have Combination Skin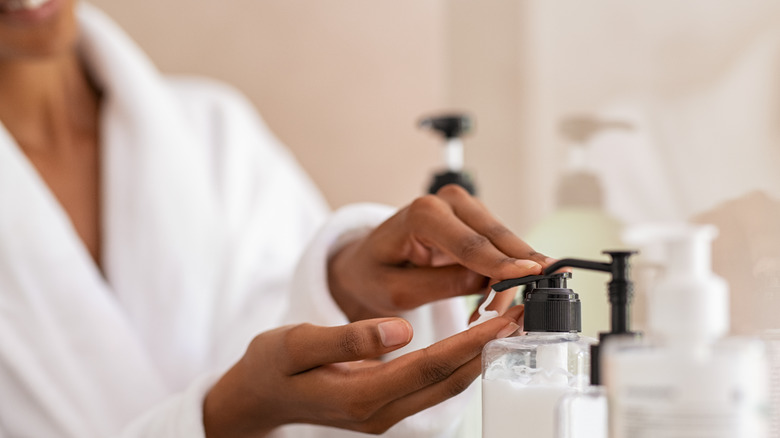 Rido/Shutterstock
We may receive a commission on purchases made from links.
If you have combination skin, you have probably heard tons of advice about what you should and shouldn't do when it comes to skincare. Having combination skin indeed presents two issues that you need to tackle at once and can get difficult to manage. However, having combination skin shouldn't be a struggle.
According to Paula's Choice, combination skin is described as having areas of both oily and dry skin. Usually, the t-zone will be the oily area, and the cheeks, jawline, and hairline areas will be dry. Although combination skin is usually determined by genetics, it can also be triggered by environmental and hormonal triggers. By not using the correct products on the correct areas, you could be making your face either extra oily or extra dry.
This is why it's important to know exactly where your oily and dry areas are and how to deal with both of them. One of the most important parts of skincare is cleansing as it creates the base for the rest of your routine. For that reason, cleansing your skin correctly when you have combination skin is key to balancing your skin in the bigger picture. Here's how to approach it. 
Mistakes you shouldn't make when cleansing combination skin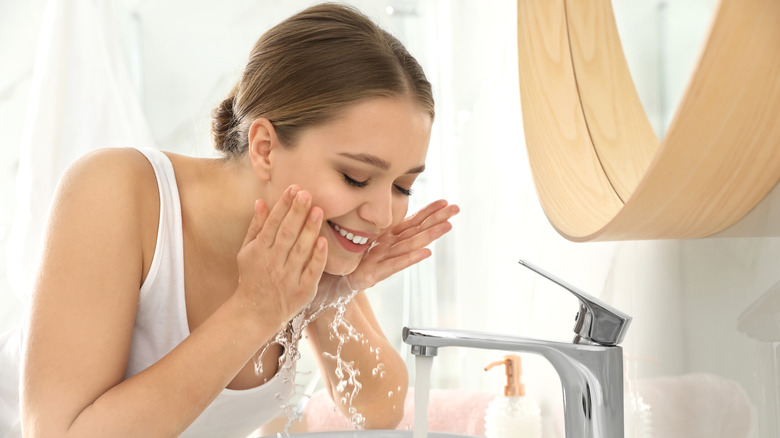 New Africa/Shutterstock
It can be frustrating to cleanse combination skin since dealing with oily skin and dry skin calls for two different strategies. However, according to facialist Renée Rouleau, one of the mistakes those with combination skin make is using too many products (via Byrdie). It can be easy to try and use multiple products to target different areas. Using multiple products can lower the efficiency of ingredients that aren't meant to be mixed. Furthermore, when you use many products at once, it is hard to tell whether something truly works.
Rouleau adds that those with combination skin should also avoid using cleansing oils or harsh cleansers. Oils can specifically clog pores in areas that are already too oily. This can cause blackheads, acne, and other skin issues in these areas. On the other hand, using harsh products can further dry out the skin and severely trigger the skin. One of the worst mistakes those with combination skin can make is completely overlooking their cleansing routine (via Healthline). Although this mistake is bad for any skin, those with combination skin need to balance their skin before applying other makeup or skincare products. Otherwise, you risk them not working properly, breaking out, and wasting your money.
How to property cleanse your face if you have combination skin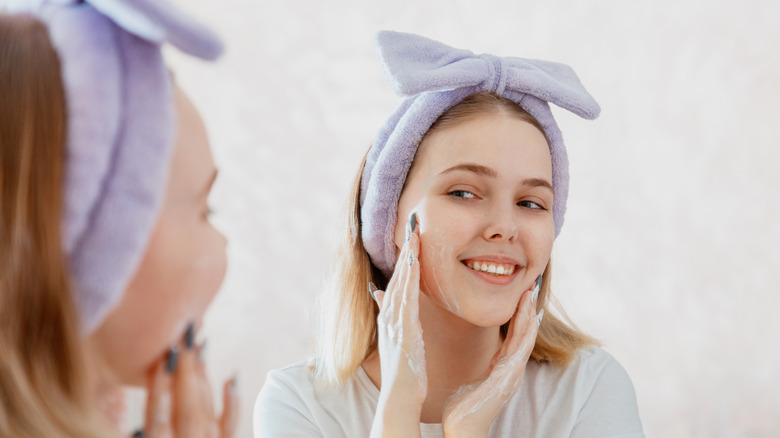 beton studio/Shutterstock
Now that you know what not to do with combination skin, it's important to know how to take care of your skin. According to L'Oréal Paris, the best cleanser for combination skin is a gentle formula. Combination skin needs a gentle cleanser to balance out the skin while removing dirt and oil but still moisturizing. Avoiding any extremes from extra moisturizing to extra harsh, a gentle cleanser will still work to clean and hydrate.
According to Skincare.com, besides having a gentle cleanser, those with combination skin need to cleanse their face twice a day: both in the morning and at night before bed. Using a gentle cleanser twice a day lets you remove any dirt or oil without dehydrating your skin, including the parts of your face that are more prone to becoming dehydrated. Constantly refreshing the skin and keeping it clear lets your skin not get too oily but also keeps you hydrated. Cleansing in the morning also purifies the pores from any buildup that can accumulate in your oily zones while you sleep.