What Is Banana Powder And How Do You Use It?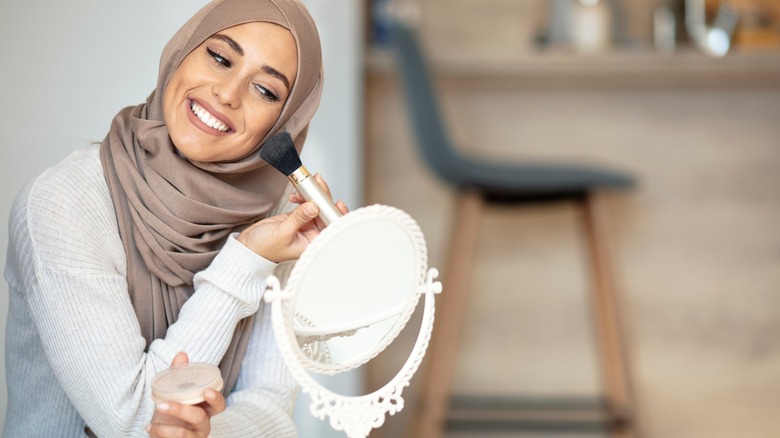 Dragana Gordic/Shutterstock
It's ba-a-a-ck. And this time, banana powder may be here to stay.
Introduced in 2016 by Kim Kardashian and her makeup team, the yellow-hued banana powder was billed as an ideal setting powder for people with gold or yellow undertones (via NewsBytes). Because it "illuminates, smoothes, and brightens all at once," according to Jenna Kristina, makeup artist and US brand ambassador for Maybelline New York, it was considered superior to translucent powder, which could leave a white cast on the skin and settle into fine lines (via PopSugar).
Advertisement
Thanks to its celebrity backing and its many abilities, banana powder seemed poised to enter the mainstream. But the makers of traditional translucent powders would have none of it and reclaimed the spotlight for a few years. Then the pandemic broke out, lockdowns followed, and the entire cosmetics industry watched in helpless dismay as makeup sales dropped by nearly 30 percent (via Kantar). It's still a little too soon to tell if people will fully return to their pre-pandemic makeup routines. But early indicators are looking good for banana powder.
How banana powder sets itself apart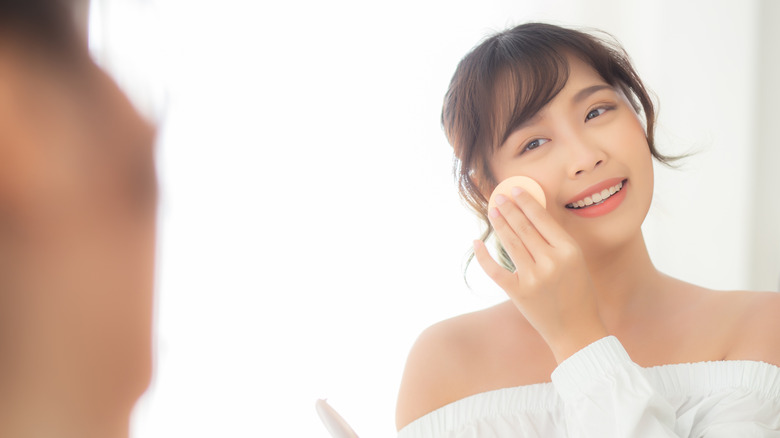 NT_Studio/Shutterstock
Despite its somewhat high-profile debut, banana powder may have escaped your notice. It still has some explainin' to do to differentiate itself in a competitive market. But your hunches are correct: it's called banana powder because it's made from processed bananas, which helps explain why it can be found in multiple food products, from bread and other baked goods to milkshakes and baby food (via BulkSupplements).
Advertisement
In its makeup form, banana powder is "essentially a hybrid of a pressed and translucent powder," Stylecaster says. It's loose, silky, and is meant to be a finishing touch when applied after foundation and concealer. It blots up facial oil and smooths out fine lines, too, when applied in a light dusting. With multiple applications, or in a greater concentration, it can also provide a brightening effect under the eyes (where many people need color correction in the first place), or on the cheeks and nose (via Dermaflage).
Bake banana powder with ease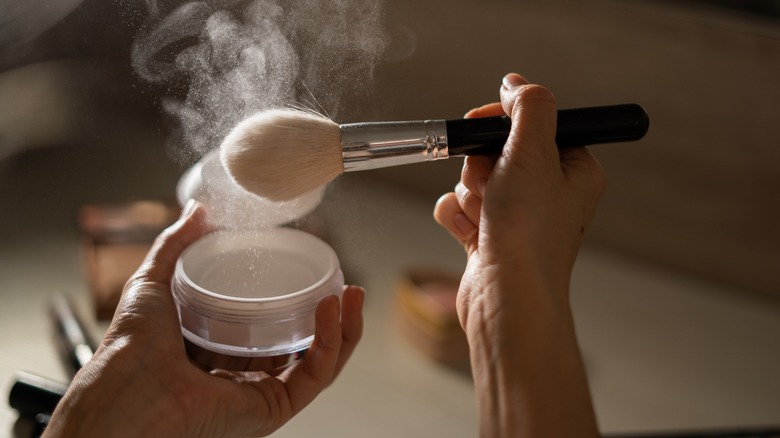 Lysenko Andrii/Shutterstock
After you buy your first jar of banana powder, you'll probably follow your natural instincts once you get home to apply it. You may use a round powder puff or your favorite powder brush, swirl it in the powder, and apply the powder over most of your face. If you go this route, you've chosen the low-key way to go bananas for banana powder.
Advertisement
But you can "bake" banana powder, too. And not just in a cake. Baking is a makeup technique designed to set makeup in place. First, you apply concealer or foundation and then dust your face with a liberal amount of powder (via Elle). Then you let the powder sit for 10 minutes so that the natural heat from your face fuses or "bakes" the concealer or foundation into your face. It's important not to touch your face or otherwise disturb the fusing process during this wait time. Once your time is up, use a clean brush to wipe away the excess powder. The result? Makeup that stays where you put it and a look that lasts. And maybe banana powder will last in your makeup routine as well.