The Nail Polish Worn By Queen Elizabeth For Over 30 Years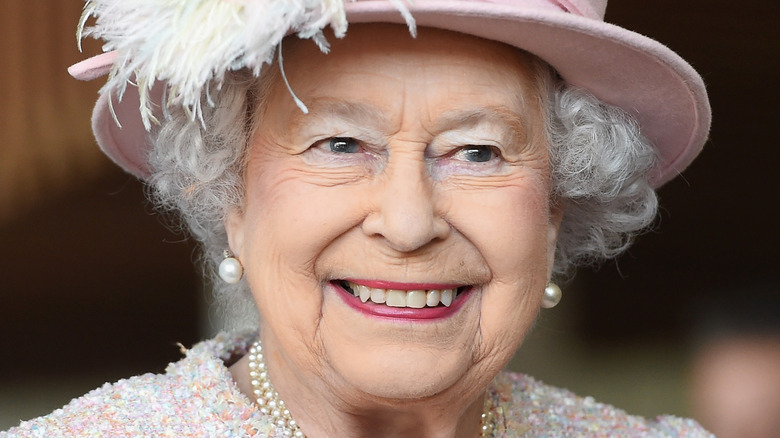 Stuart C. Wilson/Getty Images
We may receive a commission on purchases made from links.
"I have to be seen to be believed," Queen Elizabeth II famously said, as quoted in the biography "Elizabeth the Queen: The Life of a Modern Monarch." Throughout her rule, the queen seemed to dress with that purpose in mind. Aiming to get spotted easily with her petite figure, the monarch always clothed herself in vibrant and festive colors with matching gloves for public appearances. From the cobalt blue gown she wore when welcoming President John F. Kennedy to Buckingham Palace in 1961 to the pink cape she sported during a 1970s equestrian event that recalls "Harry Potter" character Dolores Umbridge, the queen never failed to impress the crowds with her rainbow-packed wardrobe. A 2012 Vogue study reveals that black and beige seemed to be the queen's least favored hues, as she was captured wearing them on only 4% and 1% of the occasions, respectively (via the Daily Mail).
The truth is out: the late monarch believed in making a statement with bright colors. But if you look closer into her ensembles throughout the year, you will notice that the queen's obvious preference for vibrant hues didn't apply to every part of her iconic looks. Take, for example, her nails. Interestingly, the nail polish worn by Queen Elizabeth for over 30 years isn't as bold as some might think.
Ballet Slippers was the queen's favorite nail polish
The nail polish sported by Queen Elizabeth on many grand occasions throughout three decades was Ballet Slippers, a pale pink nail polish that you can get from Essie for only $10. According to illustrious nail polish brand Essie, in 1989, founder Essie Weingarten received a letter from Queen Elizabeth's hairdresser asking for a bottle of the shade Ballet Slippers. And it was "the only color" the queen would wear since then, the website claims. Boasting a delicate, gossamer-like finish, this unassuming shade made an ideal accompaniment to the vibrant-colored outfits worn by the queen, giving her getup an extra touch of elegance.
The queen was in good company, too, as she wasn't the only one in the royal family who fell for the low-key charm of this drugstore nail polish. This nude-pink shade also got a shout-out from her granddaughter-in-law, Kate Middleton, the Princess of Wales, who has also been spotted wearing the nail color, per Town & Country Magazine. This royalty-approved nail color also graced the fingernails of Meghan Markle when she walked down the aisle of St. George's Chapel, confirming the widely spread rumors that Ballet Slippers is a staple on the dressing desks of the British royal family's women. 
818 bottles of Ballet Slippers were sold every day in the U.S.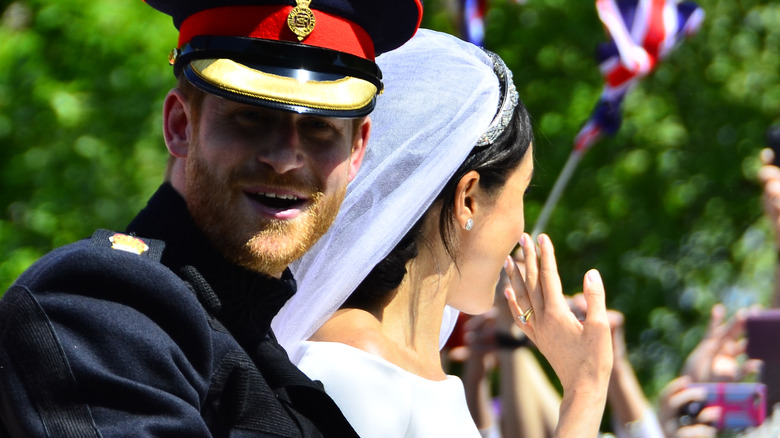 V-LEIBIUK/Shutterstock
As it turns out, Ballet Slippers has truly lived up to its description as "an iconic color for all seasons." According to Lots of Lacquer, about 818 bottles of Battle Slippers were sold every 24 hours in the U.S alone in 2019. Not only did this shade earn a seal of approval from the queen but it was also the color that the demanding magazine editor Miranda Priestly in "The Devil Wears Prada" advised the Vogue staffers to wear underneath a coat of Marshmallow. A red carpet favorite, this shade has also been spotted on A-list celebrities like Lady Gaga and Jennifer Lopez. This shade even won CEW's Iconic Consumers' Choice Beauty Award in 2019.
The light pink shade of Ballet Slippers is quite close to your natural blush nails, which makes it a suitable accompaniment to almost any outfit. Lightweight and sheer, this shade can be added as a second coat on top of the first coat for a velvety, finished look without making your nail look heavy. You can wear this ever-sophisticated nail color to work, a date, or your own wedding. Although Ballet Slippers has been around for quite some time, it's not showing any signs of going out of style anytime soon. Shiny without being distracting, affordable yet monarch-approved, Ballet Slippers is a flawless addition to a variety of ensembles and occasions.