Ever-Changing Decor Deals See Shoppers Choosing HomeGoods Over Bed Bath & Beyond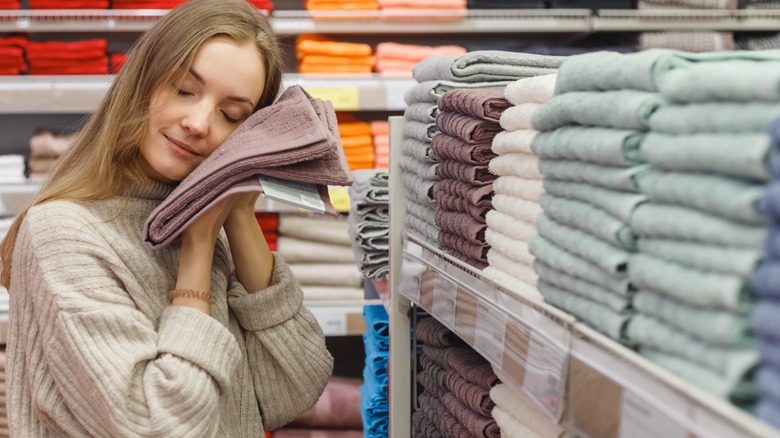 Vladeep/Shutterstock
Shoppers love seasonality and change. Just look at how Bath & Body Works promotes foot traffic with seasonal items, rolling out countless exclusive scents each year to keep customers on the hook. But it's one thing to release an ever-changing array of soaps, snacks, or clothing items. Does the same tactic work for home necessities like linens and decor?
Signs point to yes. Just consider the growth in money spent on new holiday decorations each year, which skyrocketed by 75% between 2004 and 2021 (via Statista). But special occasions aren't the only thing driving shoppers to haunt their favorite home stores for deals. Even outside the holiday shopping season, brands employ an ever-changing rotation of products to keep things fresh and exciting for visitors — and the chains that do this best reap the reward of higher foot traffic. For evidence that novelty can be a deciding factor in retail success, we need to look no further than the clash of two houseware titans: HomeGoods and Bed Bath & Beyond.
HomeGoods outpaces Bed Bath & Beyond in foot traffic
Bed Bath & Beyond (BB&B) has been a major player in the homeware space for half a century. But relatively recent upstart HomeGoods, which hit the scene in 1992, has quickly overtaken more established competitors. As of 2022, HomeGoods boasts 872 locations across 48 states and territories, with an especially heavy concentration on the East Coast (via ScrapeHero). Meanwhile, the investor overview from Bed Bath & Beyond reported only 769 Bed Bath & Beyond locations in North America, even including the District of Columbia, Puerto Rico, and Canada. This doesn't even consider that BB&B is imminently closing 150 stores and facing mass layoffs (via CNBC).
One contributing factor to these contrasting performances is undoubtedly foot traffic, and observing data from SafeGraph, we can see that the discrepancy in in-store popularity is growing wider over time. In mid-2019, the two brands were fairly neck-and-neck. For instance, July 15 saw both enjoy daily foot traffic in the 58 thousand range. But by summer 2022, only three years later, a very different story takes shape. On July 18, HomeGoods welcomed 44,915 visitors, while Bed Bath & Beyond only reached 22,798 visits — a mere 49% of HomeGoods' traffic.
Even during the holiday shopping season, BB&B falls behind. In 2019, it managed to briefly surpass HomeGoods with a December high of 106,839 daily visits. But in December 2021, its best day reached only 63,342, compared to HomeGoods' peak of 83,978 — a difference of about 33%. So, what's happening here? How is HomeGoods consistently attracting up to double the customers of Bed Bath & Beyond?
HomeGoods rules the market with FOMO and flexibility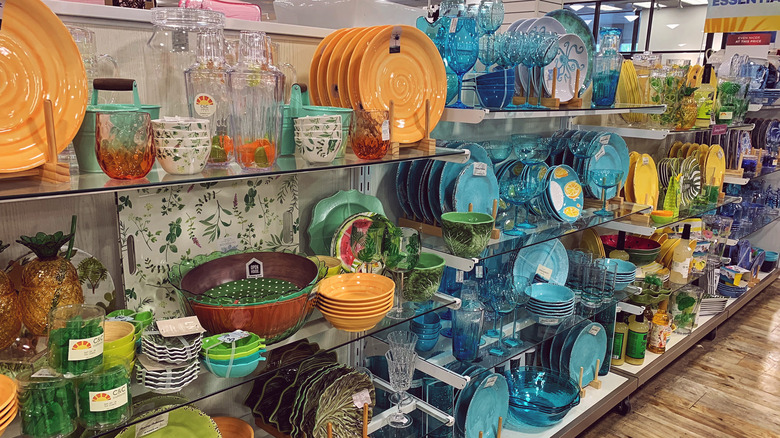 Anatoliy Tesouro/Shutterstock
When examining the success of HomeGoods, it helps to consider its overall business model. HomeGoods is owned by TJX Companies, which is also parent to brands like T.J. Maxx and Marshalls (via USA Today). The crux of all three businesses is around seasonality, fast product turnover, and a here-today-gone-tomorrow mentality. Customers visiting a TJX brand, including HomeGoods, can always expect to find new deals and offerings, even if they visit often. This provides a boost of novelty and urgency that keeps consumers coming back for more.
Flexible inventory also positioned HomeGoods to successfully navigate the upheaval of pandemic-driven supply chain disruptions, which have further crippled the failing in-store appeal of Bed Bath & Beyond. Where BB&B might find itself displaying carefully curated but empty shelves of delayed stock, HomeGoods can pivot and put something else out for shoppers to peruse. No item is guaranteed at HomeGoods, which frees them up to fill shelves creatively.
Yahoo! Finance once called HomeGoods "the most impressive retail story in America" thanks to its consistently strong growth and performance. Unfortunately for other retailers in the home decor space, such as BB&B, this means a dwindling share of the market as HomeGoods reigns supreme.