How The Pandemic Has Lessened Bed Bath & Beyond's In-Store Appeal Among Shoppers
Founded in 1971, Bed Bath & Beyond (BB&B) has been a home goods fixture for more than 50 years. Many of us have walked the aisles in our local store searching for new kitchen appliances, fresh bedding, or all the back-to-school essentials necessary to kit out a dorm room. But now this retail giant is wallowing in the murky, pandemic-healing market.
Advertisement
Following disappointing sales figures, BB&B has scrambled to stay afloat, burning through its reserve funds, selling real estate, and even seeking buyers for subsidiary brand Buy Buy Baby (via PYMNTS). Despite these efforts, its value in the stock market is tanking, especially after investor Ryan Cohen sold his sizable 10% stake in the company (via The New York Times). Taking this as a bad sign, other shareholders have been quick to follow suit, causing serious instability. But what has led BB&B to the brink of this looming financial disaster?
Before being dethroned from his position in June, former Bed Bath & Beyond CEO Mark Tritton said, "Macroeconomic factors, such as the disruption of the global supply chain, the Omicron variant, as well as the geopolitical turbulence weighing on consumer confidence, have uncovered more vulnerabilities than we could have foreseen at this stage of our transformation" (via Entrepreneur). Unfortunately for BB&B's in-store sales, declining foot traffic appears to be one of those vulnerabilities. In response, the company has already announced plans to close 150 storefronts and lay off 20% of its workforce (via CNBC). While ominous, this plan is hardly unexpected, as BB&B's physical locations have been hit hard in the wake of COVID-19.
Advertisement
Falling foot traffic at Bed Bath & Beyond
At this point, it's undeniable that Bed Bath & Beyond's brick-and-mortar stores are suffering from weak customer turnout. Following a steep drop at the beginning of the pandemic, data from SafeGraph shows a steady downward trend in visitors that has failed to notably recover — even though other retailers' foot traffic has returned to pre-COVID levels.
Advertisement
Pre-pandemic, BB&B regularly enjoyed in-store traffic topping 50,000 people per day, with a 2019 high of 106,839 visitors in one day during the holiday shopping season. But April 2020 saw visits plummet to a mere 3,630 as quarantines and social distancing efforts took effect. Even when restrictions eventually eased, foot traffic failed to bounce back, and current data cannot match 2019's impressive visitor metrics. Summer 2022's rate of average daily visitors hovers in the low 20,000 range, and even the 2021 shopping season proved a disappointment, peaking at 63,342 — an almost 41% decline from 2019. But what's holding Bed Bath & Beyond locations back so severely?
The three-fold challenges facing BB&B locations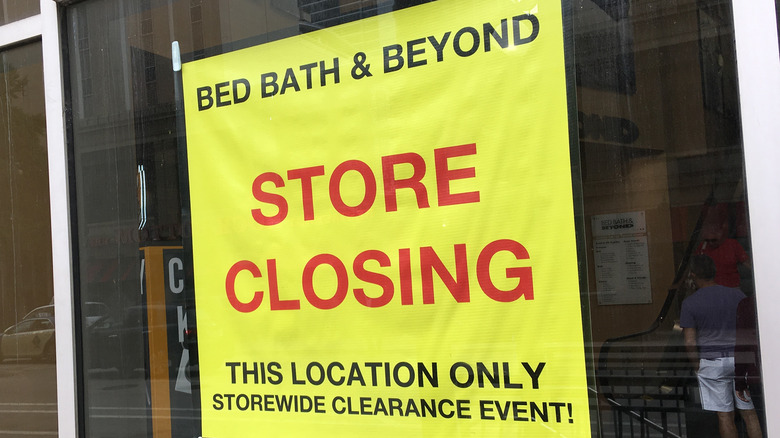 Steve Hamann/Shutterstock
Addressing the company's ongoing financial difficulties, Bed Bath & Beyond executives have pointed to pandemic-driven supply chain troubles and a lack of in-store inventory as major contributors to waning consumer interest (via PYMNTS). But while this is certainly a factor, that's not the whole story. Altogether, COVID-19 seems to have birthed three major challenges for BB&B locations: inventory shortages, the widespread shift to online shopping, and inflation. Yes, many BB&B stores are understocked, forcing visitors elsewhere. But post-pandemic customers also love the ease of e-commerce, with almost 56% of consumers outright preferring to shop online (via Raydiant). This means a bigger field of competitors for BB&B to contend with, some of whom are more established in the online space.
Advertisement
And as inflation takes a bite out of buyers' budgets, many are scaling back on unnecessary purchases, such as the home goods that act as BB&B's bread and butter. A survey by Morning Consult reveals that 77% of consumers are shopping less overall, so non-essential items like new linens are low on many shoppers' totem poles. By the time we see any economic recovery, it's hard to say whether BB&B stands a chance of restoring its in-store customer base, as shoppers' buying habits may evolve to leave this brand out of the loop.