Is Dermaplaning Actually Good For Your Skin?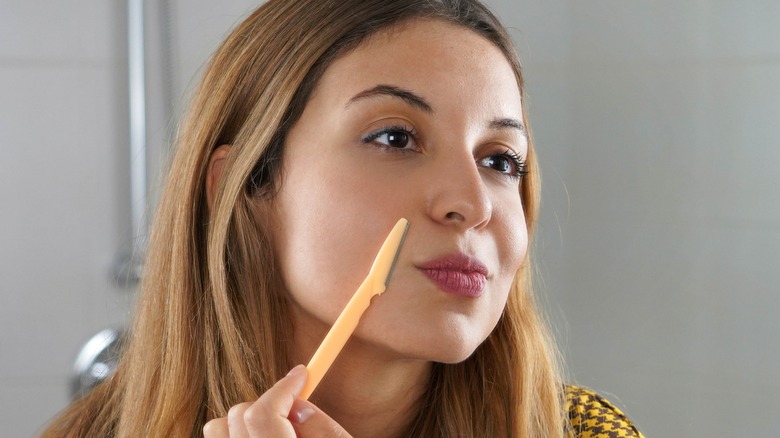 Zigres/Shutterstock
Beauty might be skin-deep, but with a serious commitment to a fitting beauty routine, you'll live to an old age and wake up every morning wishing your day is as smooth as your forehead. That's why many people rush to anti-aging procedures such as facelifts, wrinkler injections, and Botox in hope of reducing wrinkles, lifting droopy eyelids, and fixing sagging jawlines. Among a wealth of cosmetic procedures for youthful skin, from invasive to non-invasive, dermaplaning emerged as the best bet for those on the quest for affordable and convenient options.
Advertisement
A resurfacing treatment that involves gently removing peach fuzz off your epidermis with a scalpel, dermaplaning is a minimally invasive procedure that you can try at home, professor of dermatology Jenny Kim tells Self. As raw and easy as this procedure sounds, it's believed to help eliminate freshly developed fine lines and give you an even-toned complexion for up to six months, Theraderm claims. If consistently used, dermaplaning might take away as much as a decade off your face. But is dermaplaning actually good for your skin?
What happens during dermaplaning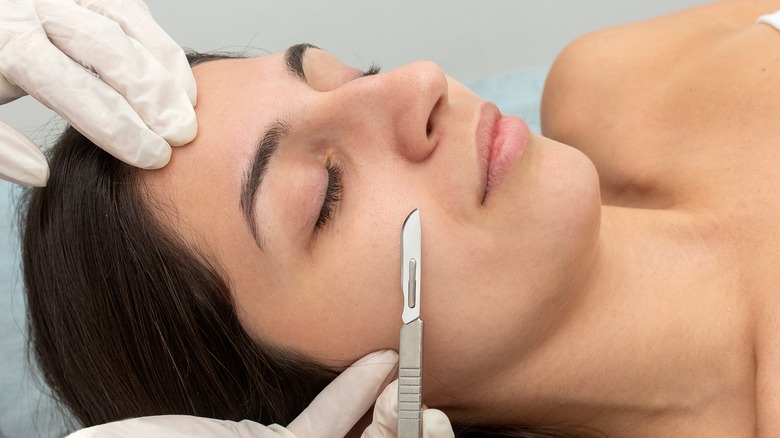 alejandro piorun/Shutterstock
You can dermaplane at home, using surgical scalpel blade 14 and the 10R "butter blade," which are designed specifically for dermaplaning. However, it's always better to seek the help of a plastic surgeon or a dermatologist for the most desirable results. Before the procedure, the healthcare provider usually washes your face with a gentle cleanser containing alpha or beta hydroxy acids to loosen two to three weeks' worth of dead skin cells. Once your face is dry, the provider will usually use a sterile No.10 surgical blade held at a 45-degree angle to gently skimp the outer layer of the skin, which is packed with dirt and dead skin cells, explains dermatologist Melissa Kanchanapoomi Levin (via Prevention). Your skin will be pulled tightly yet tenderly as a blade is glided in an upward motion through fine strokes. 
Advertisement
"Dermaplaning is virtually painless," plastic surgeon Dr. Stafford Broumard tells Byrdie. However, you might experience side effects like redness or dry skin after the procedure, which will improve in a couple of days. That's why you should apply moisturizer or skin serums to soothe your skin and avoid sun exposure after dermaplaning. At the same time, refrain from using products containing harsh ingredients such as Retinol but use only a mild cleanser to rinse your face. The procedure, if it's a stand-alone option, usually takes about 20 minutes, with prices ranging from $75 to $150. Dermaplaning sounds easy and painless, but does it actually work?
Dermaplaning removes dead skin cells and evens out your skin tone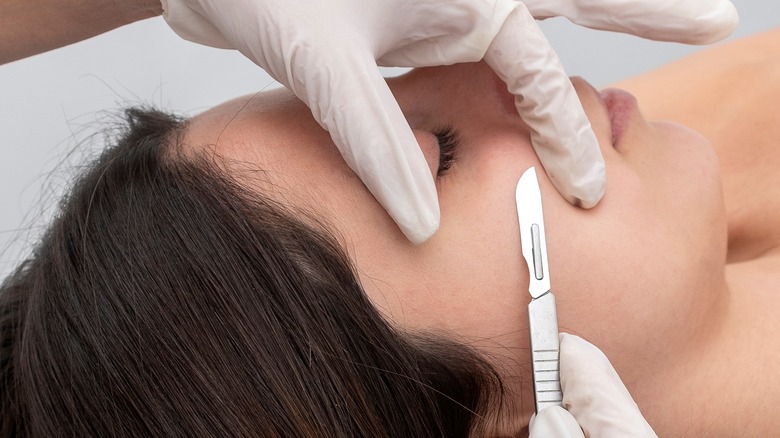 alejandro piorun/Shutterstock
Pointing out that dermaplaning is a powerful form of exfoliating, dermatologist Mona Gohara tells Glamour that this treatment is ideal for those hoping to achieve dolphin-smooth skin with even tone and faded scar acne. In other words, a manual exfoliating treatment like dermaplaning leaves you with a super ideal base for makeup. Besides, when dead skin cells are scraped off the skin surface, new skin cells are promoted, giving your skin a bouncy texture and preventing wrinkles from forming.
Advertisement
Albeit low-risk, dermaplaning can cause substantial damage to the skin if done improperly. For instance, in several cases, the scalpel was accidentally dragged on the patient's skin, causing permanent scarring, cosmetic doctor Dr. Jonquille Chantrey tells Harper's Bazaar. If you have super sensitive skin or pre-existing conditions such as acne, eczema, or rashes, do not go for dermaplaning until your symptoms have cleared up. Having a razor pressing against your pimples or inflamed skin will only exacerbate your condition.
Dermaplaning can give you clean and velvety skin, diminish acne scar appearance, as well as improve your skin tone. However, your dead skin cells and environmental toxins will continue to accumulate on your skin surface, meaning you'll need to repeat the process every three weeks for the most optimal results.
Advertisement