DSW Proves With Strong In-Store Traffic That Good Shoes Never Go Out Of Style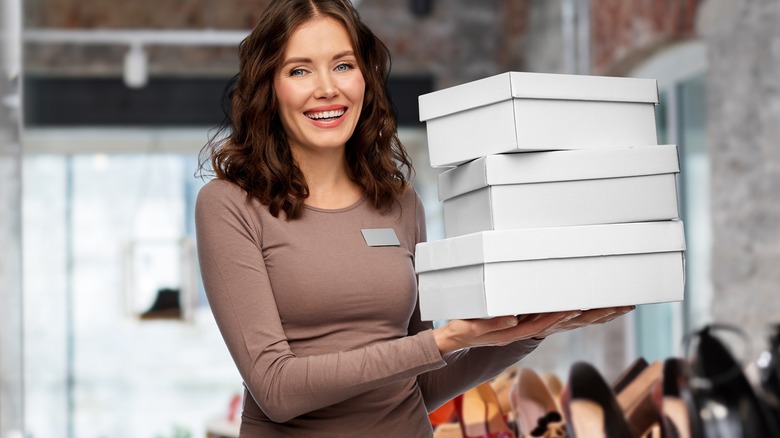 Ground Picture/Shutterstock
There's nothing quite like trying to find the perfect shoe for a special occasion under duress. Worse, online shoe shopping can yield various mishaps, from ill-fitting sizes to uncomfortable blisters or worse. And according to Footwear News, shoe prices, which have already risen nearly six percent compared to this time last year, are set to increase by the end of 2022. Careful in-store shopping is the common-sense solution to finding shoes that fit your budget and your feet. One retailer that can attest to the power of brick-and-mortar shoe shopping is the Designer Shoe Warehouse, or DSW, which has been in operation since 1969 and is still going strong (via U.S. Securities and Exchange Commission).
Advertisement
Retail sales have steadied amid growing fears surrounding inflation, but economic experts are concerned that the trend may not last. "Many families, especially those at the lower-to-median end of the income spectrum, are feeling increasingly constrained by elevated prices," economist Gregory Daco explained to Reuters.
Fortunately for DSW, recent consumer foot traffic has proven stable against the odds. In-store foot traffic is a measurement of customers visiting stores and spending more than five minutes inside. While it doesn't necessarily indicate sales, it's still a valuable measurement for retailers. Despite a global pandemic and spiking inflation, DSW has managed to keep foot traffic figures consistent.
Advertisement
Foot traffic at DSW remains strong
Data provided by SafeGraph shows that DSW suffered a rocky start in 2020, primarily due to nationwide shutdowns of establishments deemed non-essential as the pandemic initially escalated. However, a quick recovery occurred in June of the same year, with in-store foot traffic more than tripling. According to Business Insider, no trouble was on the horizon for DSW until a dip occurred in early 2021; shortly after, the retailer announced it would close 65 stores due to pandemic-related losses. "Ultimately, we believe that fashion is going to come back in a bigger way than ever before once customers can resume their social activities," CEO of DSW, Roger Rawlins, asserted to The Business Journals at the time.
Advertisement
Rawlins was correct in his prediction, as DSW achieved in-store traffic levels that paralleled its pre-pandemic figures by early 2021. Compared to January 2020, when consumer traffic totaled just above 25,000 visitors prior to the COVID-19 lockdowns, DSW was able to pull in over 30,000 customers by May 2021. And although the shoe store giant experienced a setback when Nike withdrew from retail partnerships to sell directly to consumers, DSW's traffic still exceeded 35,000 visitors by May 2022 (via CNN). Despite the number of guests leveling off since then, DSW is currently averaging around 20,000 visitors, indicating that quality footwear remains a priority for consumers.
Part of DSW's success is due to its devoted customers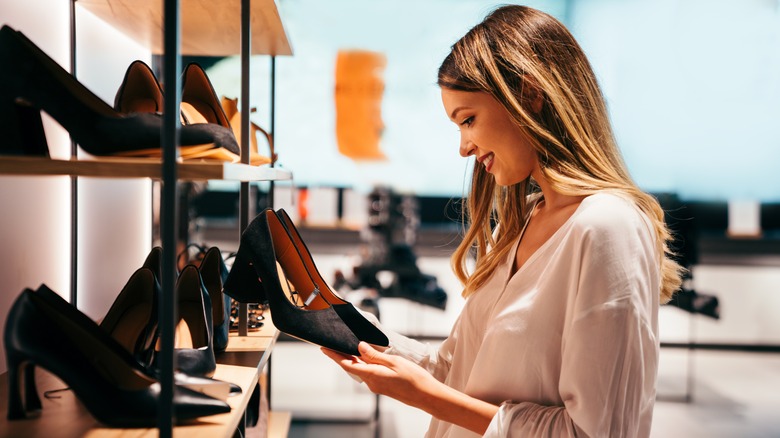 NDAB Creativity/Shutterstock
DSW's loyal customer base may have something to do with its resiliency. Designer Brands, DSW's parent company, provided insight surrounding their typical shopper. "The average household income for [Designer Brands] customers is around $100,000, making them less sensitive to higher prices than lower-income households," Jared Poff, the chief financial officer of Designer Brands, explained to The Wall Street Journal.
Advertisement
Additionally, Designer Brands employs a protective strategy in which it owns several brands it uses to supply its stores, including the lucrative Camuto Group (via Designer Brands). Earlier this year, DSW teamed up with the iconic footwear brand Hush Puppies, making the shoe store the only in-store retailer licensed to sell its products (via Business Wire). Profits appear to be rising; according to a transcript regarding Designer Brands' second-quarter earnings in 2022, net sales were up five percent compared with the second quarter of 2021 (via The Motley Fool). Under its parent company, DSW is poised to enjoy continued success; Designer Brands was recently named one of NASDAQ's top five picks for growth in the retail sector for the 2022 holiday season. If how the company rode out the coronavirus pandemic is any indication, DSW may be well-equipped to endure any future obstacles this year.
Advertisement