Here's How Marshmallow Root Can Change Your Hair And Skincare Game Forever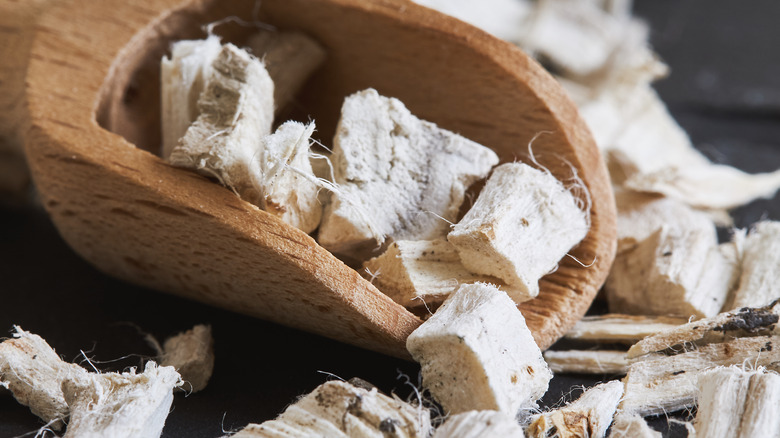 Nedim Bajramovic/Shutterstock
We may receive a commission on purchases made from links.
The organic cosmetics industry is a multibillion-dollar market, valued at an explosive $29.92 billion in 2021 (via Global News Wire). Consumers worldwide are becoming increasingly interested in the natural remedies of Mother Earth, and beauty researchers are leaving no stone unturned. Sometimes, they find answers in the most unexpected places. Already, the cosmetic world has convinced us to put snail mucin on our faces, detox with charcoal, and worship sea buckthorn as a skincare superfruit. Now beauty developers have discovered another surprising botanical that could make for incredibly hydrated and moisturized skin and hair.
Though the plant is just recently becoming a trending discovery, marshmallow root has been used for millennia, including in the medicinal practices of ancient Greece (via the American Botanical Council). Purported to have antibacterial and healing properties, marshmallow root produces a sappy substance called mucilage. Mucilage contains various antioxidants that may help treat health issues from dry coughing to gastric ulcers (via Medical News Today). But beauty lovers should also take note, as this sappy gum is now also revered for its incredible effects on skin and hair.
It soothes and hydrates skin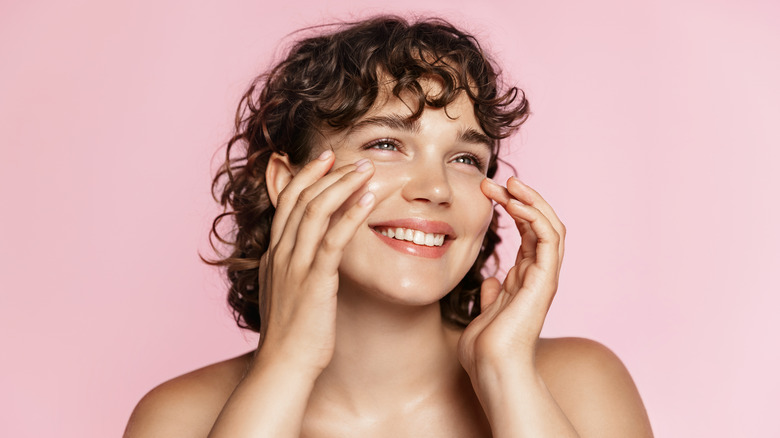 Lyubov Levitskaya/Shutterstock
The juicy mucilage that marshmallow root produces contains antioxidants and antibacterial substances that work wonders on irritated skin. A 2013 study published in the Polish journal Postepy Dermatologii I Alergologii found that an ointment made with 20% pure marshmallow root helped reduce irritation from UV rays and displayed "anti-inflammatory activity." Also renowned for its hydration, you can expect to see this star ingredient on more beauty shelves as a fantastic solution for those dealing with dry and irritated skin.
Holistic and natural beauty brand Naturopathica has already developed a line of marshmallow products that has reviewers raving about "brand new skin," with 87% of people using their Marshmallow & Microalgae Sensitivity Soothing Crème reporting healthier-looking skin. However, serums and moisturizers aren't the only way to take advantage of this miracle herb. Makeup developers at NYX Professional Makeup recently released a Marshmellow Soothing Primer that promises to minimize skin texture, blur lines and pores, and create a transparent finish. And not only does marshmallow root work when applied topically, but it also has a glow-up effect when consumed as a tea. Drinking marshmallow root tea may reduce inflammation within the body and calm the skin's nerves (via Black Leaves).
It nourishes dry hair and prevents breakage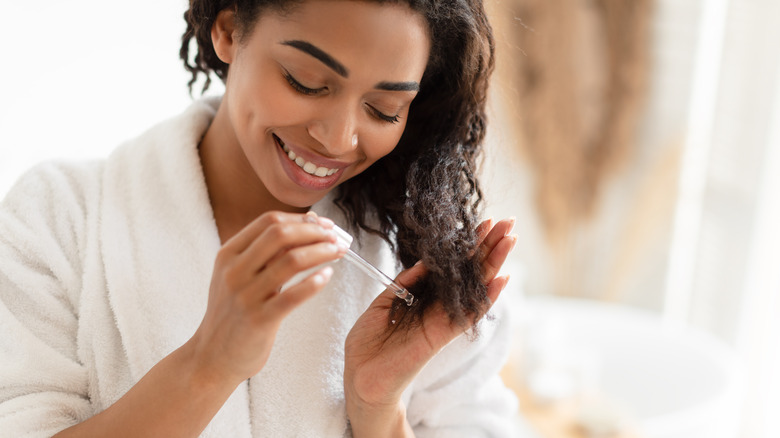 Prostock-studio/Shutterstock
You cannot get length without strong locks. Likewise, the key to growing hair is preventing breakage. Marshmallow root supports hair growth by fortifying and protecting hair structure. "The high natural mucilage present in marshmallow root helps provide resilience and strength to the hair, preventing breakage and leading to a visible growth in hair length," Meerika Khanna, founder of Rthvi, tells Mane Addicts. "Mucilage is a plant-based carbohydrate found in the root of the marshmallow plant that has humectant properties, almost like hyaluronic acid." This also makes it a great hair conditioner and detangler for those with coarse or curly natural hair (via Pydana Collections).
If your goal is hair growth, add a couple of drops of pure marshmallow oil directly to your scalp and massage it in generously. Ora Cosmetics' Rosemary & Marshmallow Root Hair Oil is lightweight, nourishing, and works as a leave-in conditioner for all hair types. Or, if you want to up your hydration game, try the Rahua Hydration Detangler that Amazon reviewers have given over 4 stars for its ability to lock in intense moisture, block humidity, and reduce frizz.