What Is The Buzzy Skincare Ingredient Sea Buckthorn?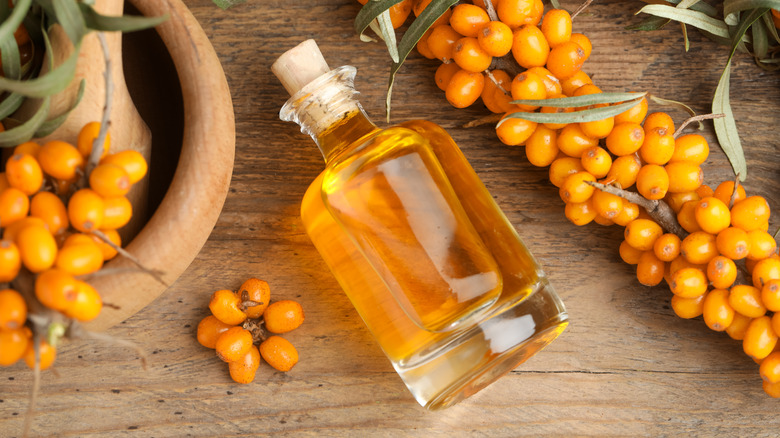 New Africa/Shutterstock
With the natural beauty world continuing to expand its horizons, it's no surprise when a new natural ingredient makes waves. Sea buckthorn is the fresh healing fruit on the block, finding its way into every oil, serum, and moisturizer — and for good reason. With the beauty industry leaving behind harsh chemicals and additives, researchers are finding more natural ingredients like sea buckthorn that are just as good if not better on the skin than in your tummy. Due to its immense amounts of antioxidants, omega fatty acids, and nourishing minerals, many have dubbed sea buckthorn the superfruit of skincare, with its benefits beneficial to just about anyone (via Ambre Blends). 
Found throughout China and Europe, this fruit has been used for centuries due to its abundant healing qualities that go beyond skincare (via WebMD). The name itself means "bushes that make horses shine," and it was used by Genghis Khan to increase the vitality of his troops and horses (via Seabuck). It has been prized for centuries by various cultures aware of its miraculous benefits, but it's just now making its way into the modern beauty world. So, what exactly can it do for your skin? Let's find out.
Sea buckthorn's vitamins are out of this world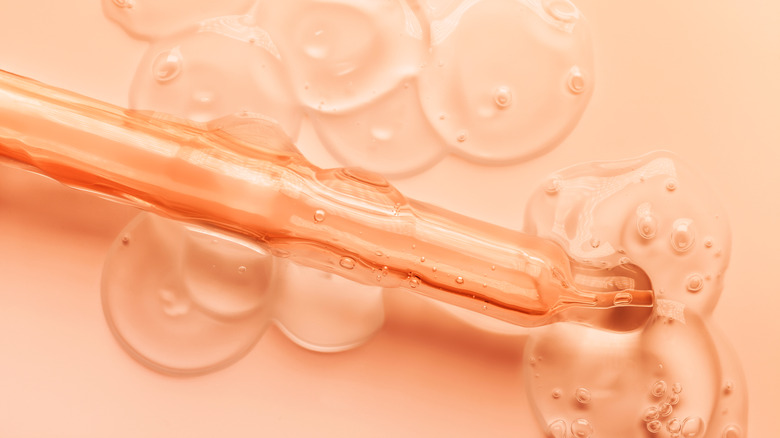 Fotaro1965/Shutterstock
The exponential benefits of sea buckthorn will make you rethink your current glow routine, with its medicinal skincare value a clear leader amongst others. In fact, dermatologist Dr. Marisa Garshick tells Byrdie, "It has been found that sea buckthorn plant berries carry 10 times more vitamin C than an orange and are the third-highest source of vitamin E among plants." Both vitamins C and E are listed as Healthline's top vitamins for skin health as they have an innate ability to transform sun damage and dark spots, giving skin a natural youthful glow.
Equally impressive is its multifaceted ability to contain four omega fatty acids compared to other oils like rosehip or coconut, which only have a few (via WebMD). By having all four omega acids, it has an incredible ability to moisturize and heal skin, especially for those experiencing psoriasis or eczema. This in conjunction with its array of multivitamins gives it an anti-inflammatory busting superpower, leaving skin clear, hydrated, and healthy.
It's suitable for all skin types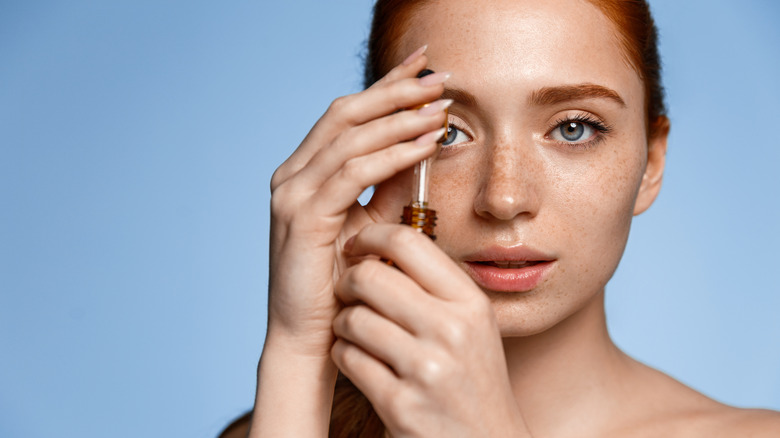 Lyubov Levitskaya/Shutterstock
Not only does sea buckthorn have the ability to brighten and heal skin but it's also full of powerful antioxidants, making it a great preventative and repairer of wrinkles and fine lines. Antioxidants are some of the most protective healers because they shield the skin from stressors that cause long-term damage and early signs of aging (via Fleur & Bee). In addition to the ultra-defensive boost of antioxidants, sea buckthorn is a powerful moisturizer that brightens dark spots and acne scars without increasing oiliness. Those with oily-prone skin can also use it since it does not clog pores while moisturizing (via Erbology). Those with dry skin will find that it gives them hydrating plumpness as its vitamins and minerals can rejuvenate and revitalize skin cells.
Sea buckthorn is making its way into every beauty product, but you can start your journey with it by using it in oil form. Since it's amazingly hydrating, you can swap your cream or moisturizer for a few drops of the oil itself. Be sure to use 100% pure oil with no additives to really experience the power of the ancient superfood.