Are Crocs Actually Good For Your Feet?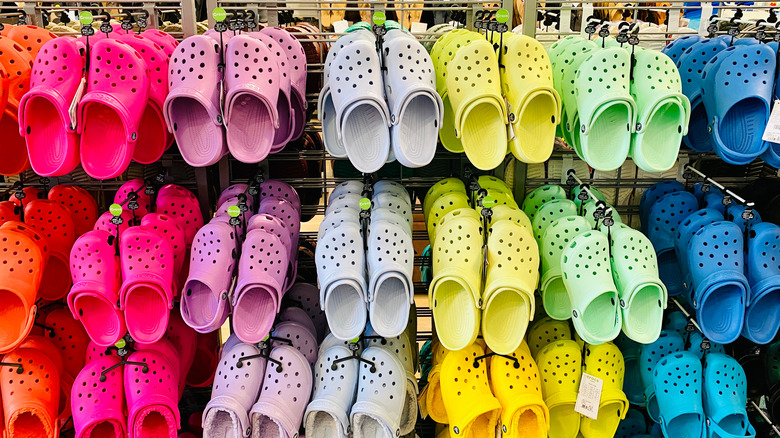 ZikG/Shutterstock
We may receive a commission on purchases made from links.
The idea of Crocs came to life back in 2002 when three businessmen wanted to improve upon a foam shoe they saw during a sailing trip in the Caribbean. Ultimately, Crocs were created with the intention to be comfortable, functional, and easy to wear when participating in activities like boating, sailing, or going to the beach. In 2003, the women's style of Crocs named the Nile was introduced. Soon after that, the company acquired Jibbitz, the manufacturer that designs the small pin-like accessories that snap into the holes of the Crocs, which gives the shoe an extra customizable option. Since then, Crocs have been a fashionable debate amongst society (via MasterShoe).
You may recall a time when Crocs were seen as the "ugly" or "embarrassing" shoe to be wearing. Many people still feel that today, though not as strongly as back in the day. Others, however, have fully embraced them for not just their unique, quirky look but also their comfort. These shoes were created with that in mind, but the question is: are they actually good or beneficial for your feet?
How Crocs benefit your feet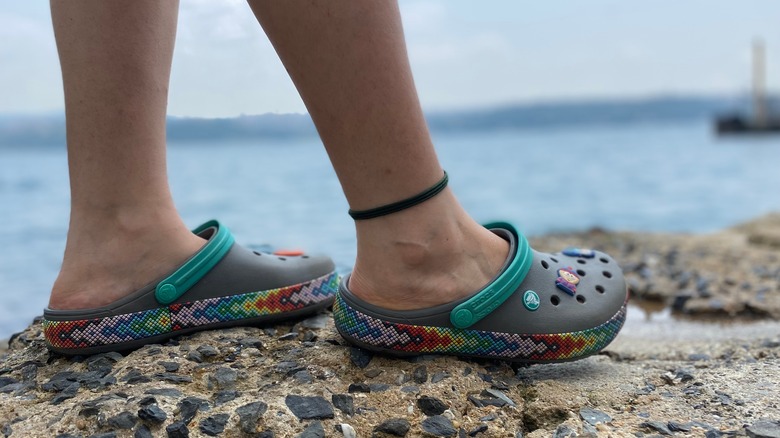 Lacrimosa's world/Shutterstock
If you have ever worn Crocs before, or they are your go-to shoe, you know just how comfortable they are. On top of that, their easy slip-on feature makes it as convenient as putting on a sandal. Its breathable design likely makes you wear them every day, especially following a time during the pandemic when comfortable clothing was key. Additionally, the foam-like material makes it lightweight, promotes air circulation, and avoids compression of the toes because of its wide foot design. Unfortunately, if you are wearing them every day, it might not be the most beneficial thing to do for your feet (via Upstep).
"Although Crocs may feel comfortable for short-term periods of time, they are not suitable for long-term daily use," podiatrist and founder of Gotham Footcare, Dr. Miguel Cunha, D.P.M., tells Well + Good. "Crocs are light and airy, they have a wide forefoot and provide good arch support. However, these shoes do not adequately support the heel enough to secure the shoe properly onto the foot." The main takeaway here is that Crocs are okay for something like running errands or doing light work around the house, but not daily use. Because they don't offer much support or stability, they can cause you to constantly be gripping your toes which can lead to issues like nail problems, tendonitis, and more.
Some people feel that these are the perfect shoes following a foot injury, and while it may be at times, it's better that you check in with your doctor first. If you have plantar fasciitis or flat feet, Crocs are not a good idea for you to wear at all. Podiatrist Dr. Ejodamen Shobowale, D.P.M., explains to POPSUGAR that these conditions require extra support and stability for your feet, which is something Crocs cannot offer at this level.
Proper support for your feet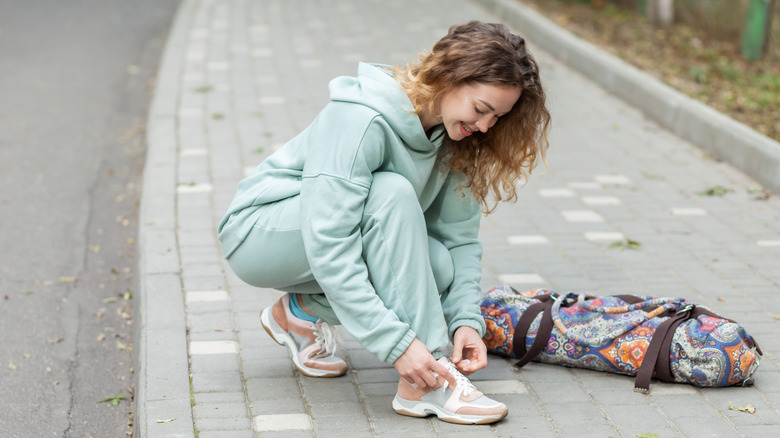 Vladimir Sukhachev/Shutterstock
Crocs are considered to be comfortable enough to do many activities like exercise, but some doctors don't recommend it. "I wouldn't choose a Croc to wear to walk for exercise," podiatrist Dr. Ejodamen Shobowale, D.P.M., tells POPSUGAR. "If you're in a situation where you do need support, you need your foot to be working optimally, then I wouldn't choose Crocs." In fact, she wouldn't recommend Crocs for running or other kinds of workouts either. According to FeetSeek, Crocs do not offer adequate midfoot and ankle support for strenuous workouts like walking on a treadmill, running long distances, or lifting weights. In addition, its loose fit does not make it the ideal shoe for foot protection or stability at the gym. Instead, it's advisable that you use the appropriate workout shoe depending on what activities you're partaking in. Think walking or running sneakers, lifting shoes, or hiking boots.
If you still like the idea of wearing clogs, you can find many options with more of the necessary support for your feet for long-term daily use. Opt for something like a pair of mules, leather clogs, or slip-on sneakers for comfort, convenience, and proper heel support. Consult with your doctor if you're ever unsure about what shoes are best for your feet.