Why World Market's Unique Offerings Aren't Bringing In Customers Like They Used To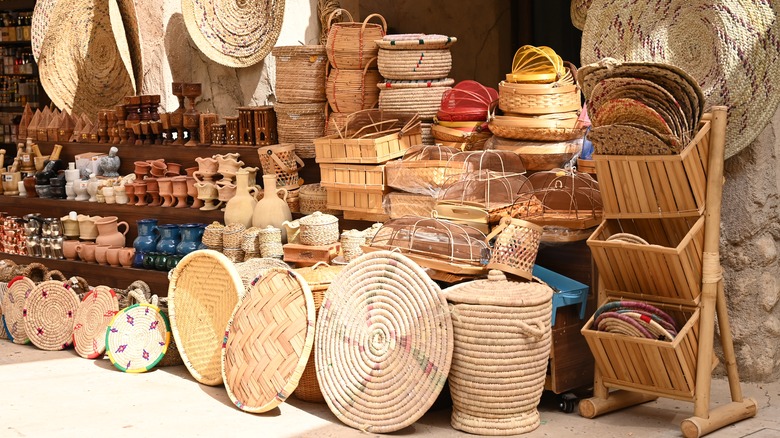 Kateryna Galkina/Shutterstock
World Market, formerly Cost Plus World Market, has always had its finger on the pulse of interior design trends. The California-based company started in 1958 when its founder brought wicker and rattan furniture to a bazaar setting known as Cost Plus, according to World Market. Popular demand for unique items from around the globe led to the rapid expansion of the company. Some of the earliest World Market franchises branched off and became Pier 1 Imports, a chain that originally supplied shoppers with hippie home goods typical of the 1960s (via Forbes). That rattan peacock chair you picked up at a vintage market may very well have come from one of the first World Market stores.
Today, World Market operates 258 locations across the United States and is known for its eclectic array of international foods, furnishings, and home décor. To the interior design world, World Market is known as a one-stop destination for globally sourced goods. In recent months, however, customer foot traffic to World Market stores has dwindled. Foot traffic is measured by the minutes an individual spends inside an establishment, from the time they enter a store to the time they exit. Although foot traffic isn't necessarily related to sales, low foot traffic can indicate trouble for retailers. But why are fewer shoppers visiting World Market stores lately?
World Market's adaptation to changing shopping patterns
During the height of the COVID-19 pandemic, World Market used technology to its advantage and was able to weather the storm of what many deemed "the retail apocalypse." It introduced shoppers to a metaverse-inspired environment that allowed them to navigate a virtual store instead of scrolling through a product catalog. "We wanted to harness the power of our joyful holiday retail experience and bring these moments to life for our customers from the comfort of their couches," World Market Chief Marketing Officer Adrian Stevens told Rightpoint.
The company's online success is partially due to its Craft by World Market crowdsourcing program, which lets guests purchase coveted limited-run furnishings. "[It's] a great opportunity for the customer to discover very special finds which would otherwise not be available on a broader level," then-Vice President of World Market, John Wight, told Business Wire.
Despite employing innovative strategies, World Market lost several stores throughout the pandemic. Subsequently, the chain's then-parent company, Bed Bath & Beyond, severed ties with World Market in December 2020 (via Forbes). The offloading of World Market to a private investment firm is one possible explanation for the recent changes in customer visits. Based on data provided by SafeGraph, World Market saw a dramatic increase in foot traffic in 2021 as stores rebounded during the holiday season. In November 2021, roughly 10,000 visitors frequented World Market stores, but foot traffic numbers exceeded 25,000 by December. Unfortunately, this boom was short-lived: Traffic dwindled to just under 10,000 visitors by February 2021 and remained low until peak shopping season returned in October.
What could be next for World Market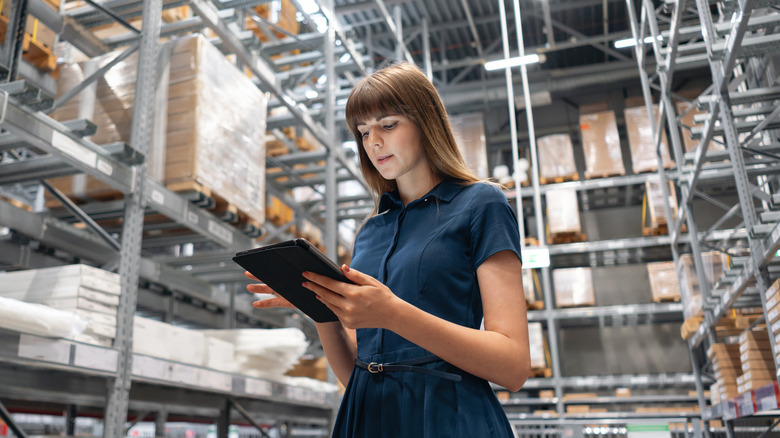 Fusionstudio/Shutterstock
As World Market entered 2022, customer foot traffic echoed that of its previous year. The holiday trickle continued in January, with stores receiving upwards of 24,000 visitors. These numbers fell in February to just under 10,000 but increased to about 12,000 by early April. By May, however, an unsettling trend emerged in World Market stores: Foot traffic was rapidly diminishing. Whereas the previous year maintained relatively steady numbers averaging around 10,000 visitors, World Market saw visitor counts sink to about 7,000 in June 2022. Unfortunately for the retailer, low foot traffic patterns continued into September.
The simplest explanation for the sudden decrease in foot traffic to World Market stores is the crushing impact of global inflation paired with conservative consumer spending. Other furniture vendors are concerned about how the industry will fare, as the loss of regular shoppers has resulted in excess inventory across the retail sphere. "Early in the pandemic, we saw where buying habits were going and tried to estimate off that, but now we have too much," Scott Andrews, an executive at Andrews Furniture, tells The Washington Post. World Market has demonstrated its resilience in the past, but it may need to adapt further to adjust to the volatile conditions of the current economy.