The TikTok-Approved Way To Get Stronger, Longer Hair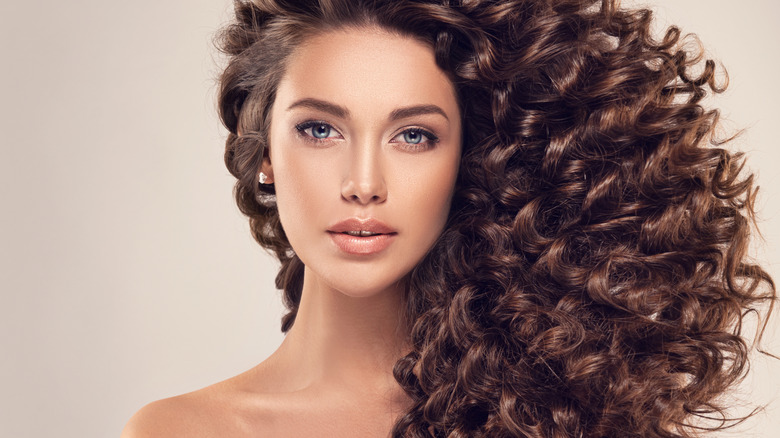 Sofia Zhuravetc/Shutterstock
We may receive a commission on purchases made from links.
TikTok is an endless trove of beauty and fashion tips. Some are cute and harmless, like the graphic eyeliner trend promoted by popular users such as @Tashimrod. Others, like attaching press-on nails with gel nail polish, have been thoroughly debunked and even proven to be hazardous to your health. Regardless of the potential misinformation, the TikTok beauty community certainly isn't going anywhere. In fact, TikTok is growing faster than ever and is expected to reach a staggering 1.8 billion users by the end of 2022, as reported by Business of Apps. So, it's important to always do your own research before trying the health, beauty, and wellness trends you see.
Advertisement
One of the latest recommendations making waves on the platform includes a supposed way to boost your hair's strength, significantly increase its growth, and ward off damage. Its claims are even grander than those of castor or coconut oil, which each took hair care by storm in its given era. So, what is this miracle hair serum? You might be surprised to find out that the main ingredient is likely already in your kitchen, backyard, or garden. Here's all the information you need.
Enter rosemary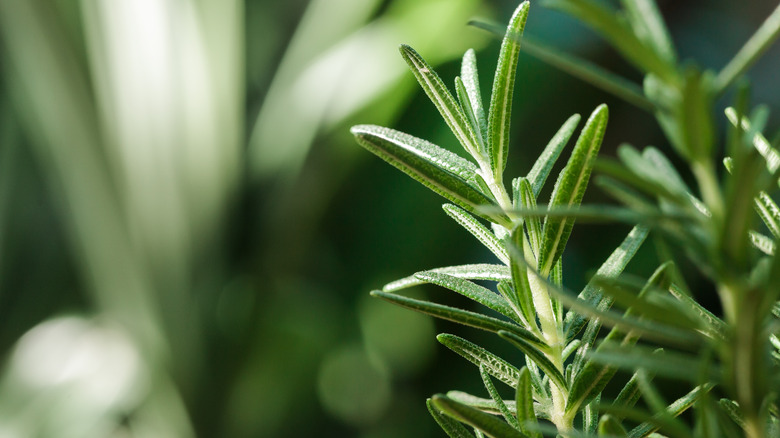 freedomnaruk/Shutterstock
The latest hair craze, rosemary water, went viral when TikTok user @Audreyvictoria_ posted a video calling it "the new rice water". Rice water has historically been known to aid hair health and growth, especially when fermented, according to Insider. Audrey claims that applying rosemary water to your tresses weekly will improve both your hair's health and length. But are these claims true or just another vie for likes and follows?
Advertisement
Rosemary is a very common herb that grows wild on the Mediterranean coast and is frequently planted all across the United States. You can typically find it paired with poultry or infused in salad dressings or natural soaps. However, in  2013, a hair study was conducted on mice and published in the scientific journal Phytotherapy Research. The mice were given testosterone to induce a condition known as androgenic alopecia, also called male or female pattern baldness in humans, and then partially shaved. Treatment with rosemary oil stimulated hair regrowth, meaning that it has the protentional to stimulate growth in humans as well, especially for those who suffer from hormone-related hair thinning or loss.
Advertisement
How to try it yourself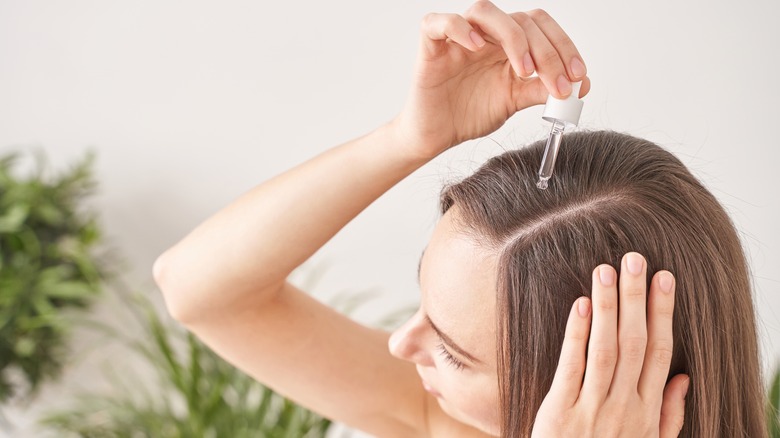 elenavolf/Shutterstock
If you're sold on rosemary for your hair, there are a couple of options to consider before you give it a try. The easiest way to go about embracing the trend is to simply purchase a pre-made product like Mielle Organics Rosemary Mint Scalp & Hair Strengthening Oil. The oil has thousands of glowing reviews on Amazon, including a rave one from a reviewer that wrote, "I've been looking for a hair oil to grow my hair thicker and longer. TikTok has lead me to this product. I'm not a big fan of the peppermint smell, but at the same time I didn't care since I was waiting for results to show. I used this oil daily for about 4-5 weeks, and the results were AMAZING." This reviewer also noted that Mielle Organics' price is particularly nice, which never hurts.
Advertisement
If you happen to already grow your own rosemary, you can make hair oil yourself. According to Little Green Dot, simply place a couple of ounces of fresh rosemary sprigs — and mint, if desired — in a sterilized glass jar of unrefined coconut oil. Gently warm the mixture by placing it on the stove at the lowest temperature for five hours. Strain out the herbs and then massage the oil into your scalp and hair and leave overnight once per week, or as needed.