Glam Survey: Which Is Your Go-To Nail Color For Fall?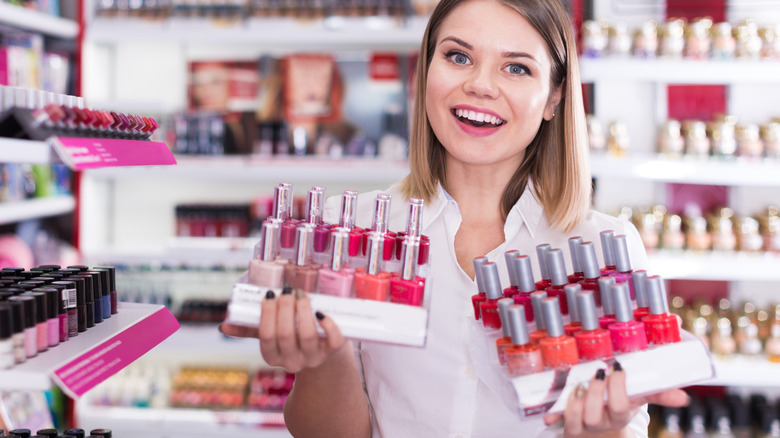 BearFotos/Shutterstock
Top designers set down the challenge. Maybe you heeded their call without hesitation, or maybe you adopted a wait-and-see approach. But fashion leaders didn't mince words in encouraging you to ditch blacks and grays and embrace energetic colors to energize your wardrobe in 2022, per Woman & Home. Since there's more than one way for personal style to communicate fun, designers touted pastels, too, helped along by color leader Pantone choosing Very Peri as its color of the year. This shade of lavender supposedly exudes a "carefree confidence and a daring curiosity," according to Pantone. 
As the most natural extension of wardrobe colors, nail polish colors presumably followed suit — or did they? Nearly 600 Glam readers around the country shared with us which go-to nail color would carry them into fall. In some ways, the answers reveal that our readers are independent thinkers who will follow their own fashion sense, and in other ways, their responses mirror that boldness suits them to a T. Here are the results.
Beige secures the top spot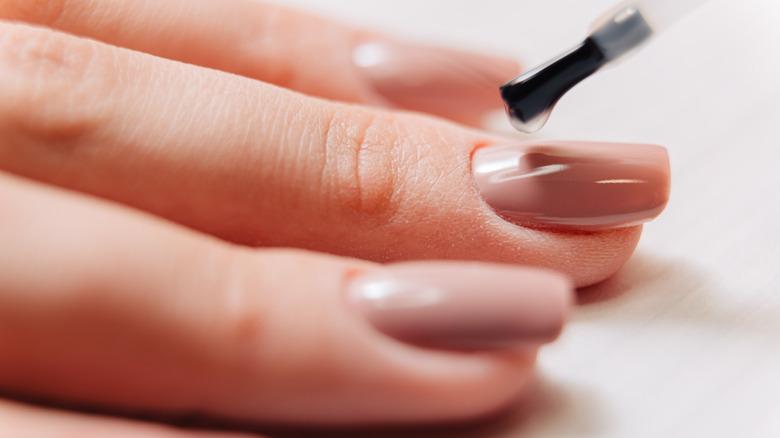 Svyatoslav Balan/Shutterstock
If you don't currently subscribe to the psychology of color, you just might after reading through Glam survey results. Color psychology says that there is a connection between the colors people wear and their emotions and behaviors. At the same time, colors can influence other people's perceptions and reactions, per WebMD. 
Color psychology is leveraged in everything from marketing and advertising to interior design, so it makes sense that it may have a little something to do with the choices we make while we're faced with racks and racks of nail polish. The majority of Glam's respondents — 154 total, or 26.24% — chose neutral beige as their go-to nail color for fall. By doing so, they revealed themselves to be fun, warm, and energetic types (via Science of People). Of course, they may be practical, too, since beige has a knack for complementing most wardrobe colors.
With a neutral color safely in their grasp, Glam readers then made their bright and bold moves, choosing cranberry red (with 142 votes, or 24.19%) and then navy blue (with 112 votes, or 19.08%). Red signifies passion and intensity, while blue is commonly associated with tranquility. Still, according to The Beauty Gypsy, it takes verve to wear blue nail polish. In fact, if you wear it, you may be telling people that you're always willing to embrace new adventures.
Orange and green follow suit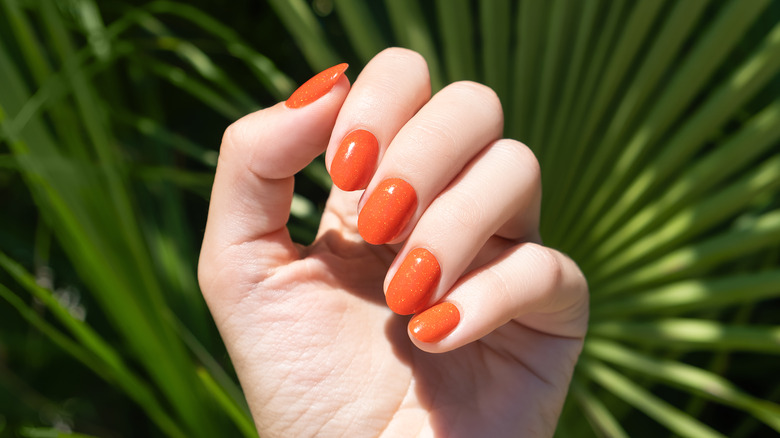 Dev_Maryna/Shutterstock
If you're going to reach for a bottle of burnt orange nail polish, what better time of year to do so than fall? And nearly 15% of Glam readers (14.99%, to be exact, or 88 total) made it their fourth go-to choice. It was followed by emerald green, with 12.61%, or 74 respondents, choosing this distinctive color. Both colors are thought of as tropical, with The Beauty Gypsy saying that people who wear orange are visionary and innovative and those who wear green nail polish are likely to emote cheekiness. One thing is probably certain: they aren't the shy, retiring type.
Rounding out the Glam survey, with nearly 3%, or 17 votes, was mustard yellow. Lest you think of it as a safe, tame choice, Science of People equates yellow/gold with happiness, optimism, and youth. And The Beauty Gypsy says it's the choice of a confident, fashion-conscious person.
The only risk in subscribing to color psychology is fearing that your preference for clear nail polish leaves you as the proverbial "odd man out" — the obvious un-hipster in a crowd of colorful BoHo types. Instead, Elite Daily urges you to think of clear nail polish as being chic and finished. After all, they still show that you put thought into your look.