What To Know About The Trending Food Coloring As Lip Stain Hack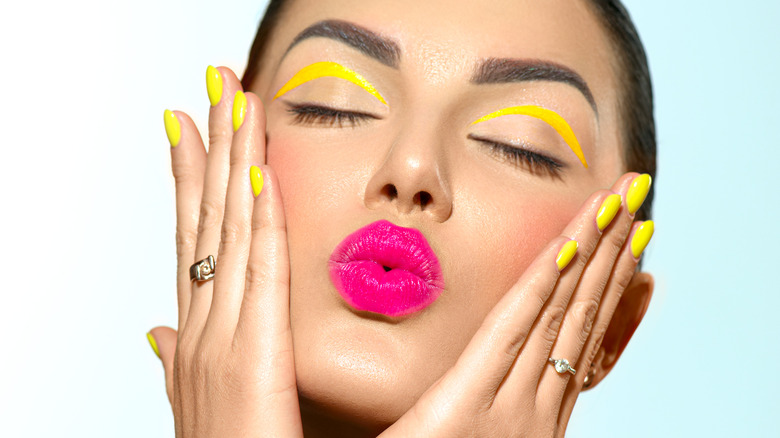 Subbotina Anna/Shutterstock
We may receive a commission on purchases made from links.
We're lucky to have so many options of products to help enhance our lips. Between lip balms for dry lips, the underappreciated magic of clear lip gloss, and even dauntless blue lipstick to wear for exciting nights out, there are so many choices. And, of course, you can't go wrong with rocking a beautiful lip stain to add color to your lips.
Cosmetic companies offer various types of lip stains, including sophisticated purples, sexy reds, and more subtle shades, too. After all, lip stains are typically more reliable than many other lip products, don't make a mess, don't require you to frequently add more throughout your day or night, and aren't too difficult to take off (via L'Oréal Paris). So, purchasing a well-liked lip stain, such as the Sephora Collection Cream Lip Stain Liquid Lipstick, seems like an excellent idea. However, people have decided to take matters into their own hands and use food coloring as lip stains instead, to the point where it's trendy now.
The trend is all over TikTok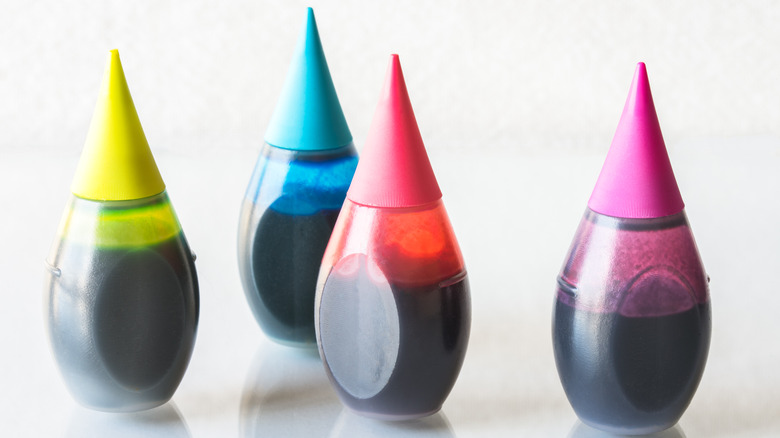 Michelle Lee Photography/Getty Images
Believe it or not, countless videos popped up on TikTok when we searched "food coloring lip stain" — this social media platform is arguably most responsible for this unconventional lip staining technique. For instance, a TikToker named Sarah has used food coloring to stain her lips in some videos on TikTok. In one video with over 750,000 likes, the TikTok user put some red food coloring on a small dish, dipped a cotton swab in the food dye, and applied that red coloring to her lips with the cotton swab. Then, she wiped it off, and her results were glamorous red lips.
Furthermore, another TikTok user named Monica mixed red food coloring with a bit of blue and used that combination as her lip stain on TikTok. While the results weren't the hue she initially anticipated, she still enjoyed the look, which produced a berry-like red with a purple-ish tint. At the end of the video, the TikToker said, "I love this color!"
Experts don't think it's a great idea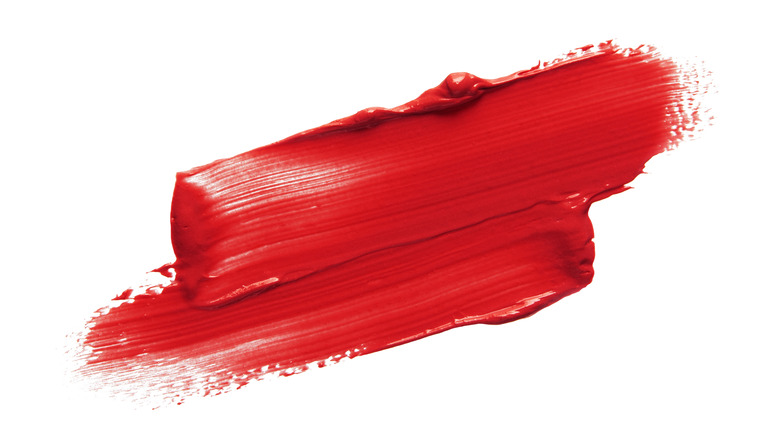 Kat Ka/Shutterstock
While social media seems to be having a lot of fun experimenting with food coloring as a form of lip stain, experts have pointed out some downsides of this trend that you might not see on TikTok. "While food coloring might last even longer than a lip stain, it would be difficult to take off and can become patchy and dry... [try] sticking to traditional lip stains because they've been tested and formulated to be safe and effective for you to use," Nydia Figueroa, a celebrity makeup artist, told Shape. So, before you smear food coloring on your lips for a pop of color like what you see on TikTok, you should ask yourself if the trend is worth the potentially unpleasant consequences, like dryness or patchy areas.
"Food colourings are safe to ingest but not ideal for applying to the skin," Dr. Salomé, a dermatologist, told Refinery29. Therefore, the pigmented short-term results of using food coloring as a lip stain might seem fun and tempting to try when you see it pop up on TikTok but remember that those glamorous, colorful lips could result in negative effects on your skin. So, instead of partaking in this somewhat risky trend, why not buy a new trustworthy, legit lip stain?