Red And Black Nails Could Be The Next Big Trend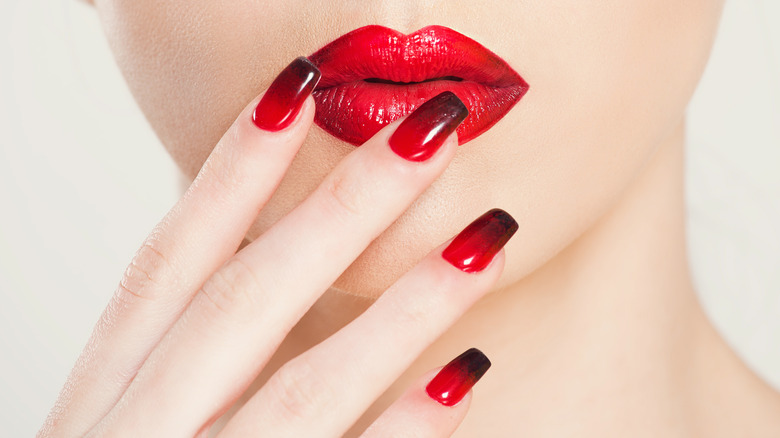 HBRH/Shutterstock
Nail trends are some of the most fun beauty trends with which to experiment. You can play with color and funky styles without having to commit for too long or having them front-and-center on your face. Popular colors for mani-pedis change both with the seasons and over time, and shape, length, and design choices go in and out like other beauty trends. 
Red manicures are the most classic pop of color for your nails. It's sophisticated while still being colorful and vibrant. In fact, the "red nail theory" that's all over TikTok suggests that men, in particular, are drawn to red nails (via Your Tango). Consequently, many people want to try a manicure with classic red with a twist that makes it feel updated and trendy. Black and red nails are a dramatic choice, and we have a feeling mani-pedis in this bold color scheme are about to be the hottest nail trend (via Byrdie).
Bold, graphic nail art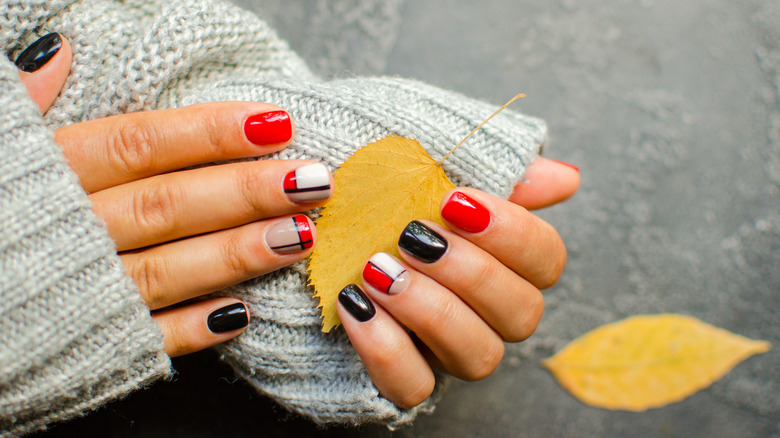 Anastasiia Holubieva/Shutterstock
As of late, nail art has gotten more popular, and the designs have become more intricate and bold. Bold designs are a great way to rock the red and black nail trend — especially with the holidays coming up. One way to try this trend is to start with a white base and create a black and red design on top of your blank canvas (via Byrdie). This color scheme can also be a great time to experiment with matte finishes or even alternating between matte and glossy (via StayGlam). If you're going for red and black for Thanksgiving or the celebration-packed season that follows, popping glittery accents in silver, gold, or red in among your red and black designs can add a welcome, festive twist.
Don't be afraid to think of themes that fit with the color scheme you selected; when it comes to red and black, you have plenty of options. From cherries to roses to funky checkerboard nails, nail artists have thought of it all when it comes to accents for your red and black mani. Brainstorm about red and black themes, and when all else fails, opt for a modern design, like graphic line work or polka dots.
A funky, French twist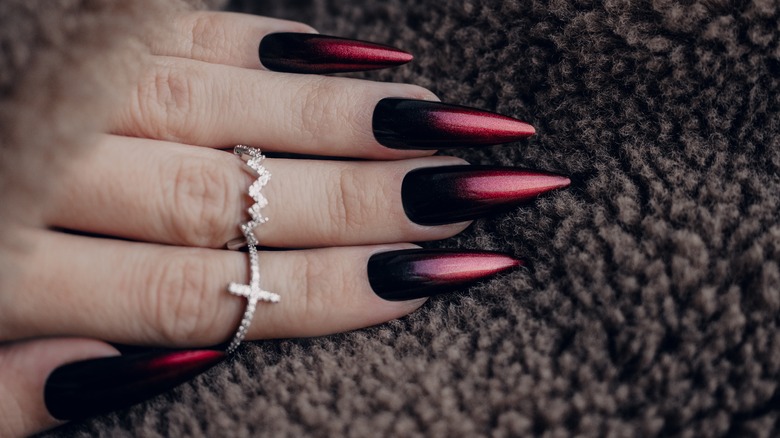 Dmitri Gromov/Shutterstock
While a classic French manicure is less popular these days than it once was, modern twists on the oldest nail art in the book are all the rage, according to Elle). One twist on the French manicure is the gradient or ombre look (via Byrdie). You can start with black at the base and blend outward to red tips or vice versa. This is an especially easy way to achieve nail art at home if you're not exactly a pro nail artist yourself. All you need to do is paint a makeup sponge and stamp it on your nails, and you'll have a perfectly executed ombre design.
Another way to modernize the French manicure is simply to pop your fresh colors into the old template. Both a black nail with a red tip or a red nail with a black tip look updated and fresh; just make sure to go extra thin with your line of color. "Reverse french manicures" are also a fun twist on the old favorite. Add a thin black line around the base of your red manicure, or even around the entire outline. Ultimately, most trendy nail art designs will look especially cool and bold when done in a red and black color scheme. Don't be afraid to try something new when playing with this modern palette.