Baby French Manicures: How To Nail This Subtle Trend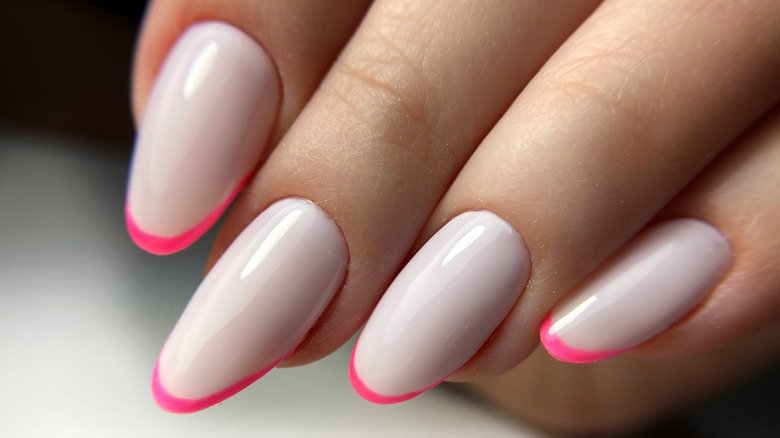 Tigra09/Shutterstock
Post-quarantine life has seen an explosion of nail art, both in the resurgence of salon visits and the growing popularity of nail-focused social media tags, according to both Well + Good and American Salon. Nail enthusiasts are taking to Instagram and TikTok to show off their bold, creative looks, giving life to new trends like cherry nail art and 2022 crocodile designs. Baby French manicures, also known as micro Frenches, are one nail trend that became popular during quarantine and such designs continue to turn heads.
Advertisement
The baby French manicure is a minimalist twist on the classic French tip look. It uses a much thinner French tip line that is slightly tapered on the sides and traditionally appears on shorter, slightly squared nails, though it works on any common nail length and shape. According to Vogue, the look was popularized by manicurist Harriet Westmoreland specifically as seen on the hands of British model Rosie Huntington-Whiteley. Since then, the design has gained more than 5.5 million views under the #microfrench tag on TikTok and was sported by Jennifer Lopez in May (per Allure).
With its popularity going strong, you might be wondering exactly how you can pull off this nail trend yourself. Luckily, the minimalist style of this design suits anyone, while more creative twists will appeal to those who favor bold looks.
Advertisement
Go for the minimalist look with this modernized classic
Given the simplicity of the design, the micro French is definitely something you can recreate at home, though the thin line might be difficult to nail at first, per Bustle. If you're going with the classic, minimalist style, then feel free to start with just your natural nails. Per BeBeautiful, you should trim and shape your nails to be slightly rounded or squared. Tapering the sides of your nails so that they flow into the nail bed provides a good basis for the slight tapering of the micro French tip, too. Cleaning, hydrating, and buffing your nails should also be done at this step of the process (via Byrdie).
Advertisement
After all nail prep is done, you can add a nail polish base coat and then move on to the actual micro French tip painting. While you can really use any color you want for your mani, a classic baby French uses nude or skin-colored polish for the bulk of the nail and white polish for the tips, as seen in the featured look from Instagram creator @sophiamarquesx (above).
You can apply the main nail color first, and then break out a fine-tip brush to paint on your tips. As mentioned, this might be a bit difficult to get right at first. However, you can always use a stencil or a piece of tape to help guide your line. Once you apply a finishing top coat, then you have successfully achieved the baby French manicure!
Advertisement
Use color and shape to achieve something a little more daring
While the classic look of the baby French manicure is definitely a great option, there are also many ways to creatively customize this nail trend. The featured nail art look from Instagram user @thepolishedloungex (above) is an example of how color and shape can be utilized to really spice up this design. Forgoing the natural, squared-off look of the original design, this nail artist went for a bold almond shape. And instead of the classic white tips, neon-colored rainbow polish tops off the baby Frenches of this design.
Advertisement
User @lightheadedhb's sparkly tips are an example of how you can maintain the classic shape and base coat of the micro French, while customizing the French tips. In this way, you can keep the simplicity of the design while making it your own. Additionally, the white space of the baby French design can also be utilized to create interesting, unique nail art looks. Social media creator @nails.by.iz_ utilizes a flowery, colorful pattern paired with white tips in their rendition of the trend.
Whether you're going with the traditional French tip design or customizing the look all on your own, there are many ways to pull off the baby French manicure nail art trend. The only thing left to do is decide what works best for you!
Advertisement