15 Makeup Gift Sets For The Makeup Lover In Your Life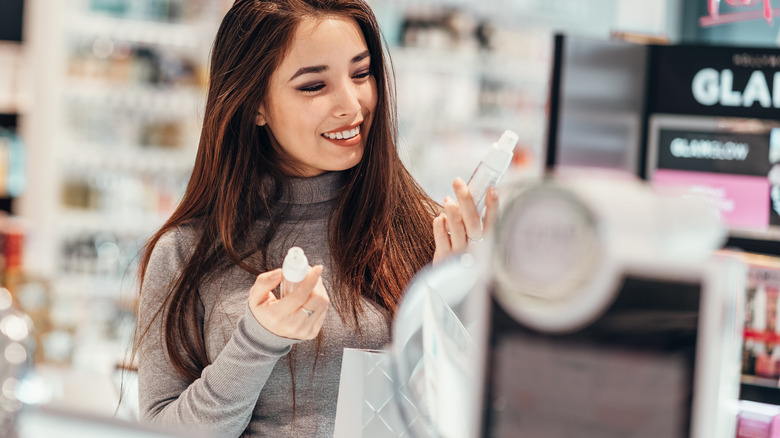 LinaGainanova/Shutterstock
Still can't figure out what to get your most glamorous loved one this holiday season? Relax. There's no better gift for the seasoned beauty lover than a thoughtfully chosen makeup set. Whether you happen to know their favorite brands or you're totally clueless, countless options are available to satisfy the recipient who knows their way around an eyelash curler.
From boxes of brand bestsellers to smorgasbord-style mixed bags, you can't go wrong by giving recipients a little of everything. And the best part about these curated makeup gift sets? Companies go all out when packaging these treats for the holidays, so even your worst gift-wrapping sins will quickly be forgiven. Whereas advent calendars often feature chocolate sweets, a cosmetic-centered version of the seasonal staple is sure to put a smile on any giftee's face. "There's a plethora of advent calendars out there with a variety of themes and price points, so there should be something to suit every pocket," consumer expert Evelina Galli tells The Herald. Now, are you ready to check out the best makeup gift sets of the holiday season?
How we selected this year's best makeup gift sets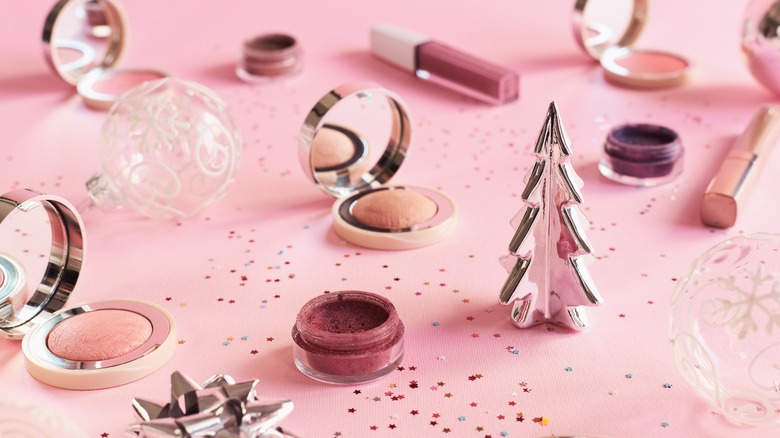 VeronikaSmirnaya/Shutterstock
Makeup is personal, and we know there's nothing worse than meticulously planning your gift-giving only to receive a half-hearted thank you from the giftee. "One of the central challenges in gift giving is that you are trying to get something ideal for another person, and what seems ideal to you might be quite a bit different from a gift receiver," behavioral science professor Nicholas Epley tells The Washington Post. That's why we chose makeup gift sets to suit every type of beauty fan, from young to old and minimalist to glamazon. We picked the products in this list based on our personal experience, consumer reviews, and ratings, as well as overall ingredient analysis. So, breathe easily — there will be no lukewarm reactions from recipients this year.
Some kits can easily fit into budget-friendly shopping plans, while others are the definition of splurges. Holiday value sets like these only arrive once a year, and many include limited-edition options you won't find at any other time. Still, despite their festive packaging, these products are versatile enough to last through the seasons. 
Best in Blush
Maybe you've noticed that pressed powder blush isn't quite as prevalent as it used to be on store shelves. That's because liquid and cream formulas are gaining popularity, and what better way to give them a spin than in this delightful holiday set from Kaja? The brand's All My Heart Lip, Eye, and Cheek Set offers a "beauty bento" trio of three flattering stacked eyeshadows, an adorably heart-shaped "love swipe" lip mousse, and, of course, its "cheeky stamp" blendable blush. And if you're looking to buy for a clean beauty lover, look no further: this gift set is vegan and cruelty-free and contains no parabens or sulfates. 
It should come as no surprise that reviewers are feeling the love for this aptly-named set. "All the products perform well, have nice colors, and have good pigmentation. [Plus,] the packaging is super cute," writes one customer.
Purchase the Kaja All My Heart Lip, Eye, and Cheek Set from Sephora for $38.
Best for Lip Plumping
Lip injections are a hot topic these days, but you don't have to sit down in the injector's chair to try a taste of the overfilled look. Too Faced's Lip Injection Plumper Mobile is an assortment of the brand's bestselling plumping glosses, which give users both a temporary boost and lasting fullness. If you've never given these glosses a whirl, there's no better time than now to do so. And for those who are already Too Faced fans, this is a great value for frequent buyers of the popular lip product. Included in the set are the original clear Lip Injection Extreme and Maximum formulas, as well as a limited-edition peachy Maximum plump shade named Angel Kisses. It's worth noting that the original Lip Injection glosses give lips a flushed look on their own, but the added tint from Angel Kisses will make them look even plumper.
Purchase the Too Faced Lip Injection Plumper Mobile from Sephora for $36.
Best in Growth Serums
Too much fullness is never enough when it comes to lashes and brows. That's why Grande Cosmetics developed their GrandeLash and Brow-enhancing serums, which are some of the bestselling boosters on the market. In the Mighty Minis Eye and Lip Set, you can have both hair-promoting products — plus, you even get to try the company's GrandeLips plumping gloss. Not sure if you believe all the hype? Just glance over some of the testimonies from customers who've purchased the set. "I'm 52 and have the lashes that I did when I was 20. People ask me who does my lashes, and my answer is, 'they're mine.' I will continue to use this forever!" one reviewer writes. So, instead of spending countless hours gluing on eyelash extensions, why not simply grow your own?
Purchase the Grande Cosmetics Mighty Minis Eye and Lip Set at Sephora for $20.
Best Value Assortment
Maybe you know you're in need of a makeup-related gift, but you're not quite sure where to start. The Sephora Makeup Must Haves Set is the perfect fix for the recipient who has everything (or the acquaintance whose makeup bag is a complete unknown). If they already use some of these bestselling products, great! They'll have some extra minis to keep on hand. If not, they're sure to fall in love with at least a handful of these finds, which include everything from Fenty Beauty's Universal Lip Luminizer to Urban Decay's All Nighter Long-Lasting Makeup Setting Spray. 
There's even a trial-sized version of the previously mentioned Grande Cosmetics' GrandeLash MD if you're torn about which gift set to get. Some even suggest that this makes a great travel makeup bag — with no packing required! "These are must-haves! I didn't even bother to unpack [the set]. I just put it in my suitcase for my vacation because I know I will be covered for my makeup needs," says one customer.
Purchase the Sephora Makeup Must Haves Set from Sephora for $54.
Best in Clean Beauty
While there are plenty of beauty fanatics who don't always check ingredient lists, there are also those who love to keep things clean. If you know your giftee is environmentally conscious and keen on using everything natural, go with Sephora's Sparkly Clean Set for a makeup gift that won't let them down. Not only will they receive a full-sized Ilia lip gloss and creamy, coral-hued Rose Inc blush, but they'll also get to try goodies from Caudalie, Biossance, and Milk Makeup. 
"This is a good set! I bought it mainly to try the blush, and I'm happy with it. [The blush shade] 'Heliotrope' is more like a pink on me than an apricot, but it's perfect for natural everyday looks," one reviewer wrote. With a mix of bestselling skincare and makeup essentials, this kit has everything one could ask for when it comes to outstanding clean beauty products.
Purchase the Sephora Sparkly Clean Set from Sephora for $32.
Best in Lipstick
Ulta
Who doesn't love MAC lipstick? From their velvety finish to their luxurious vanilla aroma, the brand's iconic lip products are an irresistible lure to makeup fiends. This holiday season, why not show your loved ones — or yourself — a little holiday cheer with MAC's Celebrate in Colour Powder Kiss Lip Vault? This fully-stocked set features 12 brand-new and limited-edition shades in nudes, pinks, and plums, to name a few. 
Fans of the makeup brand look forward to the Lip Vault's release all year, and this season's lip shades are already making an impression. "These mini lipsticks are beautiful and go on so smoothly. They also smell nice," writes one customer. Colors like Crushed Velvet, a smooth, jewel-toned magenta, are perfect for the holidays. Of course, the charming bow-shaped case that the lipsticks are housed in is just a bonus.
Purchase the MAC Celebrate in Colour Powder Kiss Lip Vault from Ulta for $85.
Best in Mascara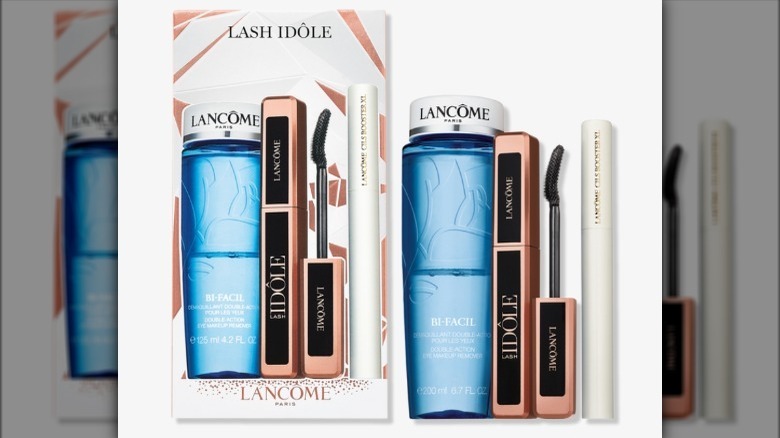 Ulta
Let's face it: even the best mascara out there is useless without the proper makeup remover. And it's nowhere near as fun to remove your mascara as it is to put it on. Fortunately, Lancôme takes the chore out of the task with their Bi-Facil Double-Action Eye Makeup Remover. And lucky for beauty lovers, the brand is offering their coveted Cils Booster XL Enhancing Lash Primer, Lash Idôle Mascara, and the beloved Bi-Facil Eye Makeup Remover all in one Holiday Mascara Gift Set. This set is an incredible value at under $37 for three full-sized luxury beauty products. Just to compare, a full-sized bottle of Bi-Facil Eye Makeup Remover alone costs $32 at its regular price. 
And did we mention it makes makeup removal so much easier? "I don't know what they put in this product, but this makeup remover is so effective! I don't have to rub my eyes excessively to get off waterproof makeup as I do with other products," one customer states. Our advice to holiday shoppers? Whether you get one for yourself or a friend, grab this gift set steal before it's gone!
Purchase the Lancôme Lash Idôle Holiday Mascara Gift Set from Ulta for $37.
Best Mini Advent Set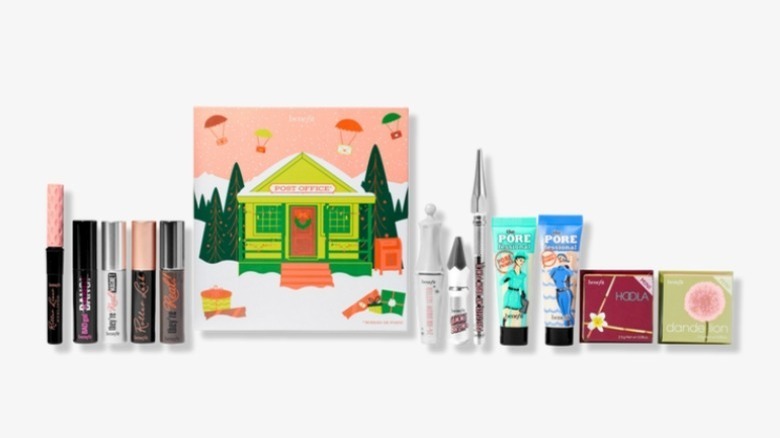 Ulta
Is there anything sweeter than a good advent calendar? Well, yes — a makeup-themed one. Benefit provides makeup fans with the best of the best in the Sincerely Yours, Beauty Advent Calendar Value Set, which features 12 mini-sized products to enhance every feature of the face. It includes their Roller liquid eyeliner, They're Real! mascara, and beloved Dandelion blush. Benefit is known for its unique packaging, and this advent calendar is no exception. Its retro-themed box is decorated in candy-colored hues and even comes with a postcard to gift to the lucky recipient. Also inside the package is the brand's Hoola Matte Powder Bronzer, a favorite of the brand's devotees. 
"Just a light sweep makes me look sunkissed and 'alive' in the winter and never looks fake. In the summer, it's the perfect compliment to my tan," says one reviewer. If you've ever felt curious to try one (or more) of Benefit's bestsellers, this is the gift set for you.
Purchase the Sincerely Yours, Beauty Advent Calendar Value Set from Ulta for $65.
Best Clean Lip Kit
Not everyone's skin feels the same way about cosmetics. For those with sensitive pouts, look no further than Jane Iredale's Limited Edition Lip Kit. Jane Iredale is a pioneer in the clean beauty movement, having been on the scene for nearly 30 years. Each product by the company is sensitivity-tested and free from synthetic fragrances, in addition to being cruelty-free. The brand is beloved for its softening lipsticks and glosses, and this gift kit gives users a chance to try the Triple Luxe Long Lasting Naturally Moist Lipstick, Crush PureGloss Lip Gloss, and Lip Pencil in beautiful shades of berry. With skin-loving ingredients like castor, meadowfoam, and moringa oils, it's no wonder why customers have rated the lip kit nearly five stars on Ulta's website. 
"I have searched high and low for the perfect lipstick and lip liner combo and finally found it with Jane Iredale's lip kit. The lip liner is my favorite," one reviewer writes. Plus, the brand's Triple Luxe Lipstick features real Tahitian vanilla extract, which lets users experience its delicious, all-natural fragrance with every application.
Purchase the Jane Iredale Limited Edition Lip Kit from Ulta for $48.
Best Multipurpose Makeup
Know someone who loves concerts, traveling, and generally having a good time? It's unlikely you'll find a more appropriate makeup gift than the Nudestix 7-Pc. Euphoric Nudes Festival Set to suit their tastes. These multifaceted makeup sticks are perfect for highlighting, contouring, and shading on the go and even come with a hydrating lip glace in an all-new shade, LaBadi. The portable metal carrying case is perfect for jet setting, and its built-in mirror means you can leave your compact at home. 
"The shadow sticks are the only shadows that do not crease on me, and I've tried just about every product, tip, and technique to prevent creasing! I was pleasantly surprised by everything in the kit," writes one reviewer. Whether you're looking to up your contouring game, try a new highlighter, or find a crease-free shadow, the versatility is endless with this special Festival Set.
Purchase the Nudestix 7-Pc. Euphoric Nudes Festival Set from Macy's for $79.
Best Y2K Gift Set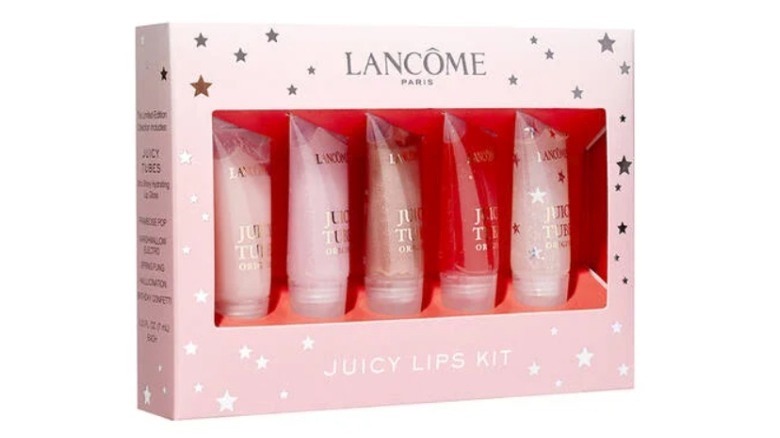 Lancôme
With the Y2K trend still going strong, is there a better treat for velour couture-loving friends than a nostalgic Lancôme Juicy Tubes Set? Those who were there can fondly recall these cute little tubes getting lost in their bags, and the younger set can appreciate the iconic status that these magical glosses have attained. There's only one time that "sticky" has been regarded as a positive attribute for a lip gloss, and that's certainly in the case of Juicy Tubes. After all, the endless shine that these bad boys display on your lips wouldn't be possible without a bit of a viscous finish, would it? But with sweet flavors and shade names like Marshmallow Electro, Framboise Pop, and Birthday Confetti, you'll overlook their unique texture if you haven't already. 
But don't take our word for it — just read what Juicy Tubes fans have to say. "I've been using [Juicy Tubes] for over ten years. They're the only lip gloss I buy and wear. No other brand has anything on Juicy Tubes; they're the absolute best," states one customer.
Purchase the Lancôme Juicy Tubes Set from Lancôme for $25.
Best Luxury Advent Calendar
For Bloomingdale's 150th anniversary, the luxury department store has issued its first-ever 25-Day Beauty Advent Calendar, packed full of the finest products. So what are some of the treasures inside this box? It begins with the indulgent La Prairie Skin Caviar Luxe Eye Cream, which uses the benefits of caviar extract to lift and firm the delicate skin surrounding the eyes. There's also a miniature tube of Ex Nihilo Fleur Narcotique Eau de Parfum, a "falsely candid flower, airy, fatal" fragrance that's rated five stars on Bloomingdale's website. 
Lipstick lovers will enjoy switching between Valentino Rosso Lipstick and Giorgio Armani Lip Maestro, and the inclusion of YSL Lash Clash Mascara offers extreme volume for eyelashes. "I absolutely live [for] everything that's in it. It's a great way to try high-end products from different brands at a good price. I think it would make such a great Christmas gift," one reviewer says.
Purchase the Bloomingdale's 25-Day Beauty Advent Calendar from Bloomingdale's for $240.
Best Eyeshadow Palette
Everyone loves a good eyeshadow palette, and there's something to be said for rotating your inventory at the end of the year. Enter the Too Faced Christmas Bake Shoppe Gift Set, which not only features a colorful selection of three eyeshadow and blush palettes in a sweet-shaped package but is also cookie-scented. Even better, each palette has its own Santa-worthy aroma, including seasonal favorites like gingerbread and sugar cookies. And to top it all off, the Bake Shoppe Gift Set also provides a miniature Better Than Sex Mascara to complete your holiday eye looks. 
While this set sells fast at popular beauty retailers, you can still find it through Too Faced's website. "It is hands down the best eyeshadow palette for dark eyes! I totally recommend it, and it's super pigmented," states one customer. This set has more than enough palettes to share, but we won't judge if you want to keep all of the sweetness to yourself.
Purchase the Too Faced Christmas Bake Shoppe Gift Set from Too Faced for $38.
Best Highlighter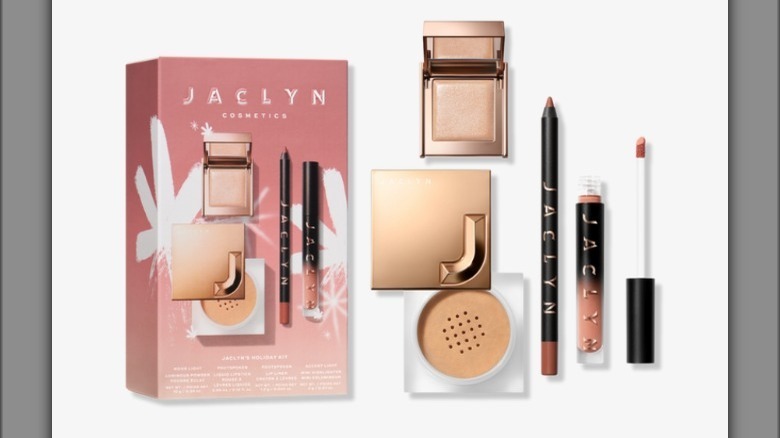 Ulta
One finishing touch that's positively essential for any holiday party? A good glow, of course. Jaclyn Cosmetics produces one of the finest highlighters on the market, the Accent Light Highlighter Mini, and it's available in Jaclyn's Holiday Kit. "By far my favorite highlighter! This is coming from a highlighter-obsessed girly, and I have tried tons. The best part is that it doesn't accentuate any texture whatsoever," writes one reviewer. The Holiday Kit also includes Mood Light Luminous Powder in the shade Carats, which some users liken to a dupe for Too Faced Peach Blur Translucent Smoothing Finishing Powder. 
And that's not all: you'll also receive the Jaclyn Liquid Lipstick and Lip Liner in universally flattering neutral hues when you pick up this kit. Just be sure to wear a moisturizing base and gloss if you prefer a softer finish, as the Liquid Lipstick dries to a matte finish. While the highlighter comes in mini form, the rest of the products in this kit are all full-sized, making it a fabulous deal at roughly $34.
Purchase Jaclyn's Holiday Kit from Ulta for $34.
Best Luxury Makeup Set
When Charlotte Tilbury announced her brand's 70's-inspired makeup collection for the holidays, modeled by icons like Twiggy and Kate Moss, we knew it was going to be exciting. The brand's Pillow Talk Dreams Come True set lives up to its name, offering 14 incredible full-sized products for one very special recipient. There's everything from ultra-pigmented eyeshadow palettes to the Beauty Light Wand highlighter. "[The Beauty Light Wand] is a stunning highlighter — no glitter or shimmer, just [a] beautiful, 'lit from within' glow," writes one reviewer. 
The Dreams Come True collection is unified by flattering, romantic shades of peaches and pinks throughout its featured products. It even arrives in an impressive rose gold-colored box that's sure to shine atop anyone's vanity. If you know someone who's been extra good this year — and yes, that includes you — then the Dreams Come True gift set is the perfect way to show them your deepest appreciation.
Purchase the Charlotte Tilbury Pillow Talk Dreams Come True Box from Beautylish for $375.