'Dark Mermaid' Is The Trend To Know Going Into 2023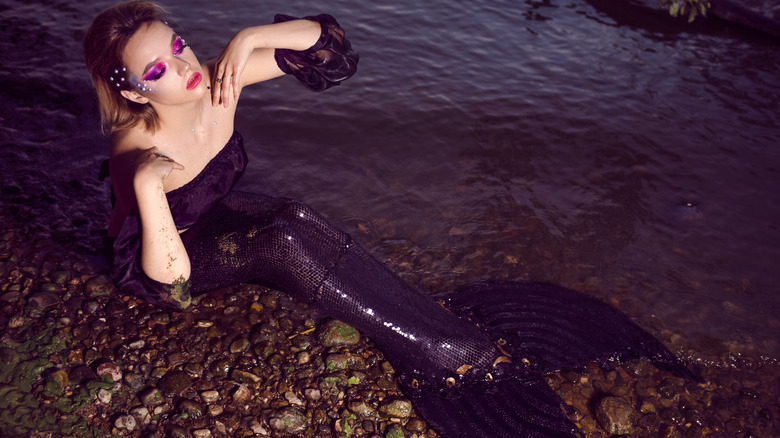 Dimamorgan12/Getty Images
We may receive a commission on purchases made from links.
We don't know anyone who's never seen the iconic movie "The Little Mermaid," and this classic movie isn't the only beloved mermaid-focused film we can think of. Remember the romantic "Splash" and the adorable "Aquamarine?" Because of these cinematic masterpieces, many people have dressed up as mermaids for Halloween or costume parties at some point in their lives. Now, believe it or not, those costumes aren't too far off from one of 2023's hottest upcoming trends. Get ready to see many mermaid-inspired outfits — but with a darker twist.
The 'dark mermaid' trend has already made its way into the fashion world. "It seems to stem from a longstanding interest in both animals and creatures as icons and symbols in fashion. For example, Hello Kitty and the rest of the Sanrio characters ... In the fashion sphere, fairies have been dominating for the past few years with the rise of fairycore and grunge fairycore," Rukiat Ashawe, Culture Specialist at The Digital Fairy, told Byrdie. After all, in a world where fairycore and the trending ballerina sleaze look are everywhere, does the dark mermaid trend even sound that outlandish?
Break out the sexy mermaid dresses and netted fabrics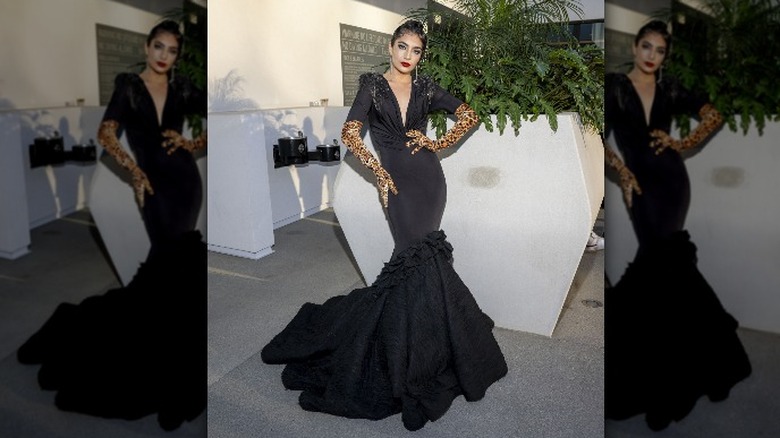 Arun Nevader/Getty Images
While it still follows the theme of water and tails, the dark mermaid look typically isn't sweet and gentle like Ariel or Aquamarine — it's more provocative, dauntless, and dare we say dangerous than the mermaids we grew up seeing on our TV screens. "I would define [the trend] as a hyper-feminine, aquatic style with a lot of these 'washed up' vibes. Oil-sleeked hair, netting details," Charlie Hayes, a fashion content creator, told Byrdie.
One stunning celebrity who's frequently flaunted dark mermaidcore on social media is Dua Lipa. Some of the singer's dark mermaid ensembles include a Bikini Bottom-inspired netted dress and matching gloves, an outfit featuring a bra top, sleeves, and mermaid tail-esque bottoms covered in colorful polka dots, a striking mermaid-cut gown, and a long, flattering black asymmetrical gown.
Because of this trend, you should get ready to see many more mermaid silhouettes instead of ball gowns or short dresses for formal events such as weddings. So, if your wedding day is coming up, you should consider a mermaid dress if you're going for a dramatic, sexy look. These famously flattering gowns come with a variety of seductive details such as lace, sheer or semi-sheer sections, or glamorous sparkles.
The trend applies to makeup and hair, too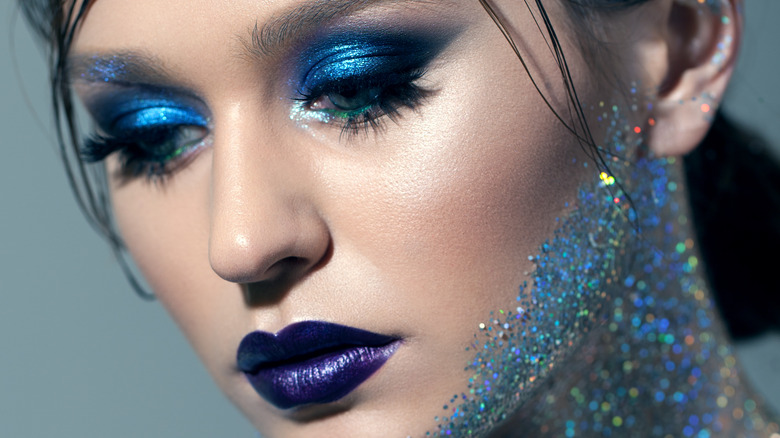 Tata Mamai/Shutterstock
Not only is the dark mermaid style affecting what trendy people wear, but it's influencing makeup, too. For instance, we're all familiar with TikTok's seductive siren eye makeup trend, which uses eye makeup to make your eyes appear more mysterious and alluring (via TikTok), giving off siren-esque, dark mermaid energy. In addition to the well-liked siren eyes, you can find other dark mermaid-inspired makeup videos on TikTok. For example, a makeup artist named Jen shared a video where she used dark teal eyeshadow, along with black and dark yellow shadows, black eyeliner, pearl/crystal-inspired embellishments, and mascara to create a dark, ultra-bold, sultry mermaid look. Excited TikTok users commented, "Neeeeeed to recreate this" and "Unreal."
Flaunting mermaid-inspired locks is another way to rock the dark mermaid trend; there are many ways to get vacation-ready mermaid hair. To start, you can use a hair waver, like the Bed Head Wave Affair Jumbo 3 Barrel Ceramic Hair Waver, available at Ulta Beauty for about $55. Or, if you want to go for a truly ocean-inspired look, try embracing the trend by dying your hair teal or blue, or even dark red for an edgier spin on Ariel's famous red tresses.
Therefore, 2022's siren eyes have only been the beginning! Get ready to see and explore a lot more dark mermaid looks in 2023.