Two-Toned Eyeshadow Looks Are All The Rage. Here's How To Wear Different Colors On Your Eyes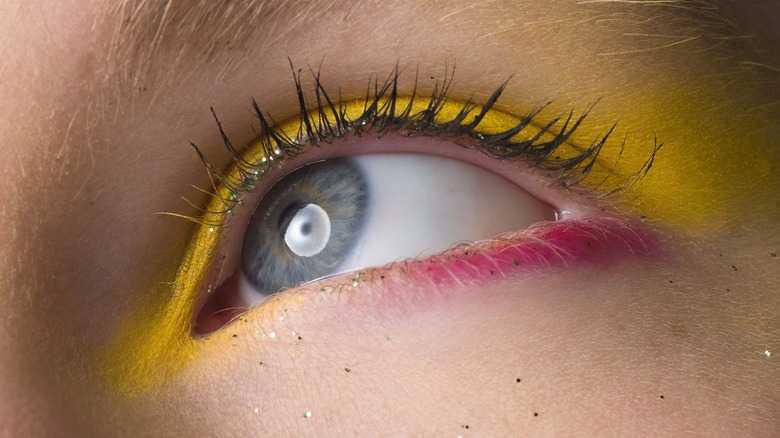 Jupiterimages/Getty Images
One makeup trend that is spreading like wildfire across social media is the two-toned eyeshadow look, but not everyone is daring enough to try it. That being said, you don't need to be a famous beauty influencer to step outside of the box and give it a shot.
Advertisement
The idea behind wearing the two-toned eyeshadow look is to draw attention to your peepers. Most who try it apply eyeshadow in a specific hue on one eye, and an entirely different color of eyeshadow on the other. While it might seem unusual at first, this can be an effective way to top off your appearance, especially if your outfit and accessories lean neutral. However, it's worth noting that there are many ways you can pull it off — the two-toned eyeshadow trend isn't just reserved for wearing two different colors on your eyes. For example, L'Officiel notes that it's common to use one color on the upper lids and a complementary hue on the lower lash line. To top it all off, many choose to contour their eyes in black to make the eyeshadow colors pop.
Advertisement
Whether you're simply interested in trying something new or you specifically want to elevate your eye makeup game, the two-toned eyeshadow look is currently all the rage. Here is how you can pull it off flawlessly with your own makeup collection.
How to create a classic two-toned eyeshadow look
The first step toward creating a beautiful two-toned eyeshadow look with a different hue on each lid is choosing your colors carefully. While they don't necessarily need to be complementary, you should select one light shade and one dark for ample contrast. As L'Oréal Paris notes, the goal is to achieve depth.
Advertisement
Before you begin, be sure to prep your eyelids accordingly with an eye makeup primer. By using a primer, you'll not only extend the longevity of your makeup, but you'll create an even surface for your eyeshadow. Once your primer is in place, it's time to work with the colorful eyeshadows you've selected. With an eye makeup brush, evenly apply each eyeshadow to your lids, filling them entirely. Be sure not to go overboard — because you'll be working with dense colors, it's all-too-easy to accidentally over-apply.
If you aren't feeling confident going into creating the two-toned look, you might want to take a moment to look at a color wheel. Commonly used by artists (but not only for artist use), color wheels show you which hues complement and contrast each other. This can give you a better idea of which colors you want to work with if you intend on using different hues on each of your lids. In the end, you won't need to go through trial-and-error or waste perfectly good eyeshadow as you try out the two-toned look.
Advertisement
Wearing contrasting eyeshadow on your upper and lower lids
If you want to rock two different hues in a different way, you can also wear two contrasting colors on your upper and lower lids to achieve a similar, bold appearance.
As always, start by applying eye primer to your lids — this will give you the even canvas you need for your eyeshadow while extending its longevity. Then, use your eye makeup brush to apply one of your bold eyeshadows to your upper lids. Afterward, you can begin to work on applying the other color to your lower lash line. To make it easier, use one of your finer, smaller eye makeup brushes for the task at hand. Once all of the eyeshadow has been applied, pull out a fluffy makeup brush to blend and blur the outer edges of your upper and lower lids.
Advertisement
To top off this two-toned eyeshadow look, don't hesitate to reach for your darkest volumizing mascara and waterproof eyeliner. The hues of your eyeshadow will make the bold statement you desire, but eyeliner and mascara can draw attention to the eyes themselves. After all, you want to show off all of the hard work you did!