What Eyeliner And Mascara Can Really Do To Enhance Your Eyes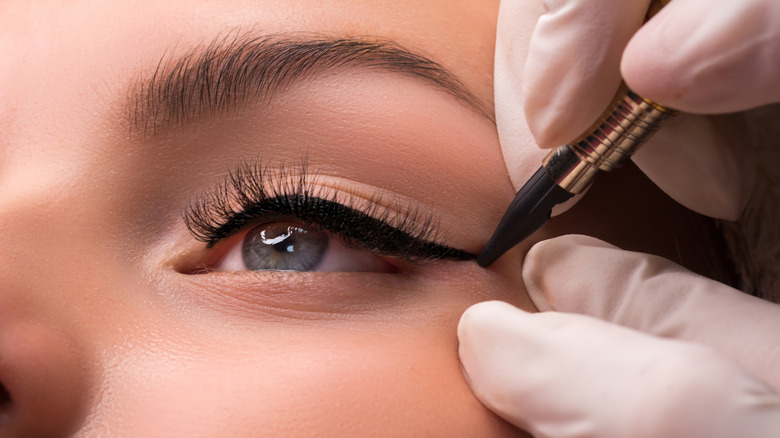 Ludmila Ivashchenko/Shutterstock
We may receive a commission on purchases made from links.
The eyes are the windows to your soul and can also play an important role in elevating your attractiveness. By now, you might have seen countless makeup tutorials and products that make your eyes look bigger and brighter. But why are bigger eyes associated with beauty?
According to BBC Future, big eyes are considered the features of a "babyface," or a cute, youthful look. "The big eyes, the long lashes, the arched brows, the plump lips, the small chins, the round face, the cute little nose — if I wasn't describing a baby, I'd be describing a supermodel," says expert in non-verbal communication at New York's Colgate University Caroline Keating. 
Big eyes are considered more attractive worldwide in nearly every culture. It goes back to evolution as babies are considered cute because their eyes are fully grown at birth, so they're larger compared to their faces. When someone has larger eyes, then, we associate them with being cuter and thus more attractive. That's why eye makeup is so popular. But what exactly do makeup bag must-haves, like eyeliner and mascara, do for our eyes?
Use eyeliner for elongated, upturned eyes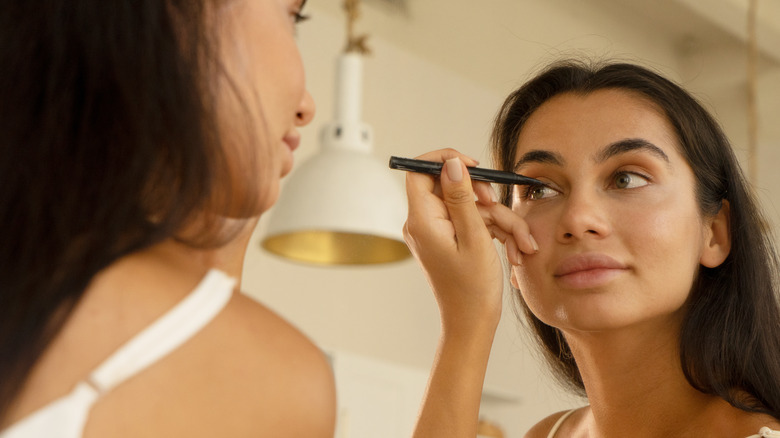 Neirfy/Shutterstock
We're not all born with big eyes, but we can make them look larger thanks to the power of makeup, and eyeliner is your secret weapon. The classic "cat eye" never goes out of style. Depending on your preference, there are many variations of the cat eye, like siren eyes, fox eyes, puppy eyes, and so on, and they all have one thing in common: they make your eyes look more prominent.
One trick is a technique called tightlining, as recommended by makeup artist Emily Cheng. In this method, you apply '"eyeliner in between the lashes" to make them appear thicker and fuller at the roots (via Vogue).
Want more elongated eyes without the definition of the cat eye? Celebrity makeup artist and founder of Stila Cosmetics Jeanine Lobell tells Byrdie, "I first take the pencil and add black in the top waterline and into the inner corner. Next, I take the tip of the pencil, landing it on the outer corner of the eye — like below [the] lashes where the top meets the bottom — and just flick it straight out, lifting upward a little." Lobell adds that this "connects the whole line from the inner corner out, creating an appearance of width." Just make sure to sharpen your eye pencil for pointed tips for the elongated look.
Of course, the power of white eyeliner can't be undermined. "White eyeliner makes the eyes look bigger and brighter," makeup artist Ashley Gray tells Good Housekeeping. Applying it on your lower water line can do the trick.
Mascara makes your eyes look more awake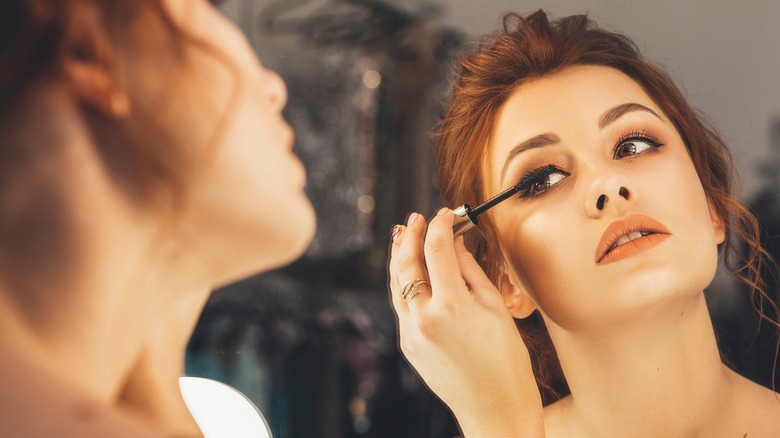 Anna Demianenko/Shutterstock
There's a reason many people feel naked without their mascara: it elevates your look to a whole new level. Mascara makes your eyes look more striking by giving you long, luscious lashes that most of us, sadly, weren't born with. Can you imagine '60s supermodel Twiggy without her doll-like lashes? That's the power of mascara!
Lobell tells Byrdie, "I find adding extra mascara in the center of the lashes can really open and lift." She adds that applying mascara right in the middle gives the illusion of wider eyes (think along the lines of Bambi). It's the perfect way to create a doe-eyed look.  Cosmopolitan's deputy beauty director Chloe Metzger loves Benefit Cosmetics They're Real! Mascara for this purpose: "It seriously makes my bb lashes look falsies-level long, and it also thickens and volumizes without flakes."
Eyelash primers before mascara are perfect for adding a little drama to your lashes. "It works more in the realm of thickness and volume versus length," makeup artist Molly R. Stern shares with Well + Good. It thickens your existing lashes so when you apply mascara over it, it's like you were born with lashes with great volume. 
Next time you want your eyes to look bigger and be the center of attention, try these eyeliner and mascara tips to enhance the natural beauty of your eyes.